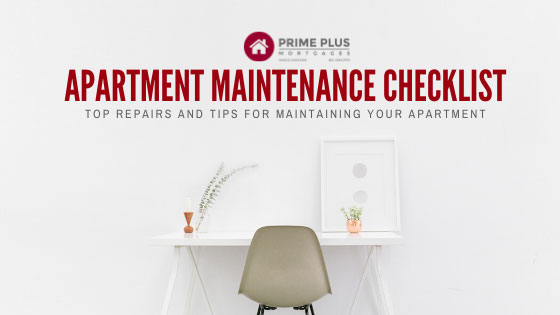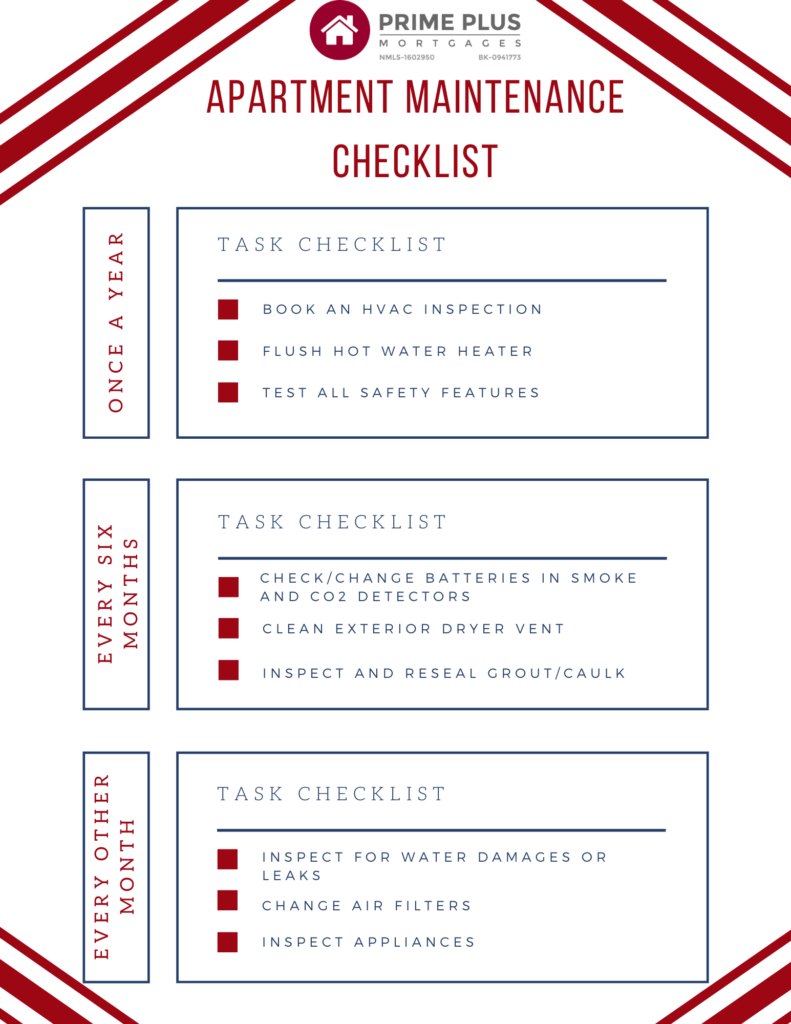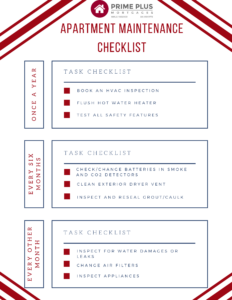 How important is apartment maintenance? For many real estate investors, apartments are a great way to build their passive income. Any real estate investor will tell you that well-maintained rentals make it easy for you to not only to keep your rentals full but earn more for each investment.
For those investors looking to attract higher rents, or just hit zero vacancies, regularly scheduled apartment maintenance is a must. Regularly maintaining your rental, and making updating your rental can lead to a more lucrative income.
Ready to start making more money with your rentals? Use our apartment maintenance checklist and follow our tips below!

Apartment Maintenance Must-Have Repairs
Real estate investors are always looking to charge more for rents and grab the top-notch tenants. The answer for charing high- end rents comes down to two factors, location, and the quality of your rental.
Making high-end repairs is a must to justify your rent price, and you can do this by offering a move-in ready rental. By offering apartment maintenance and a newly updated space your tenants will be willing to pay higher rents. So what are the top repairs you need to make as a part of your apartment maintenance
Kitchen Repairs are a must for a high-quality rental. Regular apartment updates to a kitchen is a necessity for attracting tenants to your rental. Whether you do a small or large kitchen rehab depends on your budget and the current state of the kitchen of your apartment. Dingy kitchens will scare away potential tenants, and empty apartments don't make money. A Kitchen rehab and include new counters, new cupboards, new flooring, appliances, or a completely new layout.
Any apartment maintenance should include repairing and maintaining your rental's bathroom. This could be as easy as using a caulk gun to ensure there are no leaks or replacing faucets, showers or toilets that can lead to potential water or mold damage.
Updating your lighting in your apartment is an easy way to update your property while making it attractive to tenants. Lighting can include your fixtures, electrical, and removing or replacing windows. Proper lighting is essential for apartment maintenance as it maintains the proper is safe for tenants and makes it visually more attractive to potential tenants.
By making these must-have repairs a regular part of your apartment maintenance you can ensure that your rental is: modern, has no potential water or mold damage, is well lit, and shows no signs of electrical issues. Once you have made your big-ticket repairs, you can focus on yearly apartment maintenance.

Yearly Apartment Maintenance You Need To Make
Being a good real estate investor is more than making repairs, flipping properties or having rentals. It;'s about how well you maintain your investments. apartment maintenance is a necessity for your rentals to ensure your tenants are well cared for. To keep your rentals in tip-top shape you need to schedule regular apartment maintenance.
The following tasks should be added to your apartment maintenance calendar to make sure your rental is in great shape.
One of the most important features for your tenants will be that your HVAC is in proper working order. HVACs breaking can cost landlords thousands of dollars if not properly cared for. That's why you should schedule regular AC/heat inspections for your rental.
You should prioritize the safety of your apartment. Safety testing should be a regular occurrence! Make sure you are testing all locks, and look for things like loose knobs, shelves, tripping hazards and more. These are important safety features that need to be maintained and working in top condition. If these are not properly maintained you could risk serious injury happening to your tenants, and keeping them in pristine condition is a must.
Another important part of your apartment maintenance should be testing Check/change batteries in smoke and co2 detectors smoke detector batteries. These are essential in making sure that your apartment is safe to live in. You can also use this cleaning guide from these furniture removalists in Sydney to prep your apartment for the next tenant.
Once you finish checking these items off your apartment maintenance list, you can focus on funding your repairs and maintenance.
Funding Your Apartment Maintenance
Funding repairs and maintenance are important to build your passive income. As a real estate investor, you should always have a steady stream of income from your investments. For those looking to repair your real estate investment having the right types of funds is essential.
Whether you are looking to do a full gut of a new rental, or update an existing rental, hard money loans make investing in your apartments easy. With an asset-based hard money loan, you can purchase, repair and then profit of your rental with minimal hassle. Hard money loans are made specifically for real estate investors looking to transform their assets, so they are easy to work with for nearly any rental.
Home rehab loans, which can fund the repair of your investment and help with big-ticket apartment maintenance, such as new HVAC systems. With no credit checks and an easy application, hard money loans are perfect for real estate investors with rental properties. Asset-based hard money loans, like the home rehab loans offered by Prime Plus Mortgages, are perfect for investors. You can learn more about our hard money loans here.
Summary
Apartment maintenance is essential for any real estate investor with rental properties. Whether it is small check-ins to big-ticket repairs, maintaining your rental property is a must for those looking to offer the best and safest rentals for their tenants.
If you are a real estate investor looking to update their rental, apartment maintenance may require big repairs, with big payoffs. This can include kitchen repairs, new HVAC systems or even a complete remodel top to bottom.
Apartment maintenance should be regularly scheduled to make sure your apartment is safe. This includes testing the security, fire and c02 detectors, as well as any trip hazards. Also, make sure to check for potential water leaks to prevent mold and water damage.
Make sure you fund your apartment maintenance and repairs with the right loan for your rental property. Whether you use a hard money loan or a home rehab loan may depend on your investment. You can learn more about the different types of loans for your investments here.
Regular apartment maintenance will make sure you have a safe and upgraded rental for your tenants. Earn more passive income for your rental investment by making sure it is up-to-date and safe!