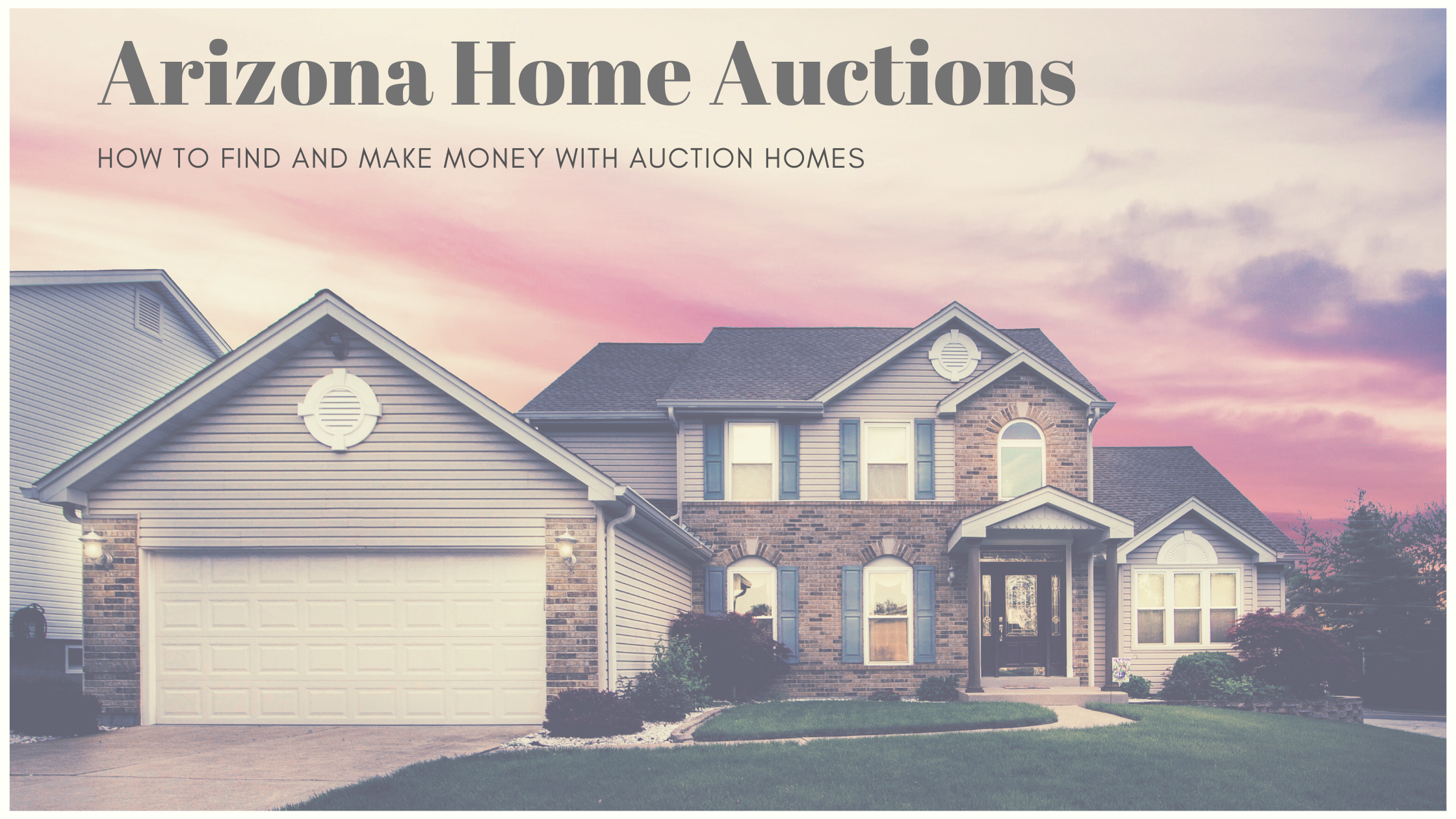 Home auctions can be an investor's gold mine. Auctions are notorious for finding diamonds in the rough, and for cheap. The best part of Arizona Home Auctions is finding easy investments for low prices.  Zombie properties, foreclosures, vacant homes, are all great and easy finds at auctions if you know what you are doing.
While Arizona home auctions offer a unique ability for real estate investors to grab great properties, few investors take advantage of this type of investment.  If you are investing in Arizona real estate, auctions are full of opportunity, and stiff competition.
We cover everything you need to know about the home auctions to make it fast and easy for you to find your next great investment. Use this checklist to find your next investment!
How Do Arizona Home Auctions Work
Before we dive into how to invest in auction properties, it's important to know how home auctions work. There are 3 major types of auctions, which happen in person or virtually. There are a few differences in how a winner is determined, but for the most part, the auction process is about the same.
A home can go up for auction when a property is foreclosed, or a bank is trying to recoup losses of owning a property. When a homeowner misses several months of mortgage payments, the bank or other lender can place the property under foreclosure and move to get the tenants evicted. It then places the home in a foreclosure auction, which is held by bank-hired trustees.
Types of auctions can vary mostly depending on the property, loan status, and who is moving the home. Different types of auctions may only allow some types of payments, mortgages, or cash. This offers real estate investors a chance to quickly move and purchase a property without interference from homeowners.
Types Of Auctions: 
Retail auctions: These offer quick and fast closes for retail properties. These are hosted virtually or in person, and many big retailers host these auctions. They will require an earnest money deposit, and buyers may have to pay a commission to the buyer agent.
HUD auctions: This is a foreclosure type auction, however, bids are usually placed anonymous, you can't see real-time bids for homes.  The highest bidder for a property will win and will be announced the next day.
Courthouse auctions: these auctions require a physical presence,  with a more typical auction format. These are homes that are being foreclosed or have been foreclosed by a bank.
Most homes are put up for auction after a foreclosure process, additionally, some properties have been listed on the market and have not seen activity and the lenders or banks are trying to recoup their loss.  Some homes may still be occupied and others may be vacant.
Whether online or in-person, the process of bidding on properties is the same, whoever is willing to bid the most on a home usually wins the home. Depending on the type of auction or property you may have to contact a listing agent, to discover more information on which type of auction and what the requirements are.
Investing In Auction Homes
Real estate investors are known for their creativity in flipping homes. We know that they are equally creative in how they choose to invest in auctions home as well.
There are many ways one can invest in auction properties. The top way Arizona real estate investors can invest in auction properties is by flipping a home, or even still rehabbing and renting a property.
Before attending an auction you should have a clear plan for what you plan to do before closing on a property. The most popular investment with an auction property is a flip, as properties are sold for well below market value and may need minimal repairs before selling or renting.
Auction released the most important tips for flipping a home for investors to make the most profit.
4 Tips To Make The Most From An Auction Home Flip: 
Buy low, and sell high. This guideline is true whether you intend to fix-and-flip or buy-and-hold. When the investment strategy is short-term, which is the case for flippers, buying at the lowest possible price point is key to generating the best returns.
Remember that the price will reflect the physical and financial conditions of the property, and it's important to know the market for that property.
Value-added to a foreclosed property comes in the form of upgrades, but the return on investment may be better when required renovations are limited to cosmetic rather than extensive rehab.
Focus on reselling quickly to minimize costs. The longer your property sits, the less you earn.
As with any flip investment, it's important to learn as much about the market and property as before you invest.
Finding Home Auctions
So you are hooked and want to find an auction home. Before barging into a courthouse auction you will need to see what properties are available and open for auction. Finding homes for Auction is easier than one would think! You can easily find a home for auction in the following ways:
MLS or listing services
Contacting Realtors
Contact Lenders And Banks
The fastest and quickest way to find properties for auction is to check the MLS or multiple listing services. This will list all the important details for a  home for auction, and give you a contact name to get more details on the auction itself. Some of these listings will include photos and details of the foreclosure. Using an MLS you can easily get all the information you need to decide if you are ready to invest.
Not every auction property is listed on the MLS so you may have to find other ways to find information about foreclosures in your areas.  That's when you can contact realtors or the lenders themselves to get information about their properties that are available for auction. Many lenders even have an REO or real estate owned list that you can review to potentially make an offer for.
Realtors can be useful as they work with property owners and lenders and have a better understanding of the market. Despite being highly involved in the community though, they may not receive commissions on a sale or purchase and may not have enough information on them.
Online house auctions continue to grow in popularity, but don't give a full picture of the properties themselves. Sites may list properties as foreclosed before the process is completed, making it. The owner may be in the process of making up late payments or negotiating a deal with the lender. In this case, the listing can disappear as you bid for it.
How Win And Fund Auction Properties
If you are sold on purchasing a property at an auction, make sure you come to the auction prepared. Auctions are fast-paced so you must come prepared and ready to bid or back off if needed.
4 Things You Need To Know Before Bidding On A Property: 
Real Property Value: How much is the property currently worth before any repairs or improvements are made? If the market is volatile this can change and reflect in your market value.
Is It Occupied? Often foreclosures for auction are unoccupied, but occupied homes can be difficult and expensive to remove. Confirm the property is vacant, and be aware of the current tenant's rights before placing bids on homes.
Current State of The Property: Properties that have been foreclosed on tend to need larger or more through improvements than other homes. The state and condition of the property can mean more improvements, so if possible see how the past tenants maintained the property if at all.
How Much You Are Willing To Bid: using your investment strategy, and other factors on the list to set the maximum bid you can place on a particular property. If you are using a lender they may have conditions and max amount they are willing to lend on a property, so be sure to secure your financing before the auction processes.
Cash is king at auctions, and most homes cannot be purchased with a traditional mortgage at an auction. Hard money loans and cash are the preferred way to purchase homes at auctions. Additionally, being able to close quickly and bid high are all great ways to win at an auction.
While Arizona auction homes are a great investment opportunity, if you do not come prepared or bid too high for a home you can lose out on a profit from your investment. Be prepared to walk away once the bidding gets too high, or have multiple properties in mind to potentially invest in.
Bidding at an auction is exciting, but can easily hurt your pocketbook if not done correctly. Make sure to do your due diligence and come prepared!
Summary:
You can find investment properties easily at Arizona home auctions. Make sure you know the following before investing in auction properties:
How Do Arizona Home Auctions Work
Investing In Auction Homes
Finding Home Auctions
How To Win and FundAuction Properties
Auction properties can be a great opportunity for any real estate investor.  If you flip or rent,  make sure you have the right funds in place. Hard money loans make it easy to repair and flip auction properties, with asset-based loans that are fast to approve and even fast to fund.