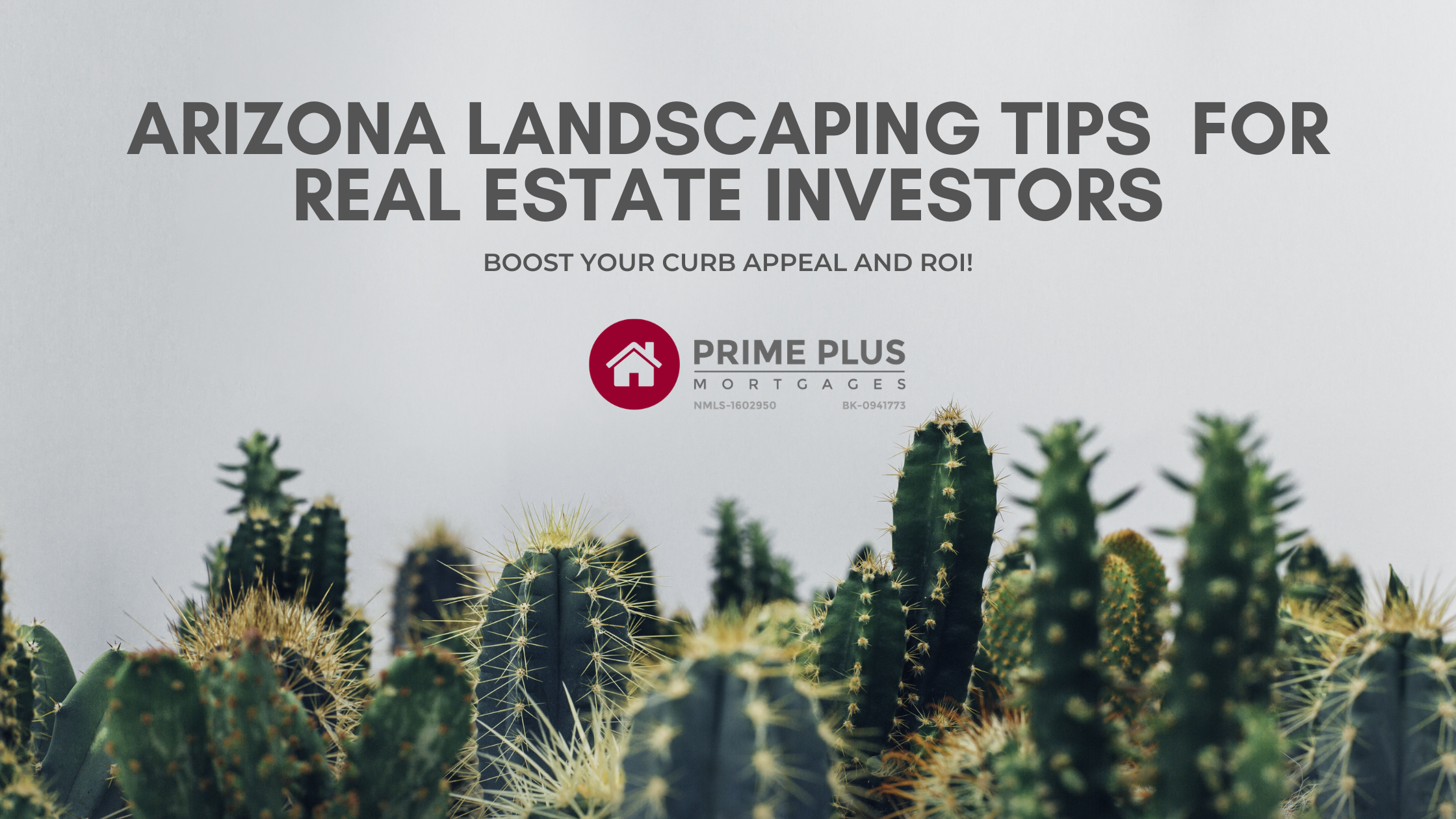 As we move out of the cold winter months, finding ways to make the most of the exterior of your investment has never been more prevalent. With spring cleaning being top of mind finding ways to improve the exterior of your home is a must for your investment. Curb appeal and buyers' first impression comes down to your Arizona landscaping.
There are many ways to improve your investment through landscaping. With the first day of spring, a few weeks away now is the perfect time to start looking at how to use Arizona landscaping for your investments.
Curb Appeal is the first impression that potential buyers get of your investments. Quick outdoor updates can easily add up to 10% in value to your investment. See our list for the top Arizona landscaping tips for your investment!
Power Wash Your Investment
There is a whole trend called oddly satisfied is dedicated to watching people power wash their driveways. A power-washed driveway always looks picture perfect. Power washing is a great way to spruce up any investment.
You have to see it to believe how quickly power washing can transform a driveway! With little time and effort, you can have sparkling sidewalks and driveways clean of dirt or mud!
Some studies suggest that a power-washed home up for sale will sell anywhere from $10,000 to $15,000 more on average than a comparable, non-power-washed home. Power washing can see serious returns for Arizona landscaping for your investment.
Exterior Paint Colors
When updating the curb appeal and landscaping at your home, paint color matters. With the beauty of the desert, make sure to pick colors that compliment the landscape and your investment.
Does your investment need a fresh coat of paint? Painting the exterior of a home leads to a 55% ROI, according to a HomeGain 2012 Top DIY Home Improvements for Seller survey.
Questions To Ask Before Picking A Color For Your Investment:
Medium: Depending on the materials you are painting, certain types of colors or paint may not mix well. Take this into consideration for your investment.
Location: If your investment in a tight suburb, or even within an HOA. Depending on where your investment is located you may have restrictions on what colors you can paint.
Architecture: it's important to see how natural light affects your property, as this will determine what paint colors will be a good or bad fit.
Color: neutral or light colors can help with temperature control as they absorb less heat. Neutral colors that pair well with the natural desert landscape, while light gray is a homebuyer favorite!
Retouching paint or even adding a fresh layer is a great way to improve curb appeal. When you are looking for ways to improve your Arizona landscaping, choosing the right colors is a cost-effective way to see returns!
Use Desert and Potted Plants
While green grass yards may not be in the realm of possibility, investors in Arizona can still have a green thumb. Arizona landscaping can still be fun and colorful if you use the right type of plants. While deserts do not conjure vibrant foliage, using desert and potted plants to make your curb appeal stand out.
Living in the desert isn't easy, so working with the elements is a must when planning your yard. That is why when Arizona Landscaping your investment, think of plants that require minimal water. Trees such as palms are extremely popular, as are low broad shrubs which flower seasonally.
Cacti and succulents are trendy, and perfect for Arizona landscaping. Add flowering cacti of various shapes and sizes for low maintenance and modern landscape.
Easily upgrade an investment with Palm trees or potted plants. add some interest by adding some hanging plants.. If you have potted plants, make sure that they are looking their best with fun colors, and clean containers that are free of dirt, dust, and messes!
The ROI of landscaping can vary depending on the project; Some real estate experts say that smart landscape design can give a return on investment of 200-400% and landscape economist John Harris says that keeping up with your home's landscape and gardens can contribute up to 28% of your home's overall value. By adding pops of fresh flowers, shrubs, trees, and cacti you can build a one-of-a-kind Arizona landscape for your investment.
Create Outdoor Spaces
Homes that maximize their yard space can see large returns. Incorporating outdoor fireplaces, patios, or pools can be a worthwhile return for your investment. NALP estimates an outdoor fireplace would cost $13,300, and the NAR estimates the project could recover around $8,000 for a 60 percent ROI.
A pool could add between $5,000 and $25,000 to your home's value. Appraisers can add up to 50 percent of what a homeowner paid for a pool to a property's value, said Arizona housing analyst Mike Orr.
With summer temperatures easily reaching triple digits, cooling a home is a must. Shade your property with trees, light paint colors, awnings and make the most of your indoor/outdoor spaces.
By creating outdoor spaces you can create an investment any Arizonian will love!
Summary
Real estate investing is a great way to create beautiful homes, and make a profit. By using Arizona landscaping you can make the most of any investment that any homebuyer would love.
Use The Following Arizona Landscaping Tips For Your Investment
Power Wash Your investment
Choose The Right Exterior Paint Colors
Use Desert and Potted Plants
How will you use Arizona landscaping for your investment?
Whether flipping or renting, hard money loans make it easy to invest in real estate. With same-day approval and funding in as little as two days, you can get the fast funds you need to buy, flip, or rehab any real estate investment. Get your hard money loan here.