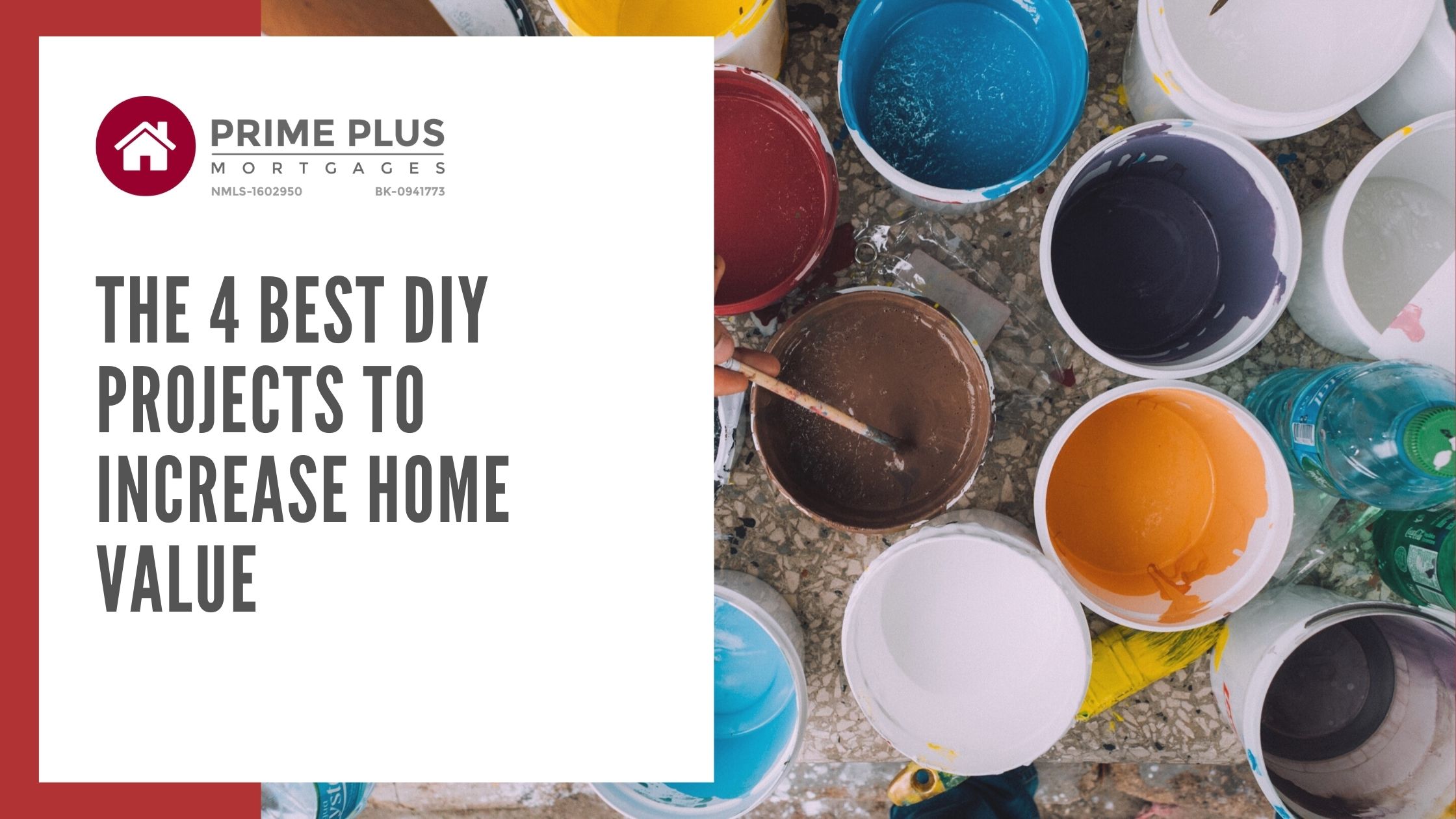 Spring cleaning is upon us, and for many a great time of year to refresh their home. Pinterest boards are full of many home hacks or  DIY projects, and these can improve your home value as well! With a few hours and some elbow grease, you can improve the look and value of your home.
When checking off your to-do list, it can be hard to decide what project to start next. These 4 easy house projects will increase your home value with little cash out of your pocket.
Whether you're a homeowner, or a real estate investor these easy DIY projects can improve the value of your home! Here are the best DIY projects to improve the value of your home.
DIY Project #1: Replace The Front Door
Need an easy way to boost the look and value of your home? Look no further than the front door!
A new door goes a long way and adds tremendous value and style to your home. The curb appeal resulting from a new front door can add as much as $24,000 to a home's perceived value, according to research commissioned by Therma-Tru Doors.
Some benefits of adding or replacing a front door are:
Improved Curb Appeal
Improved Look Of Home
Increased Home Value
Replacing the front door is the perfect DIY project. With a can of paint or a new door, Update your home and add a warm welcoming atmosphere, with beautiful lighting, and only take a few minutes to install! Add hundreds or thousands of dollars in value to your home.
DIY Project #2: Update Your Landscaping
With The spring sun coming out, any excuse to be outside is welcome. Springtime is perfect for updating your landscaping and increasing your home value.
With some smart landscaping improvements, this DIY project can make a huge impact on your home. Homes with high curb appeal tend to sell for an average of 7% more than similar houses with an uninviting exterior!
Some easy DIY Landscaping ideas that will add value to your home are:
Power Wash Your Home
Touch Up or Add New Paint
Use Desert and Potted Plants
Now here is an easy update! Set the atmosphere for your home with some beautiful pops of color, and bright clean sidewalks and driveways. A few hours outside can make massive improvements to your home value, and curb appeal.
DIY Project #3: New Garage Door
Want to go the extra mile outside this spring? Take a look at your Garage door!
A garage door takes up a large portion of the exterior of your home, and a dingy one can hurt the value of your home. 70% of Realtors agree that a new garage door helps sell a house faster and for more money. A garage door upgrade can add $8,000 to $14,000 to the purchase price.
Some Benefits to replacing your garage door are:
Boosts Home Value
Lower Energy Costs
Less Maintenance Over Time
You may not want to pay for a garage door, but some maintenance may be long overdue! Simply power washing, or a fresh coat of paint to your garage door, is an easy DIY project that adds value.
Garage Doors are an overlooked value-added. If you use your garage every single day, it may be time to update or spend some time on this DIY project that adds value to your home.
DIY Project #4: Minor Kitchen Remodel
If you need a break from exterior DIY projects, this is the one for you. Kitchens get used every single day in a home and need a little extra TLC.
Now a Kitchen Remodel may not sound easy, but a minor remodel is not as intensive as it sounds. You can easily give your kitchen a facelift in a few hours and improve the value of your home.
Want a DIY project that adds value in just a few hours? Here is how to do it! Update finishes, replace broken or crooked cabinets, and a new coat of paint. Easy right?
This minor remodel will boost your home value tremendously!
Summary
If you want to spend a few hours on your home, why not spend a weekend to increase the value as well? Whether you are looking to sell or improve your home these easy DIY projects are fast and easy.
The 4 Best DIY Projects To Increase Home Value Are:
DIY Project #1: Replace The Front Door
DIY Project #2: Update Your Landscaping
DIY Project #3: New Garage Door
DIY Project #4: Minor Kitchen Remodel
What will be your next DIY?
Prime Plus Mortgages offers one-of-a-kind Home Rehab Loans perfectly crafted to help you make home repairs to real estate investments. To learn more about our hard money loans when you apply today.