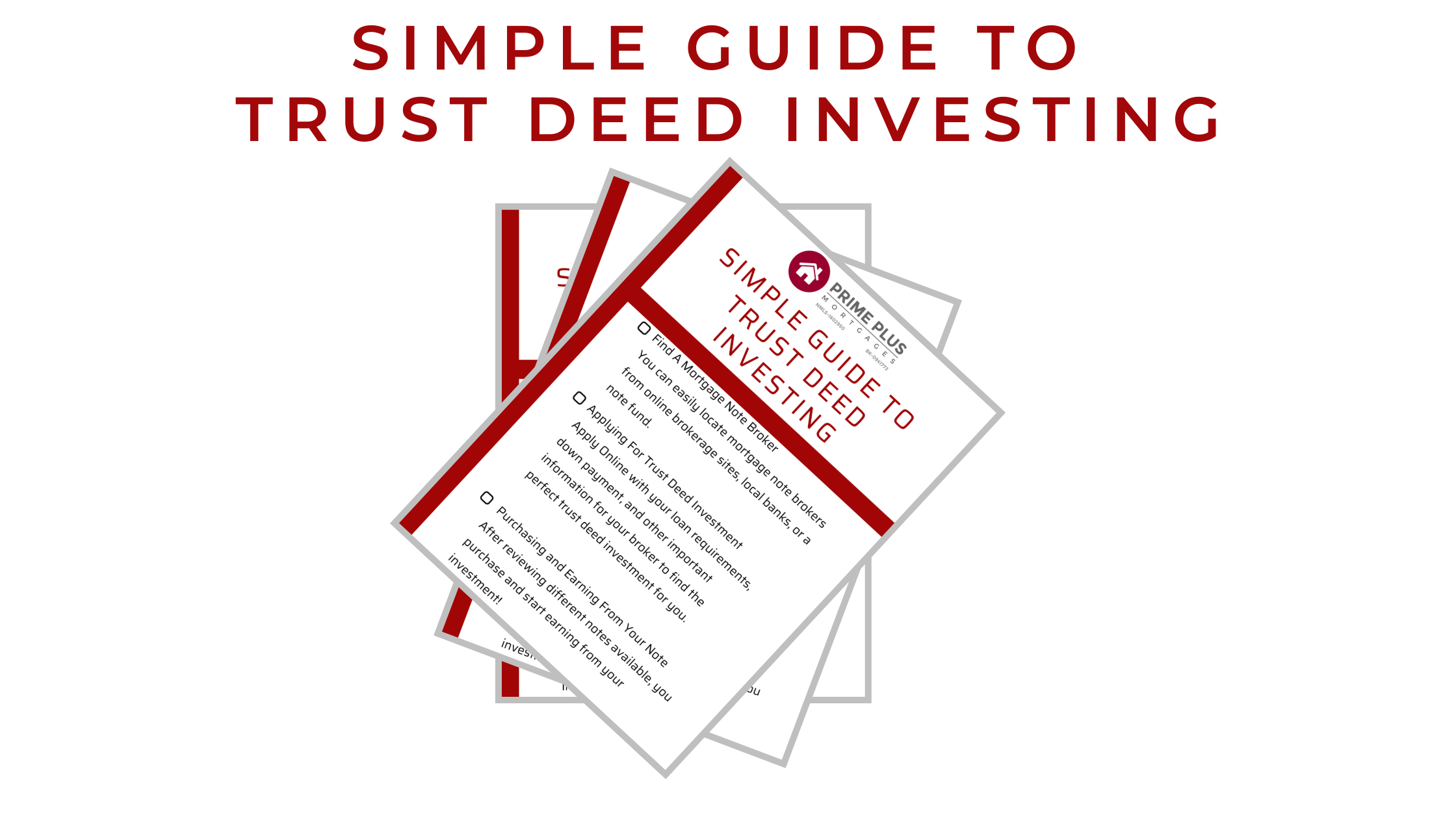 F.Y.I. If you are ready to buy an Arizona deed of trust, click here to get started!

Real estate investors are always on the hunt for the next big investment. The best way to invest is to build passive income. Passive Income requires little maintenance or oversight and continues to add to revenue streams. That is why more investors are looking to trust deed investing.
Trust deed investing has been around for a long time, and is a great opportunity for any investor to build passive income. This passive income stream makes it easy to invest in real estate, and earn, all while building a passive income.
Our practical trust deed investing guide makes it easy to learn more, and start investing in trust deeds. That is why we made this guide to help investors find, and invest in mortgage notes.
As investors, and mortgage brokers we know what first-time investors need to know to start trust deed investing. So follow this guide To  Easier Trust Deed Investing!
What Is Trust Deed Investing
Trust deed investing is when an investor purchases a deed of trust from a lender to profit from interest accrued on the loan.
Note buyers profit from purchasing the deeds of trust or mortgage notes as they will receive the interest from these loans, and can purchase them at a discount from the lenders. Note buyers can work with lenders who service their loans for them and receive monthly checks without having to check with the borrower. There are many benefits to investing in deeds of trusts, and why some investors prefer them.
Advantages of Investing Mortgage Notes:
High Yield Returns – Rates of return that are higher than the bank's traditional low yield bonds; and higher than most stock dividends.
Monthly Income – If you are looking for additional monthly income for retirement, for living expenses, or to build your savings account, we can help.
IRA Friendly – This investment provides investors with a way to put to use their self-directed traditional IRA or Roth IRA.  We can recommend several custodian companies that handle the paperwork and hold your IRA while the funds are invested with us.
Rollover Option – Option to automatically roll over your investment so you don't miss out on earning interest or future investment opportunities.
Trust Deed Investing is a hands-off approach to investing in real estate that can offer high yield returns and passive income. If you decide to invest in deeds of trust, you need to make sure to choose the right type of note to invest in.
Different Kinds Trust Deed Investments
As real estate investments vary, so can opportunities for trust deed investing. All notes are not made equal and have varying levels of risks. From land, mobile, rentals, and flips, properties can vary greatly, depending on your investing goals you may find different types of notes work best for you!
You can invest in deeds of trust for many different types of loan types and positions, as well as property types.
Types of Trusts Deeds Investments Are A Combination of the Following: 
Secured Loans
Unsecured Loans
Private Loans
Institutional Loans
First Position Loans
Second Position Loans
These terms are used to identify the type of mortgages tied to properties. Secured mortgages have tangible assets tied to the loan, such as the real estate property itself. Unsecured loans are not tied to a particular asset. Additionally, Depending on who you purchase the loan from may qualify it as a private loan (from a hard money lender, or private money lender) or a credit union or bank.
The most common trust deed investment type is often secured residential properties as they offer the least amount of risks. Before you start investing in notes, make sure you know how to identify a good trust deed investment before you apply. If you work with a reputable mortgage broker you can easily find a trust deed that works for your goals.
How To Find Mortgage Note Brokers
Once you have identified the trust deed investments that work best for you, you can begin your search for deeds of trusts to invest in. Mortgage note brokers will be able to easily match an Arizona deed of trust to your investment goals. You can easily find a mortgage note broker in a variety of ways.
3 Places To Find Mortgage Note Brokers: 
Local Bank: You can easily find a mortgage note broker at any local bank. They will share their portfolio of deeds to invest in but local banks may be harder to approve your note buyer application and a slower process.
Find A Mortgage Note Broker Online: If you have certain locations, or deed requirements, working with online mortgage note brokers is a great way to have more options for your investing. You can easily apply, find, and invest in Arizona deeds of trust online. Many large platforms offer online trust deed investments.
Note Funds: You can also start trust deed investing through note funds. Commonly these are offered by private equity funds or hedge funds. Through a note fund, you can invest in multiple notes with a group of investors.
Mortgage note brokers will work with you to find the notes that offer the best return on investment and match your investment goals. Choosing the right method is key to aligning with your goals.
Simple Guide To Trust Deed Investing
Now that we have covered the basics of trust deed investing, follow these steps to start your first investment.
Step 1 – Find A Mortgage Note Broker
As we covered above, finding the right note is key to trust deed investing. When you invest in a deed of trust, finding the right notes is key.
To find the right deed of trust, you need to find a mortgage note broker that aligns with your ideal property price, and type of real estate. Different lenders will offer a variety of property types and prices.  Once you find a broker that aligns with your investment strategy you can apply.
Step 2 – Applying and Underwriting
After finding the right mortgage note broker, you will apply to note investing. This will require some of your information, such as the ideal price range, investment history, and type of property. Some may require proof of funds or collateral.
After the broker approves your application you can review and select a note to purchase.
Step 3 – Purchasing and Earning From The Note
Once You are approved for your note, a broker will send you a selection of active notes to choose from. These loan overviews will be short fact sheets with the following information about the property and loan:
Property description
Loan amount
Loan-to-value ratio
Annual interest rate
Duration of loan
Exit strategy
This valuable information is crucial for selecting a trust deed to invest in. After a deed of trust is selected, the borrower purchases the note and starts earning on the interest right away. It's that easy!
Summary:
Investing in Arizona deeds of trust is a great way to earn passive income and begin investing in real estate. Knowing how to identify a good investment, working with the right mortgage note broker, and choosing your note are all important steps to trust deed investing.
For profitable trust deed investing you will need knowledge of real estate properties, return on investments, loan positions, and your broker.
We hope this guide helps you on your trust deed investing journey. If you are ready to start investing in mortgage notes, apply today to learn more!