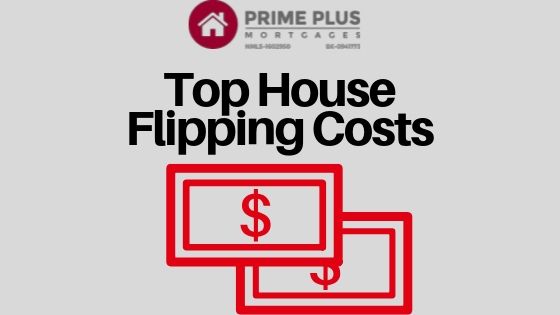 House flipping isn't cheap! Keeping on top of your budget and tracking your expenses is a necessity for any successful house flipper. Budget, and profit, you need to know your house flipping costs.
With one of the hottest seller's market Arizona has seen, there is major cash to be made by house flipping.
For many first-time house flippers, staying on top of your budget and tracking your expenses is essential to making a profit.
This house flipping costs sheet makes tracking your budget easy. While all the prices may vary depending on your project, setting a reasonable budget will help you stay on the right path!
Keep track of your expenses and make more money. Here are the top house flipping costs you need to keep an eye on!

Property Price
Buying your flip will be one of the top expenses when flipping. In a strong seller market like Arizona's property prices are on the rise.
While this is great news for house flippers looking to move their properties, buying under-valued properties can get expensive.
To get the most of your property, an in-depth walk-through of your property is needed.
Make sure to clearing take notes of any and all repairs you know will need to be completed, and compare the property to comps, and run the potential comps once it is completed.
If the cost of the repairs may not be worth it if the property won't be able to sell for a profit.
You should run you after repair value of your property, so if you do decide to purchase you can set a clear budget, and track your expenses.
Roof
For those using our House flipping costs, roofs can be one of the most costly repairs you make.
Roofs should always be in great condition on a flip. Having a new roof ensures that there is no water damage and that the home is in great shape.
Depending on the level of the home you are flipping a new roof can cost anywhere from $5,000 to $8,000 for a low-end repair. For higher-end flips, you can expect to spend anywhere in the range of $9,000-  $15,000.
While a roof may be more costly, it can save your home from water damage, and be more appealing to buyers. A roof can be expensive, but having a great roof is a necessity.
Foundational
While issues with a roof are easy to spot, foundational issues can be harder to see.
While no one wants to budget for foundation issues, they can be surprising and expensive.
When tracking foundation costs on your House flipping costs, preparing for the worst is a good idea.
Depending on the extensive issues foundation repairs cost can vary widely. Foundational issues in Arizona are common, so budgeting is key.
Foundation repairs are depending on how quickly issues are caught. Home Guide reports that the average foundation cost can fall between $4,000 to $10,000 to fix.
Foundation issues can be tricky but can be caught beforehand. Signs of a bad foundation can be seen throughout a home.
Look for cracks in walls, and floors. Doors that don't hurt may be indicators of a foundation shift. Floors that seemed sloped can also be a sign of a bad foundation. You can even look on the outside of a home and see if the foundation has shifted.
Foundations need to be repaired before flipping a home, and if left unattended can lead to major structural problems.
Kitchen Rehab
With big-ticket repairs out of the way, house flippers can focus on the renovation of their new property.
When following the House flipping costs, budget for a great kitchen rehab.
Homeadvisor reported that homeowners spend from $12,594 to $33,118 on kitchen remodeling, at an average of $21,751.
When flipping, kitchens must be renovated. Making your kitchen clean, modern, and fresh will attract more buyers and make your home more appealing.
Depending on the size and finishes you choose, kitchen rehab may be more or less expensive. If you choose to expand your kitchen, which will add more buyers, it will cost more.
No matter what your kitchen repair, make sure that it adds more value to your home, and you make repairs that are appealing to your ideal buyer.
Flooring
House flipping costs for flooring is important for your flip budget.
Any carpet will need to be replaced, and depending on the style and look of your home, it may require new tile or even hard floors. Some houses may be lucky to have hardwood floors which will also need to be refinished.
New carpets can cost around $19-$38 a square yard, or $300-$600 for a 12×12-foot room. Carpet is one of the most cost-effective flooring option available.
For higher-end homes, hardwood floors may be more appealing to buyers. The average national cost of a wooden floor is about $4,400. For higher-end flips, you need to be sure that the floors are attractive to your ideal audience.
Bathrooms or kitchens that need to be re-tiled cost less than hardwood floors. Most homeowners spend between $861 and $2,689 or an average of $1,770 to install porcelain or ceramic tile flooring. On Average $15 to $20 per square foot for all the materials and installation for a new tile floor.
New flooring can add to your House flipping costs but are great for attracting a wide array of buyers.
Paint
House flipping costs cover the house top to bottom. After repairing kitchens, new floors, and even tackling the bigger issues, painting the home is one of the easiest repairs to make.
Thankfully painting a home is less expensive than other repairs.
Home Advisor broke down the national average for the painting of the exterior of your flip. Painting a home's exterior costs an average of $2,818 with a typical range between $1,710 and $3,962.
Smart Asset, reports the average cost to paint the interior of a house falls between $1.50 and $3.50 per square foot. If you're doing the ceilings, walls, and trim, the cost per square foot will likely fall between $3 and $4.
A new coat of paint makes a home feel fresh and new, especially with the right colors. With a few coats, you can totally transform a home. Make sure to pick colors that appeal to the buyers in your market and location.
Taxes & Closings Costs
One of the House flipping costs flippers doesn't prepare for taxes of your repaired property. This should only affect you if you have issues finding a buyer a home.
It may also deter some buyers that aren't looking for high taxes. Make sure to factor in new tax rates when determining the price of your home.
Closing costs are an assortment of fees that are paid by the buyers and sellers of any property. When budgeting your house flipping costs, preparing for paying for the closing costs can make a sale of a flip easy.
In total, the costs range from around 1% to 7% of the sale price, but sellers typically pay anywhere from 1% to 3%, according to Realtor.com.
Once you set your budget for all your repairs, costs, and taxes you can budget for your profit.
ARV And Flipping Your Property
Before you purchase any home for a flip, you should have a clear understanding of the House flipping costs, and you're after repair value.
ARV is the most important calculation for house flippers. Hard money lenders and flippers often use this to calculate profit and future value for the long-term properties.
The following information is important when determining a property's current value:
Location (neighborhood, accessibility, proximity to amenities, etc)

Lot (size, corner or interior, shape, slope, terrain, roads available, etc)

Structure (size, number of stories, type, style, etc)
Let's say the property's purchase price is $100k, the repair cost is $25k, and you expect to sell it for $150,000, the value of repairs is $50k but the cost of repairs is only $25k. This results in an ARV of $150k and a potential profit of $25k.
ARV is important because it determines a projects sale price, renovation budget, and overall profits for the flippers. It is also used investors looking to determine the value of a rental property after renovations to estimate rent and/or the future value of the long-term property.
For many house flippers, the cost of the property, repairs, and closings can be draining on a budget. That is why many of them depend on hard money lenders for their flips.
Hard money lenders make it easy to purchase, repair and sell their flips. Fix and flip loans are made just for house flippers to help them get started on their repairs.
Fix and flip loans are fast and don't rely on credit scores to get approved. In fact, many fix and flip loans are based on the ARV of a property! Hard money loans make it easy to spend time focusing on our repairs, instead of your house flipping costs.
Learn more about how to use hard money loan for your flip here.
Summary:
Tracking your House Flipping Costs can be daunting. Many house flippers use hard money loans to reduce theirs out of pocket house flipping costs. In order to be a successful house flipper, and be prepared to make the most of your flip and make a profit.
Track these house flipping costs to be prepared to price your flip accordingly.
Property Price

Roof

Foundational

Kitchen Rehab

Flooring

Paint

Taxes

Closing Costs

ARV And Flipping Your Property
What's A House Flipping Cost We Missed?