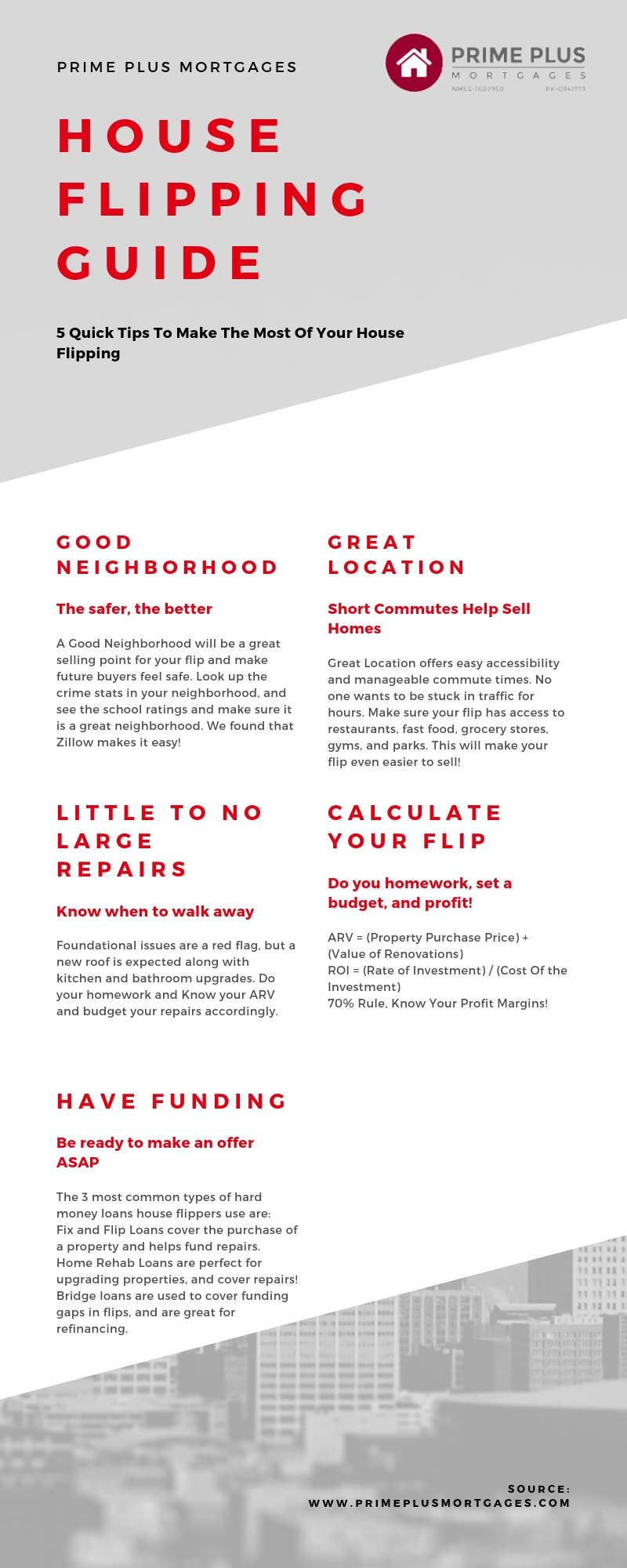 House flipping in Arizona has never been more popular.
We sat down with some local expects, and got the 5 things you need to have to make the most of your flip!
If You are looking to make the most of your house flipping efforts, make sure to apply for a hard money loan, or get our 10 step guide to real estate investing here!
Good Neighborhood
The safer, the better :A Good Neighborhood will be a great selling point for your flip and make future buyers feel safe.
Look up the crime stats in your neighborhood, and see the school ratings and make sure it is a great neighborhood.
We found that Zillow makes it easy!
Some other signes of a great neighborhood are:
Street Signs
Posted Speed Limits
Sidewalks
Street Lights
Curb Appeal
Well Maintained Homes and Yards
Great Location
Short Commutes Help Sell Homes
Great Location offers easy accessibility and manageable commute times. No one wants to be stuck in traffic for hours!
When house flipping make sure you have asy access to these ammendities:
Fast food
Grocery stores
Gyms
Parks
Restaurants
Highways
Business Parks
Schools
Child care
Easy access to well mintained road, aand short commutes to schools, work, daycare and amentieds with help you sell faster when house flipping.
Little To No Large Repairs: Know when to walk away
Foundational issues are a red flag, but a new roof is expected along with kitchen and bathroom upgrades.
Do your homework and Know your ARV and budget your repairs accordingly.
Some Large Repairs to Avoi Are:
Foundation Issues
Water damage
Mold
Calculate your flip
Calculating Your After Repair Value is the first step in understand how to start making money with real estate investing.
Here's the formula:
ARV = (Property's Purchase Price) + (Value of Renovations)
Easy!
To determine the current property value, hard money lenders use the following:
Location (neighborhood, accessibility, proximity to amenities, etc)
Lot (size, corner or interior, shape, slope, terrain, roads available, etc)
Structure (size, number of stories, type, style, etc)
Hard money lenders use this, along with current listing prices, to determine the true value of the property, and if over time the properties value will improve.
By combining the property price, and the value of the renovations you can estimate for your expected profit.
Knowing the cost, and value of the renovations is key to making the most of your After Repair Value, and calculating your ROI.
ROI, or return on interest, is knowing how much of a return you will recieve on your project.
You can use your Return On Interest to learn just how much you can profit from a  property.
There are a lot of different ways to calculate for ROI, but we find that this formula makes it the easiest to understand, in terms of real estate investing.
ROI = (Rate of Investment) / (Cost Of the Investment)
So You could easily take the purchase price of a property, with repairs, and divide by the estimated ARV.
Using this method helps you make sure that the flip is profitable, and helps you stick to the budget so you can maximize your profit.
You can use this calculator to learn how it works!
Have Funding
The 3 most common types of hard money loans house flippers use are:
Fix and Flip Loans cover the purchase of a property and helps fund repairs.
Home Rehab Loans are perfect for upgrading properties, and cover repairs!
Bridge loans are used to cover funding gaps in flips, and are great for refinancing.
Summary:
Follow these House Flipping tips to make the most for your next flip!
Good Neighborhood: A safe neighborhood with great features, is a sign of a grat flip!
Great Location: A great location will sell your home faster!
Little To No Large Repairs: Too many large repirs can eat your budget.
Calucalte Your Flip: Know how to make the most money for your flip, and set your budget
Funding: Hard Money loans can help you make and offer ASAP.
What's your favorite house flipping tip?