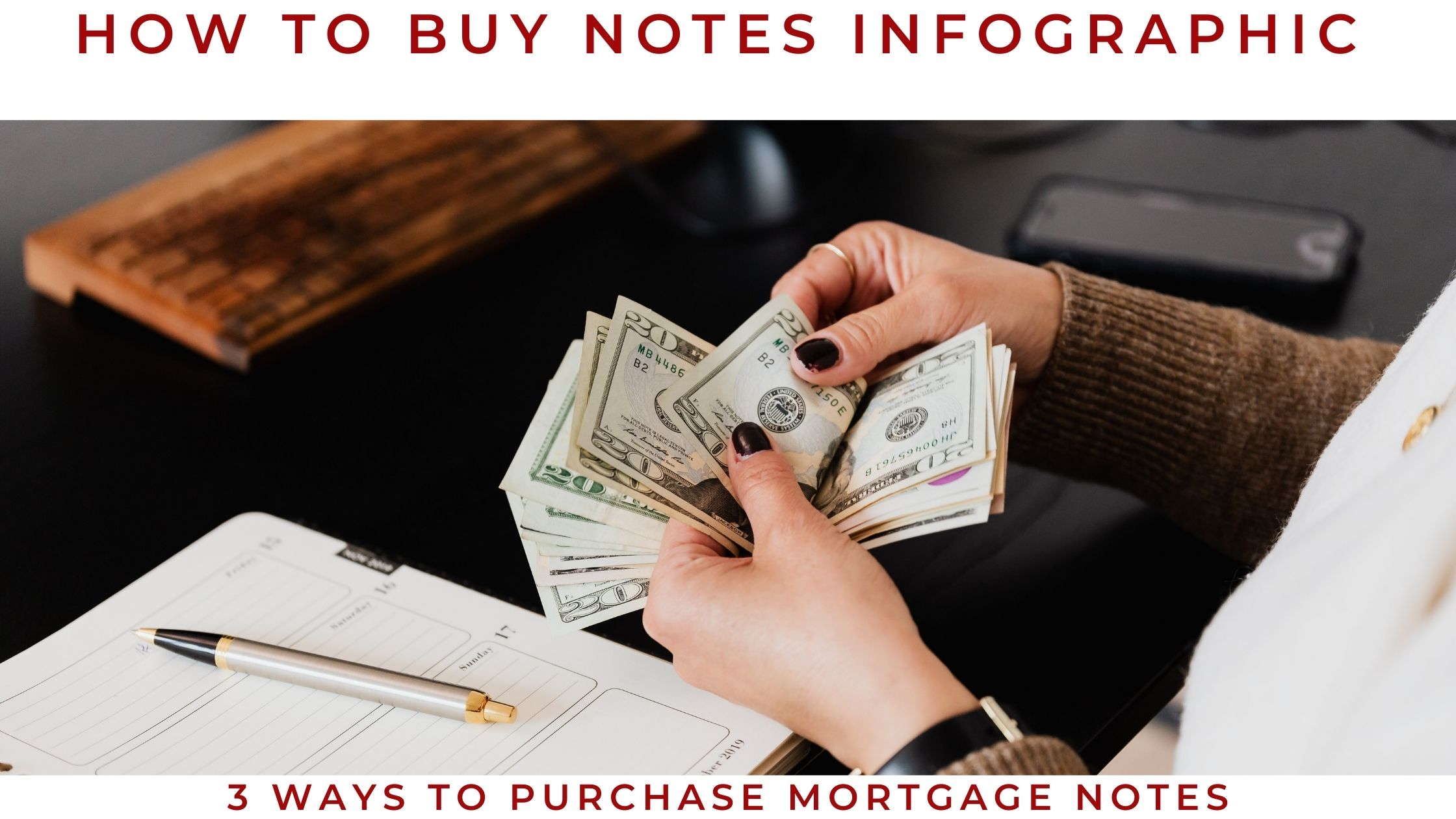 So you've read the articles about how to invest in mortgage notes and you're hooked. You know all about the possibilities, options, and profits of note investing and are ready to purchase a money note of your own.

One of the many benefits of note investing is flexibility, which includes how you buy a note. Now you just need to decide how to purchase your real estate note. Thankfully just like the notes themselves, there are many options to buy a real estate note.
Here are the 3 ways to buy mortgage notes.
IRA
One of the benefits of investing in notes is that it offers low-risk investing. Additionally, by purchasing a note with your IRA you can not only diversify your investment portfolio but gain steady passive income. Purchasing a note with an IRA is one of the easiest – and safest ways to invest in notes.
With a self-directed IRA, you can easily invest in notes. Using your IRA, you have many options on how you would like to invest.
Some choices are:
New Or Existing Notes
Secured Or Unsecured
Investment or Residential
When investing, finding credible investments is critical to success. You can purchase notes from banks, mortgage brokers, or even private lenders. Make sure to complete your due diligence to ensure a credible lender. Once you find a lender and a note, it's only 3 steps to profiting on a note.
How to Buy Notes With An IRA:
Buy Your Note: Find a credible lender, and a note to purchase. Most lenders and brokers will have a collection of notes to sell for easy investment. Simply Select your note and Provide your IRa information to purchase it.
Finalize Paperwork: Ensure your IRA is listed as a lender for the note. Complete your paperwork and finalize any missing information to purchase.
Make Money: Most lenders will service your note, meaning you do not need to collect or chase down note payments. You can sit back and relax and make money for your note investment.
Purchasing a note with your IRA is one of the easiest ways to begin investing in real estate notes. If you purchase with an IRA ensure you have your paperwork in order and if needed a servicer to complete your note investment.
Crowdfund A Note Investment
Crowdfunding is a great way to see if an investment is for you with minimal investment. Through crowdfunding can sample note investing with much smaller capital, but with smaller profits. This is a great way to try out note investing before you invest with an IRA or cash with a smaller risk.
Crowdfunding notes work the same as any other crowdfunded investments. Simply, a group of investors pool their money together for various investments and split profits based on the investment. While real estate investments can be extremely costly, this is a low entryway of investing with some investments requiring as little as $500 dollars to start.
There are two ways you can crowdfund a note investment through a crowdfunding platform or a REIT (real estate investment trust). You can learn more about the pros and cons of each investment style here. 
REIT or real estate investment trusts or similar investments. Often these are large commercial investments like apartment buildings or others. REITs are liquid and diversified ways to invest in commercial properties.
Crowdfunded properties tend to be individual residential real estate investments. They run higher risks but can also have higher returns. They often require higher capital to invest than their REIT counterparts.
How to Crowdfund a Note:
Choose Your Crowdfunding method: Choosing between a REIT or Crowdfund note can come down to many factors such as type of investment, the time you wish to invest, or minimum investment.
Join the Crowdfunding Platform: For any Note Crowdfunding, you will need to make an account or join a note platform. Depending on your platform you may have a vetting period before you can invest due to credit checks and to verify any information.
Invest: Now you can easily invest in the various note options you are interested in and watch your investment grow!
Crowdfunding in notes is an easy way to test the waters, and eliminate a lot of the due diligence in finding new investment opportunities. It is also a good way to see if this investment style works best for you or your portfolio but can see smaller returns than your average note investment.
Cash
As they say in the real estate world, cash is king. With any investment cash down is one of the hassle-free ways to invest. With real estate notes, you can also see a steady monthly return on your investment.
Cash is one of the easiest ways to buy notes. This simple process is as easy as 1,2,3. Here is all you need to know to buy a note with cash!
How to Buy Notes With Cash:
Find lenders: hard money lenders, private lenders, and banks will sell notes to improve their cash flow. Provide proof of funds, and inquire to purchase a note and they will show you available properties with information on the note.
Purchasing A Note: Once you select a note it's as easy to purchase. Some lenders will offer payment plans to make the purchasing of the note even easier.
Profiting From A Note Investment: Many lenders will service your note once purchased, meaning the note payments will be sent directly to you meaning you can let them handle your investment and receive payments.
Note investing is a great way to start investing in real estate without the risks of tenants, repairs, or buyers. With flexibility on investments, it is easy to find an investment that best suits you. You can learn more about how to invest in mortgage notes here. 
Summary
For investors searching for flexibility real estate investing offers endless possibilities. Note investments make this an easier way to invest in a hands-off way. It's a great investment for those looking for options, flexibility, and simplicity. Notes are easy to invest in and easy to buy.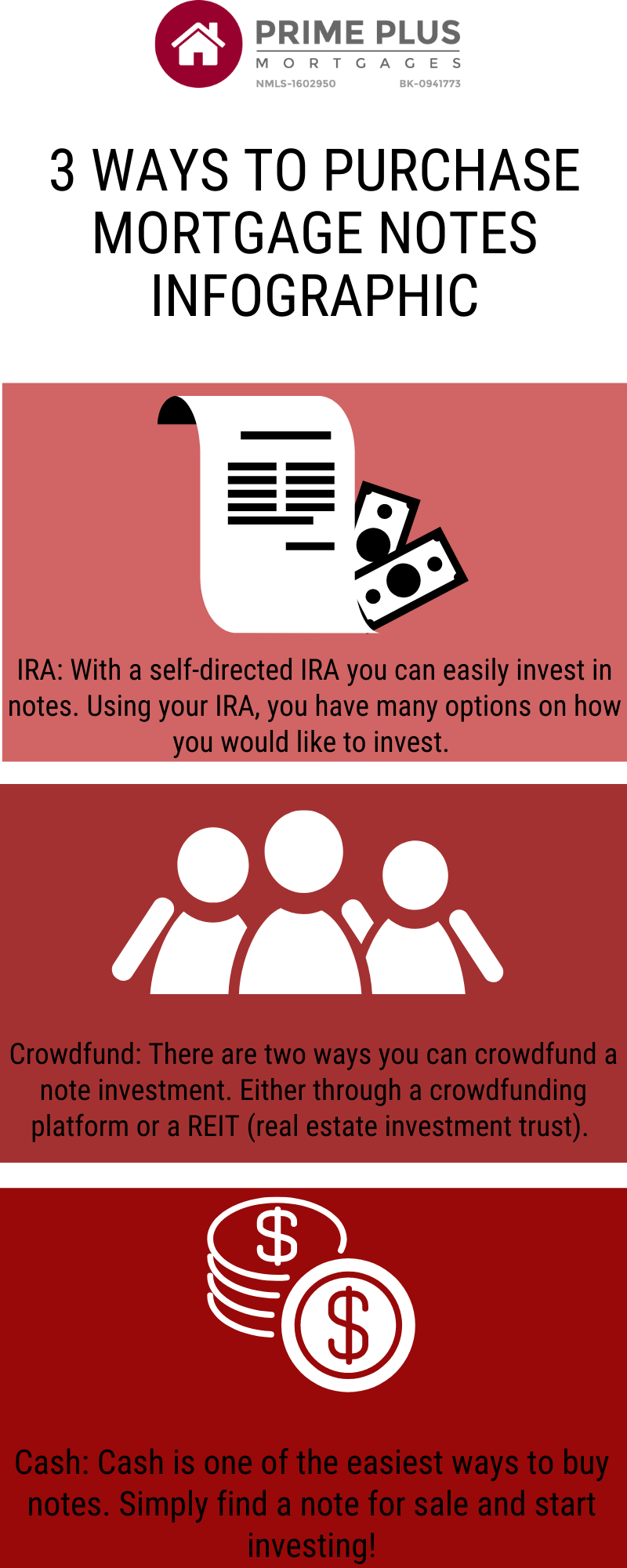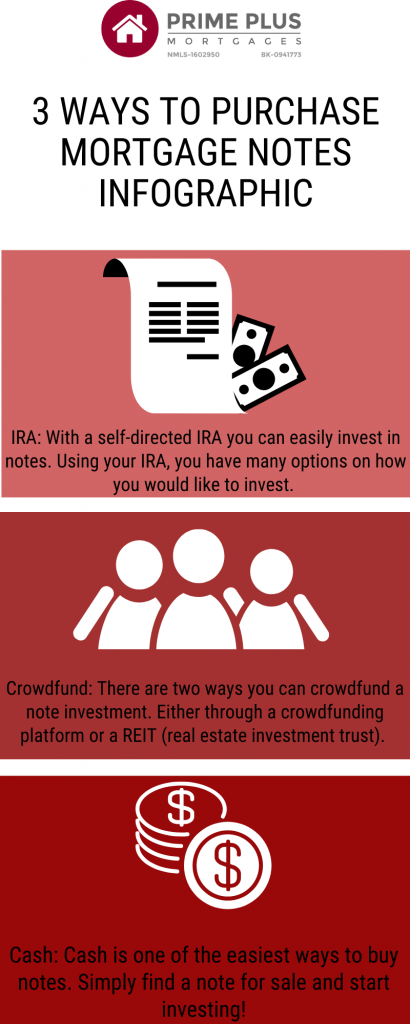 How to Buy Notes:
IRA: self-directed IRAs make buying notes easy. You can easily use your IRa to purchase a note and diversify your portfolio.
Crowdfund: Whether it's a crowdfunded investment or a REIT this is a low-cost way to purchase a note! Simply make an account and start investing.
Cash: If you have enough cash, you can simply purchase a note outright, or see if a lender has payment options. This is one of the easiest and simplest ways to purchase a note.
Ready to start mortgage note investing? Learn more about our note buying program today!