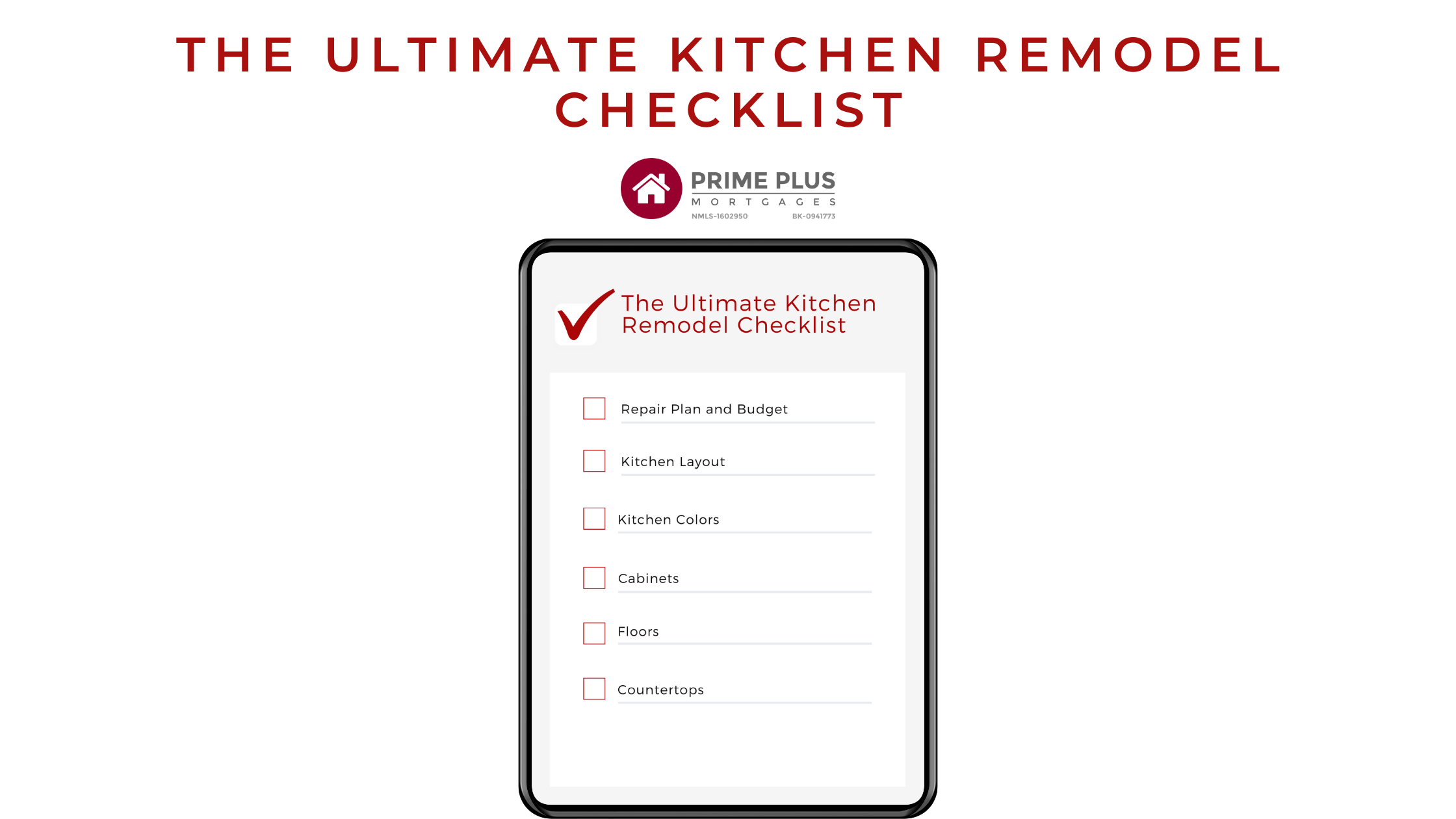 The Ultimate Kitchen Remodel Checklist
The kitchen is a center for family meals, holidays, and is one of the most used rooms of a home. For house flippers having a kitchen that can sell a home is a must! So a kitchen remodel checklist is a must for a successful flip!
A home renovation is a great way to bolster your home value and also beautify a home. For house flippers, room remodels improve home value and the sales price for a flip to earn a profit.
Kitchens are often referred to at the heart of a home, and for good reason. For many eager home buyers, the kitchen is the most important room of the home. Read on to get your kitchen to remodel checklist below.
Repair Plan and Budget
Before you start swinging away at drywall there are very important steps for any kitchen remodel. For any seasoned house flipper, they know that the most important aspects of a remodel are the budget and the plan for any room.
Budget and a plan for your kitchen will not only help you stay on task but help you gain more money when selling your home. Making a budget and a plan for your home is easier than you might think!
ARV or after repair value is a calculation house flippers use to determine if a repair is necessary for a home. ARV factors in how the repairs will impact your home value, helping you make the right repairs. ARV FORMULA: ARV = Property's Current Value + Value of Renovations
A repair plan is important so you don't get carried away by the bells and whistles when upgrading a kitchen. Ensuring the current problems with a home (such as layout, countertops, or even just a minor upgrade) can all lead to hundreds of dollars in your budget. Detail and outline the most important areas of a kitchen to remodel and align it with your budget.
A minor kitchen upgrade can still improve the home value of a house, without the costs. A minor upgrade can be improving your cabinets, replacing countertops, and improving the function of your kitchen.
Your remodeling budget should take into account the ARV of the repairs you want to make, and the funds you have available for those repairs. Certain projects can cost more than others so it's important to choose the repairs that will add the most value to your home without going over budget.
Layout
Kitchen layouts are one of the best ways to improve the value and appeal of a kitchen. With a well-laid-out kitchen, you can maximize efficiency, traffic flow, and organization of the kitchen, no matter the size.
This guide lists the most popular kitchen layouts that you can use for your home:
L-shaped kitchens: An L-shaped kitchen has two of the three major kitchen appliances on one wall. This can use current electrical and water hookups, without much hassle.
U-shaped kitchens: Similar to an L-shaped kitchen, but with three wall surfaces. This is great for larger kitchen spaces.
G-shaped kitchens: This style is relatively new in kitchen designs and is becoming quite popular, but only when the kitchen boasts enough floor and area space to allow for a fourth wall. The short fourth wall is what changes the shape from a U to a G.
I-shaped or single-wall kitchens: This style may feel cramped but may be the only option in a small home. The I-shaped kitchen places all the appliances on one wall, but one would have to determine a work area.
Corridor/Galley/Parallel wall kitchen: Best for small spaces, using two adjacent walls to maximize spaces.
Changing the layout of a kitchen can be an intimidating task as it can lead to a complete remodel of your current kitchen. Layout changes can be expensive, as it requires water, electrical, cabinets, and counter spaces to be replaced.
If you plan to change the layout of a kitchen, ensure that you choose the best layout for your space. A kitchen should be easy to clean, cook, and eat in so ensure your layout can accomplish those tasks without overcrowding one another.
Colors
Color is one of the best ways to completely change the look and feel of a room for minimal investment. No matter your kitchen layout, picking the right colors for your kitchen can improve the home value of any investment.
There are so many places to incorporate color in your kitchen, it can be overwhelming when to choose a complimentary color or bold statement. Grundig recommends the following tips for choosing a color in your kitchen:
Cabinet colors: Cabinets take up most of the space in a kitchen, so instead of matching cabinets to your kitchen, match your kitchen to cabinets. Material, hardware, and style of the cabinet will set the tone for your kitchen, pick the style that makes sense to you!
Appliances: Choose appliances that compliment your cabinet's colors and potential matches. Match stainless with wood and white appliances to white cabinets.
Countertops and Floors: Textures and colors should match the counters and your floor. Matching these together will lead to a more coordinated and uniform kitchen look. The counter and floor should be a complimentary color to your cabinets but not match!
Walls: Walls are an obvious choice for color, but can overpower a kitchen if not thought through. Complimentary colors can really bring a room of full texture and bold colors together, while a more subtle kitchen with white and gray might welcome color to unify the home.
Not sure what colors could work in your kitchen? HGTV boasts a list of potential colors options, stating that warm colors are perfect for making a welcoming space. Some HGTV top picks for kitchen colors are: white, gray, blue, red, yellow, and green.
Cabinets
Now that you have decided on the layout and budget for your kitchen, it's time to start the remodel. Well almost. As we covered above cabinets are one of the most important elements of your kitchen! Cabinets take up some of the largest visual space in your kitchen and serve an important function for your kitchen.
If you decide to replace your cabinets here are some important things to consider:
Custom-made or Prefabricated: Custom-made can be the only way to get the perfect fit for your home. Prefabricated cabinets can be major cost savings but not be able to fit your exact look in mind for your home.
Storage/ Organization: How will new cabinets improve the storage of the current kitchen? Maximize storage and the organization of your kitchen with your cabinets.
Cabinet style: Will the cabinets improve the look and style of your kitchen? Will they fall out of trend in 10 years? How will these new cabinets appeal to homebuyers?
Assess your current cabinets and layout to determine if they need to be replaced or just a few upgrades. Sometimes a full replacement isn't always necessary or an option on a limited budget.
A fresh coat of paint and a replacement of the hardware may be all it takes to improve the look of your cabinets.
Countertops
Countertops can easily be replaced in a kitchen and are a great way to improve your kitchen without a complete remodel. While choosing counters may seem a simple task, with endless options designs, and materials to choose from can be overwhelming.
Depending on previous elements in your kitchen you may be unsure of what material and style will look best in your kitchen. From stone to concrete to even wood you can find unlimited options for your kitchen.
If you aren't sure what material will work best in your kitchen, we are here to help! Depending on your budget you may find that some options are a better fit than others. Keep in mind that counter finishes can also play an impact on the look of your counter:
Countertop Materials: 
Laminate: a budget-friendly option that is easy to clean and can be found in nearly any design.
Granite: Comes in a natural variety of colors, textures, and finishes, and a natural variation of colors.
Quartz: This style requires minimal maintenance, and nearly any color available is easy to match and style in any home.
Marble: timeless look that oozes luxury, it can chip and crack easily comes with a hefty price tag.
Butcher Block: Low maintenance classic that is easy to clean and easy to match in a home.
Concrete: Heavy material indeed of strong support. It stands up well to heavy use although not as heat resistant as other surfaces.
Make sure that your countertop choice compliments the other materials that you have chosen for your kitchen. Matte finishes will also show marks more easily than polished finishes.
Floors
Many house flippers choose to keep the floors in the home instead of replacing them in a remodel. There are many reasons to consider if you should replace your floors.
Budget and materials can play a role in whether you should replace your floors. Additionally in open floor plans, the same style of the floor is used throughout the home, so would require the entirety of a home to be refloored.
Some things to consider before replacing a kitchen floor are the state of the subfloor (if your floors aren't flat they will need to be replaced!) How worn your flaws are, the flooring throughout the home, potential damage in the remodel, and your budget.
If you determine to replace your floor, HGTV popular flooring options are:
Hardwood flooring combines warmth and beauty and is comfortable underfoot. It's a good choice if you have an open floor plan and want a single type of flooring that extends beyond your kitchen.
Linoleum is another green kitchen flooring option. It's is made from renewable, biodegradable cork powder and linseed oil, and it has no harmful VOCs. It's a resilient flooring that comes in many patterns and colors, and it stands up well to foot traffic.
For durability and good looks, porcelain kitchen tile flooring is the champ. It's an upgrade version of regular ceramic tile because of a manufacturing process that makes it harder and less porous — a good choice for kitchens where spills are likely.
Summary:
For many eager home buyers, the kitchen is the most important room of the home. That is why house flippers focus on the kitchen remodel. This kitchen remodel checklist detailed every aspect of the perfect kitchen remodels!
The Ultimate Kitchen Remodel Checklist: 
Repair Plan And Budget: Determine if a full remodel is necessary or what large repairs are needed. After an assessment of the current state of the kitchen, you can determine a budget and repair plan.
Kitchen Layout:  Maximize space and efficiency with the right kitchen layout. This can be a costly repair but may make all the difference in your home!
Kitchen Color: Kitchen colors play a large role when homebuyers view your home. Be thoughtful about how the colors in your kitchen complement each other.
Cabinets: Where fashion meets function, cabinets are all about maximizing storage and being visually appealing.
Countertops: One of the easiest repairs in a kitchen remodel that does not require a full remodel. Choose the finish that best compliments your kitchen for a sleek and chic look.
Floors: Floors don't always need to be replaced but poor subfloors or weathered floors might need to be replaced.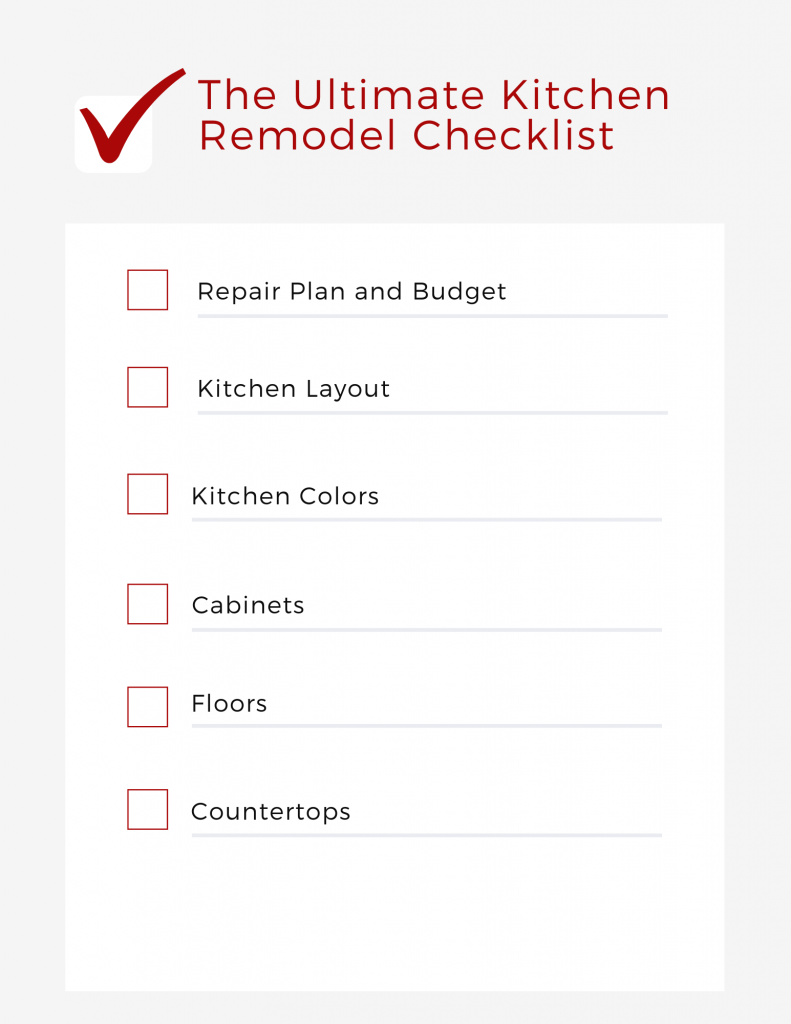 Ready to remodel your next flip? Get our free home rehab valuator today when you apply!