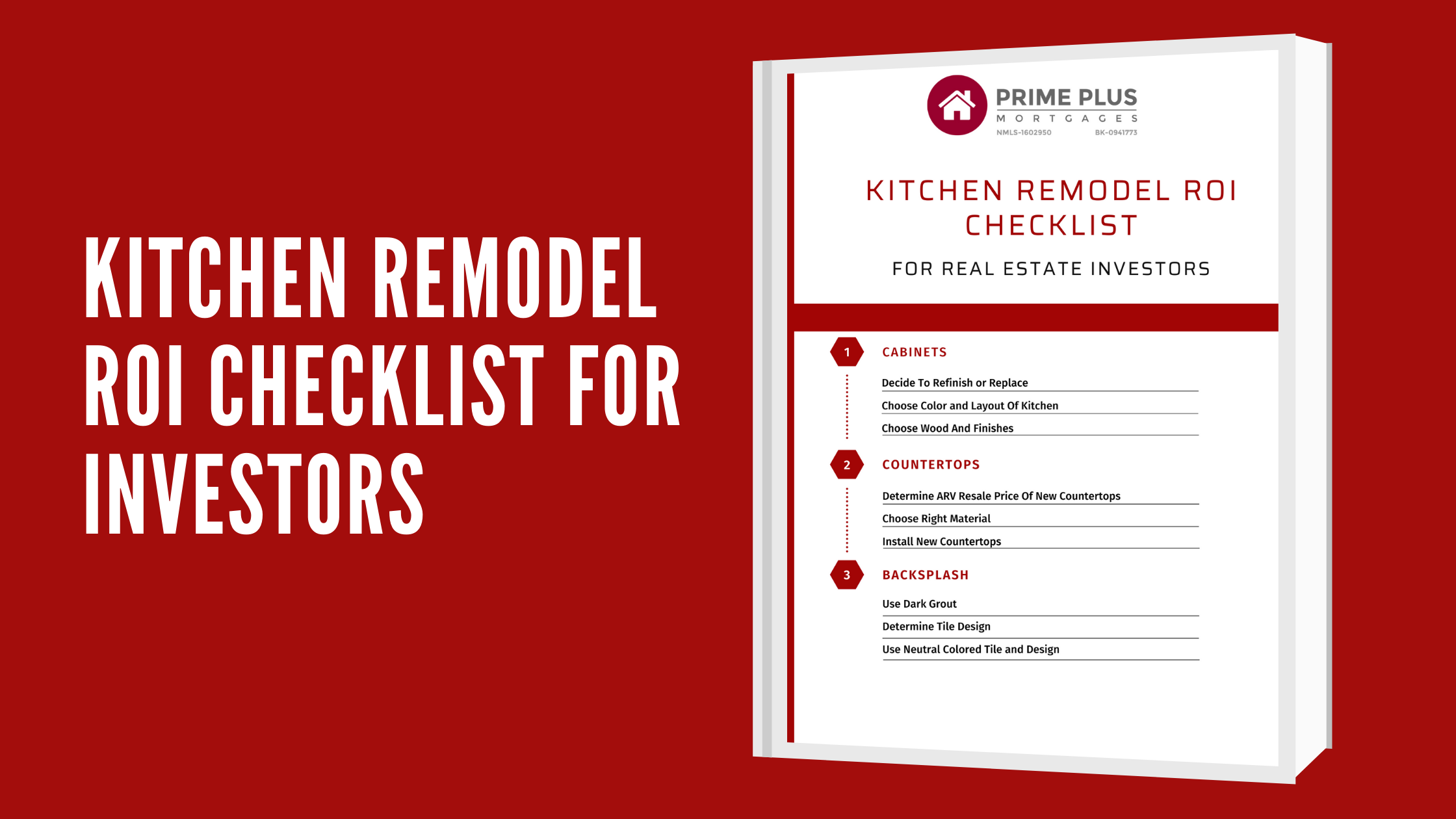 Kitchen Remodels are always high on a real estate investor's checklist. When looking at a kitchen remodel ROI, it comes down to choosing the right repairs.  As the top winner for home buyers kitchen remodels are a necessity when you flip a home.
Depending on your investment choosing your repairs for your kitchen remodel ROI and see high profits. Use our kitchen remodel checklist to determine what remodels are a must for your investment.

Cabinets: Refinish or Replace
Kitchens are one of the top-selling points of a home, and cabinets can take up to a third of a kitchen space. Therefore choosing how to refresh the cabinets is an important choice for a real estate investor. If you want to see a return on the kitchen remodel ROI choosing to replace cabinets can make or break your flip budget.
The national average ROI for a major upscale kitchen remodel is almost 54%. Replacing your cabinets can have a serious impact on your kitchen remodel ROI. The national average to replace or install cabinets is around $5,000 to $6,000, which means that cabinets are a serious part of the kitchen remodel cost: anywhere from around 14- 41%, usually more on the upper end. Replacing your kitchen cabinets does wonders for your overall kitchen appearance and your ROI as well.
In contract refinishing cabinets (fresh paint, and new hardware) provides an ROI of 7%. Refinishing is significantly cheaper than replacing cabinets, but, if you have a poor kitchen layout, can still negatively affect your resale value.
Not sure whether to replace or refinish? Take the following into consideration:
Budget: Replacing cabinets can cost thousands of dollars while refinishing only costs a few hundred at most.
Comps; No buyer wants the worst kitchen on the block. Make sure the quality of your cabinetry matches those in the neighborhood.
The Cabinetry: If the cabinets are made of poor materials, the layout is poor, a replacement may be required. A wow kitchen will stop buyers in their tracks, and buyers are shown time and time again to pay more for a finished kitchen.
Choosing to either refinish or replace your cabinets is one of the most important choices an investor can make for their kitchen remodel ROI. While refinishing a flip can save thousands off the price and remodel, it can hurt your flip's ability to be sold, and may make it cost more over time.
Countertops
According to the Countertop Advisor, new countertops will increase the home's value approximately 3 times the value of the countertops you had professionally installed. While new counters are a simple repair, choosing the right material is important for a high kitchen remodel ROI.
For most investors the trendy choices are granite, and quartz countertops, while high-end flips may even consider marble countertops. Depending on the type of investment choosing the right material can make a serious return for your investment.
While quartz is a cheaper option for most flippers, it offers more variety, perfect for many room types. Quartz countertops Average cost ranges from $27-$100 per sq. ft.
Granite is a beautiful stone, and will definitely catch the eye of home buyers. It is more expensive than its cheaper manufactured counterpart quartz. The average granite countertop will cost approximately $50 to $100 per square foot.
New countertops are a great way to improve the look of a kitchen and are much cheaper than new cabinets.  For a kitchen remodel, choosing the right material can be a major factor in your ROI.
Backsplash
Backsplash is a great way to attract buyers to your real estate investment. It also adds value and makes buyers think your home is more expensive than an investment without. If you want a modern look, consider adding backsplash to your flip.
HomeAdvisor reports that backsplash installation costs, on average, $1,000. Backsplash, while one of the cheapest remodels on this list, can add significant value to your investment up to 5 to 15% to a home's value. When choosing your backsplash consider the following tips from Bath Kitchen and Tile: 
Use Dark Grout: Dark grout is better to hide the everyday stains from kitchen use!
Pick A Neutral Colored Tile and Design: Appeal to more buyers with a neutral design and layout that won't clash with any homebuyer's taste.
Create A Focal Point With Design or Layout: You can create designs with your tile layout, and focal points for your new kitchen space. This makes it a unique feature of your home.
A backsplash is a great way to catch the eye of prospective homebuyers and boost your kitchen remodel ROI. Paired with the other remodels on this list you can easily choose the right repairs to boost your kitchen remodel ROI.
Summary
If you are looking to make the highest return on your kitchen remodel roi , choosing the right repairs can make or break your flip. Picking the right repairs is important for any returns.
Use our checklist to make the following kitchen remodel checklist for your investment!
Cabinets: Refinish or Replace
Countertops
Backsplash
For any flip, knowing your ARV (after repair value) and having funds is a necessity. With a fast hard money loan, you can get approved in less than 12 hours! If you need a hard money loan for your kitchen remodels, apply today!