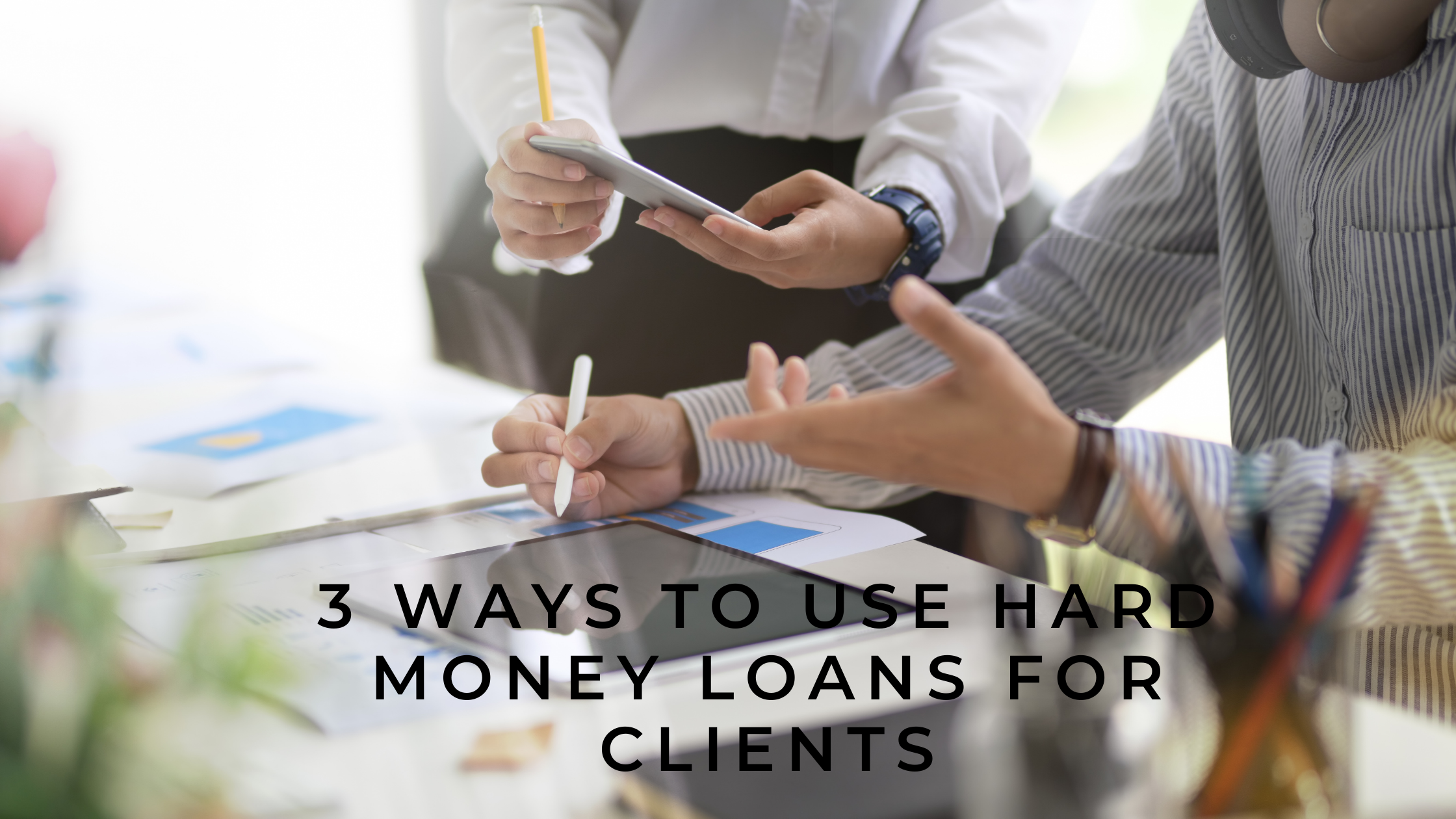 Loan officers have a wide skill set and are often known to be a jack of all trades. With their problem-solving and ability to move quickly in tricky situations, knowledge is key to find the best loans for their clients. Every client offers unique challenges and circumstances, so the more options you have the better. For Loan officers and mortgage brokers the more options for clients, the better.
Some clients may need more options than others, whether potential homeowners or investors. This is when hard money loans are a great alternative. Keep reading to learn more about how to use hard money loans for your clients.
What Are Hard Money Loans
Hard Money Loans are great tool mortgage brokers and loan officers can use for their clients, if used correctly. These vary drastically from your traditional mortgage but can be extremely useful for tricky clients or situations. Before we elaborate on what type of deals to use hard money on, let's break down what a hard money loan is.
Hard money loans are asset-based loans, that are usually designed for real estate investments. Instead of a client's credit score, hard money loans use the asset value (or sometimes after repair value) to determine the value of the loan.
Hard money loans have much higher interest rates and fees than your typical mortgage. On average, interest rates for hard money loans can float between 12-15%, with loan terms of 2 years or less.
Hard Money lenders offer hard money loans or private money loans to investors. As hard money is often used by real estate investors, are used to purchase, repair, and flip properties.
Hard Money loans can be a secret weapon of mortgage brokers who know when to use them. You can close quickly, and solve tricky situations. Here are the top ways you can use hard money loans for your clients.
Hard Money Loans For Flippers
Hard money loans and house flippers go together like peanut butter and jelly. If you are working with a real estate investor or house flipper, hard money loans offer a lot of great benefits.
As we mentioned above, hard money loans use the asset value of the property to base the loan. Some lenders will also use the after repair value of a property, meaning they can use the loan to purchase, repair, and flip a property using one loan.
After repair value is the estimated value of a property after it has been repaired. By using ARV for a loan, house flippers can easily obtain a loan that covers the cost of the purchase and the repairs for their flip.
Hard money loans are extremely quick to fund, and some investors can see their loans approved and funded in a manner of days. As hard money loans do not require income or credit checks, they are easy to approve, assuming the property, and ARV is in good shape.
Hard money loans offer many benefits for house flippers. For many types of real estate investors, hard money loans make it easy to invest.
Hard Money Loans For Landlords
Hard money loans aren't just for house flippers. Real estate investors of all types find and use hard money loans for varying real estate investments. Real estate investors with rental properties find hard money can be a property saver.
There are three popular types of hard money loans investors use. They are: Fix and Flip Loans, Home Rehab Loans, and Bridge Loans. Each of these is used for different reasons, and home rehab loans are suited for landlords and those with rental properties.
Similar to a fix and flip loan, home rehab loans are secured through asset value, and after repair value. For these loans, they are used to repair and rehab properties, to increase the value of the property to sell, or rent!
This hard money loan can be especially useful for landlords who are looking to improve their rental space (and increase their cash flow) or to prepare a property to flip once they are done renting!
By using this hard money loan, landlords can easily secure funds to improve their properties by using the after repair value and get started on the repairs in as little as two days. Making for a quick and easy investment.
Hard Money Loans For Foreclosures
Foreclosures and cash flows can be hard situations for any loan officer to navigate. Thankfully with hard money loans, you can help real estate investors find the best solutions for their investments.
Bridge loans are a special type of hard money loan that are used to help consolidate property loans, offer cash flow, or even prevent foreclosures. Bridge loans are especially important for real estate investors who are facing foreclosures on real estate properties. Depending on the type of investment, they may need a cash flow to either complete a project or prepare a property before they sell.
Using the property value, and ARV, a hard money lender can quickly fund a real estate investment to offer much-needed cash flow for the investor to use for this project. This could be to pay off existing loans, fund one-time rehabs and sell the property, and many more.
Bridge loans still follow regular terms and rates of hard money loans, so they should be used with caution as they have high interest rates and fees. Despite this, bridge loans can come in handle for quick turnarounds for investment properties that need a quick cash flow.
Summary
As loan officers often face tricky situations, having the right options available can lead to faster closings and happy clients. While hard money loans aren't a perfect fit for every client, real estate investors often find them beneficial, with fast closings, asset-based loans, and minimal fees.
Hard money loans are asset-based loans that do not use credit scores, but the property value for their loan. As they do not require credit or income checks, they can fund in as little as two days and can fund the purchase, repair, and flip of a property. They have higher interest rates and shorter terms, making them a preferred option for real estate investors needing fast funds.
3 Ways Loan Officers Can Use Hard Money Loans Are: 
For House Flippers: real estate investors looking to purchase, repair, and flip (sell a home for profit) are a perfect fit for hard money loans. With loan value tied to the after repair value of a property, hard money can mean less time funding and more time flipping.
For Landlords: Landlords you are looking to upgrade a rental property, or even sell can benefit from a home rehab loan. These loans fund the repairs of properties, which is extremely useful when looking to upgrade or sell a rental with minimal hassle.
For Foreclosures: Real estate investors may face funding issues, and bridge loans can be a great way to inject cash flow into a property to prevent foreclosure and get it ready to sell.
Have you used hard money loans for your clients?