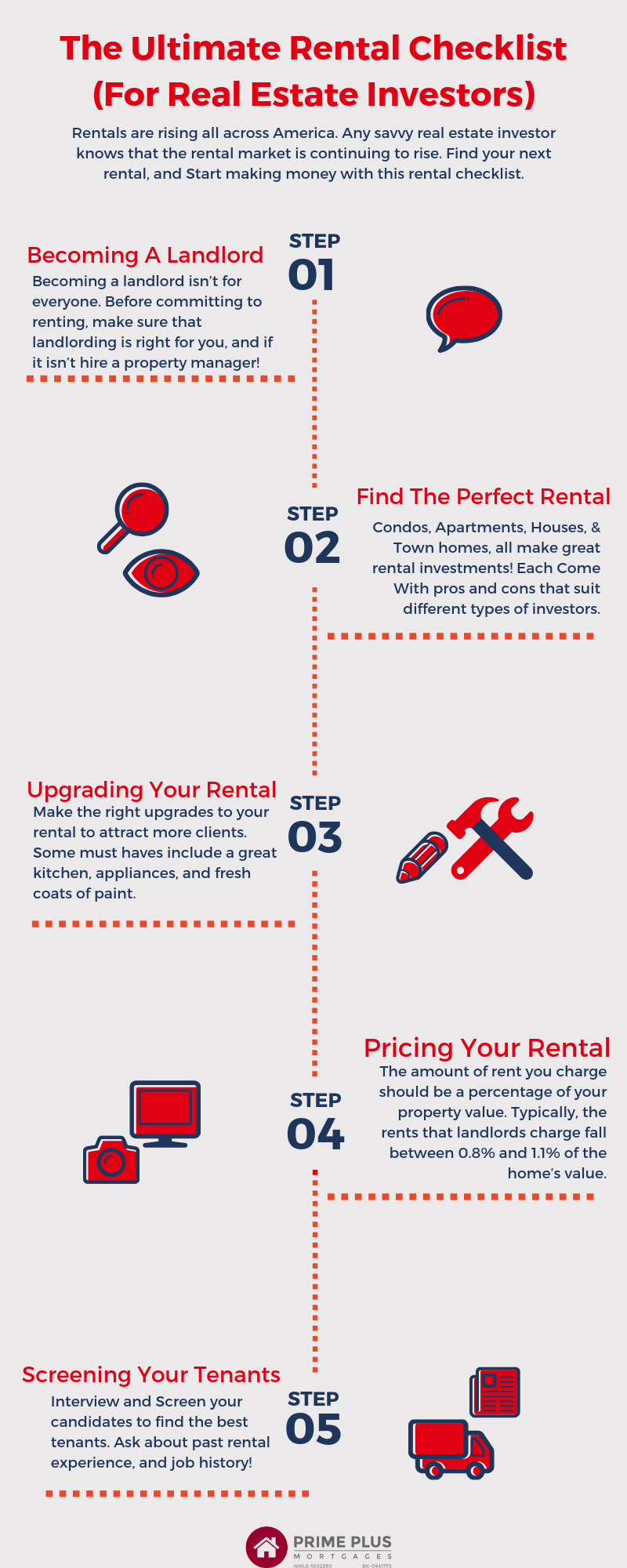 Rentals are rising all across America. Phoenix saw rentals rise by over a $100 dollar this last year alone. Any savvy real estate investor knows that the rental market is continuing to rise. With some many investors looking to rent, we had to make this rental checklist!
No wonder more real estate investors are looking to start making money with rentals. With many more investors making plans expand their rental earning power!
Building Passive income is a dream come true for any real estate investor. The key to running a great rental is to build passive income, and keep your rentals full!
Need to start renting ASAP? This ultimate rental checklist to find your rental, make the right upgrades, and start making money now!

 Rental Checklist: Pros and Cons Of Being A Landlord
Becoming a landlord isn't for everyone. Unexpected challenges or troublemakers can make being a landlord a nightmare.
Before committing to renting, make sure that becoming a landlord is right for you, and if it isn't, hire a property manager! Property managers make it easy for you to sit back and let the rentals run themselves, all while you collect the checks! You can learn more about property managers here.
Our rental checklist makes it easy to decide if becoming a landlord is right for you.
The Pros Of Becoming A Landlord
For those with a large skill set, and eager to please, and make some serious cash flow, there are many pros to becoming a landlord. Our rental checklist covers the musts to becoming a landlord.
Passive Income: Rentals are a pathway to building passive income. No matter your real estate goals, having passive income will help you get to your next level. Schedule monthly rents make it easy for your rentals to fund your investments.
Long Term Profits: many use rentals as a way to start planning for early retirement. For those with multiple rentals, long term profits can stack pretty quickly, and on average you can see your rental pay off in less than 3 years!
Jack Of All trades; most real estate investors wear many hats. From Realtor, flipper, contractor, maintenance man, lawyer and more, a great landlord needs to be up to snuff in every aspect of apartment living.
Networking: Becoming a landlord, like any real estate profession is all about people. From working with contractors, property managers, and tenants, a great landlord knows how to work well with others and loves to help. Having a strong set of people skills is a must for any aspiring landlord.
The Cons Of Becoming A Landlord
For anyone pondering on becoming a landlord, knowing potential pitfalls is key to your decision to invest. Investing in rental properties is not for the faint-hearted, and our rental checklist covers the cons of becoming a landlord.
Tenants: Every Landlord has a story of a tenant nightmare. From serious property damage, theft and more, finding the right tenants is an absolute must. Screening your tenants, and having the right location for your rental can help avoid any tenant issues.
Start-Up Costs: One of the biggest barriers for would-be investors is the startup costs of a rental. Rental properties include purchasing, repairing, and upgrading a property before you can even start renting. Not to mention monthly payments, like utilities, HOA's, mortgages and more. Many investors use hard money loans, such as a Home Rehab Loan to upgrade their rental before listing.
Maintenance Costs: For a Landlord, properly maintaining a property is your responsibility. Any and all repairs and maintenance of a property falls on your shoulders, including the costs. Employing a great handyman, or property manager can help you keep your rental in great condition.
Legal Matters: Taxes, contracts, are the landlord responsibilities. Making sure you have a true rental agreement and are properly filing taxes and incomes for your rental property. Make sure you are following federal, state, and city rent laws to prevent and legal issues with your rental. You can learn the rental regulations for your state here.

Rental Checklist: The Right Rental
With any rental checklist, choosing the right kind of rental is imperative to your success.
Condos, Apartments, Houses, Townhomes all make great rental investments! Each Come With pros and cons that suit different types of investors.
There are many different kinds of rentals to choose from. We Break down the Most common types of rentals in this rental checklist.
Townhouses: Attract Quality Tenants But Costly Fees and Maintenance
Townhomes are your typical condo setting. Townhouses tend to be most prevalent in highly desirable areas, so you will have access to high rents and quality tenants.  If you're drawn to hot real estate markets where life is exciting, There will be townhouses in those areas. Most townhome areas are apart of HOA's. HOA's can be expensive and require a lot of maintenance to keep your property on the HOA's good side.
Flats: Hard To Find, Great Investment
While spacious, flats usually reside in high demand areas that make them easy to rent and require minimal maintenance to set them apart from other condos. With accessibility being one of the top concerns for 2019, affordable rents are key. While flats are easy to find, acquiring one to rent yourself is the biggest challenge real estate investors face.
Lofts: High rents, but costly upkeep.
Lofts are a great way to get high rents, and quality tenants, as these are career-driven professionals are willing to pay for the short commute and accessibility to high market areas that lofts allow. Finding lofts is a challenge to real estate investors. Parking is a big concern for future tenants, and screening and maintaining the property is key.
You will have to do a lot of digging to find a loft that you can invest in, but it may be worth it for a low hassle passive income. Hard money loans in Phoenix Arizona are perfect for lofts. Since Lofts require more maintenance as they attract higher level tenants, so they can be costly upfront but can pay off if you have them in the right areas.
Twin Home: No HOA fees or upkeep, but shared walls may deter possible tenants
Renting a home is an easy step for tenants looking to adjust from the apartment lifestyle without the additional hassles of homeownership. For those looking to sample the home-owning lifestyle, Twin homes are a great step for finding long term tenants.
Twin homes offer all the benefits of townhouses without costly HOA fees and upkeep. Twin homes, however, have a shared wall which can man more tenants, as long as the home is live-in ready. Having the house instantly live in ready is essential to those looking to create a revenue stream with twin houses.
After selecting your rental investment, use the rental checklist and pick the right repairs to make!
 Rental Checklist: Upgrading Your Rental
Make the right upgrades to your rental to attract more clients. Some must-haves include a great kitchen, appliances, and fresh coats of paint. Use this rental checklist to make the best repairs for your rental.
Repair any leaks, holes, water damage, and pest control
Add a Fresh Coat of paint inside and out. (Neutral colors such as white or gray are most appealIng to renters)
Repair or replace flooring throughout your rental.
Update your kitchen. (new cabinets or a fresh coat of paint, new countertop, or more depending on your rental)
Install and Inspect Smoke detectors, CO2 detectors, security systems
Check all appliances to make sure they work, including the oven, dishwasher, and washer or dryer
Hire a professional to check that all electricity, heating, and plumbing are working properly
Deep Clean The Entire Rental
Add Curtain or blinds
Repairing your rental is a necessity to attract good tenants, and be able to advertise your space. Keep an eye on other rentals in your areas and see what they are offering tenants. By upgrading your rental you can stay competitive with other rentals as well. Depending on your rental type you may need to make more luxurious upgrades to appeal to your market. Know your market, and your ideal tenants!
Many real estate investors use home rehab loans to fund repairing their rentals for the market. Home rehab loans are based on the after repair value of the property, not the credit score of the borrower. They fund fast, and hassle-free loan options for real estate investors. Learn more about home rehab loans here. 
Once you finish the rental checklist for repairs, you can start renting!

Rental Checklist: Pricing Your Rental
The most important part of the rental checklist is knowing how much to charge for rent.
This can be a bit tricky! Rental prices can vary on the type of rental, location, and much more.
Smart Asset reports that "The standard rent should fall between .08% and 1.1 of the home value (per month).  For example, for a home valued at $250,000, a landlord could charge between $2,000 and $2,750 each month."
Charging rent that's too high will make living in your house unaffordable for many people. Knowing your markets, the After repair value of your rental can help you determine the right price for your investment. The national average for rents falls anywhere between $959- $1,190 per month. Depending on your location, type of rental, the number of rooms, rent prices can differ.
More people are renting than ever before, and rental prices are on the rise. Price your rental accordingly, and check this off your rental checklist.

Rental Checklist: Finding & Screening Your Tenants
Finding and screening your tenants is the last part of our rental checklist. Marketing your rental property starts with taking quality photographs of each room in the space. Which if upgraded properly and shared on listing sites, social media should start attracting tenants right away.
When writing your ad make sure to include the following: monthly rent, utilities, new features, square footage, lease terms, parking information, neighborhood information and how to best contact you.
Make sure to give tenants the options to tour your rental, and set up a time to screen and interview them.
You will want to learn the following to help you determine a great tenant:
Their employment history and income
Their previous rental history
Credit information
References
Make sure to call all their references and make sure that they do not have any prior evictions. The more questions you ask of your tenant, the better choice you can make sure. Make sure that you are responsible and do not ask any illegal questions when screening your tenants. For some more ideas on how to interview your tenants, click here.        
Make sure you get everything in writing with your tenant, and that your lease is clear and filled out correctly by both parties. You can learn how to write a lease here.
Rental Checklist Summary
After following our rental checklist, you should be making money from your investment.
Our Rental Checklist covered the following:
Pros and Cons Of Being A Landlord
How To Find the Right Type Of Rental
Upgrading Your Rental
Pricing Your Rental
Screening Your Tenants
What should we add to our rental checklist?