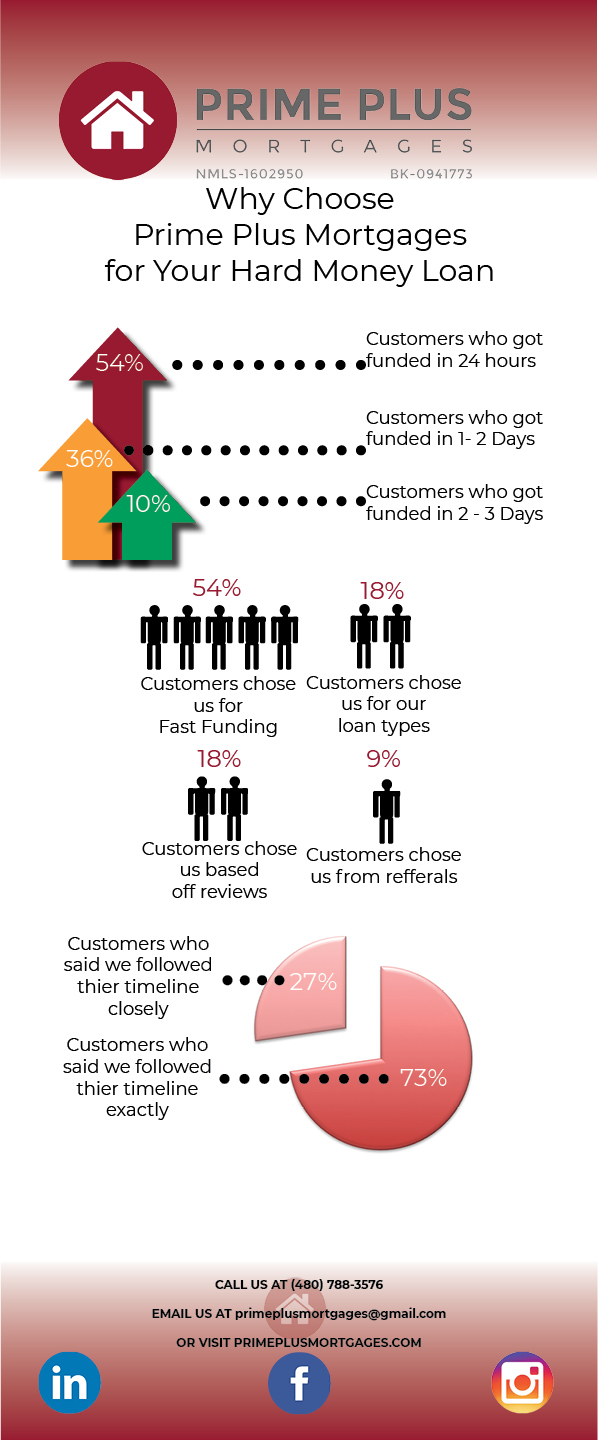 Prime Plus Mortgages takes great pride in putting our customers first. More than just hard money lenders we follow investors, who have been there and done that. We care about your project and want you to be as successful as possible. Maybe that is why prime plus mortgages are one of the highest rated lenders in Phoenix. We value putting our customers first and working with you to meet your goals.
Speed of Our Loans
Unlike traditional loans that can take weeks to get approved, Prime Plus mortgages make funding easier, with over 50% of our customers receiving their funds in 24 hours or less. Our Hassle-free application doesn't require a credit score, or proof of income, and instead is based on the property value, with some of our loans being based on the after repair value of the home, maximizing the size of your loan and helping you cover the cost of the repairs and the property.  All of our loans are funded fast, with only 9% being funded within 3 days of approval. In fact, over half of our customers choose us because of our fast funding and the speed of our loans!
Following Your Timeline
How important is it to hit your deadlines? If you want a hard money lender who follows your timeline and bases their plans off what you have to say, that look no further than Prime Plus Mortgages. In fact, all of our customers said we followed their timeline, with only 23% saying we followed it closely, while the rest said we followed it exactly. Why would you want to wait on bankers, approval, and frustrating piles of paperwork when you can work with a lender who makes it easier for you to get a loan?
Loan Variety
One size fits all does not work in real estate investing. That is why we customize our loan package to the properties and investments you make. Our hard money loan packages vary on the many different real estate scenarios you come across, like fix and flip, or rentals, or condo or more! Our flexible rates and packages make finding the perfect investment loan for your property easy! Prime Plus Mortgages was founded to make real estate investing easy, and make the funding faster than ever. With our two-step application process, and same day approvals make it easy for realtors in Phoenix to move on deals fast. You can learn more about our loans here! Get approved for our hard money loans in Phoenix today!