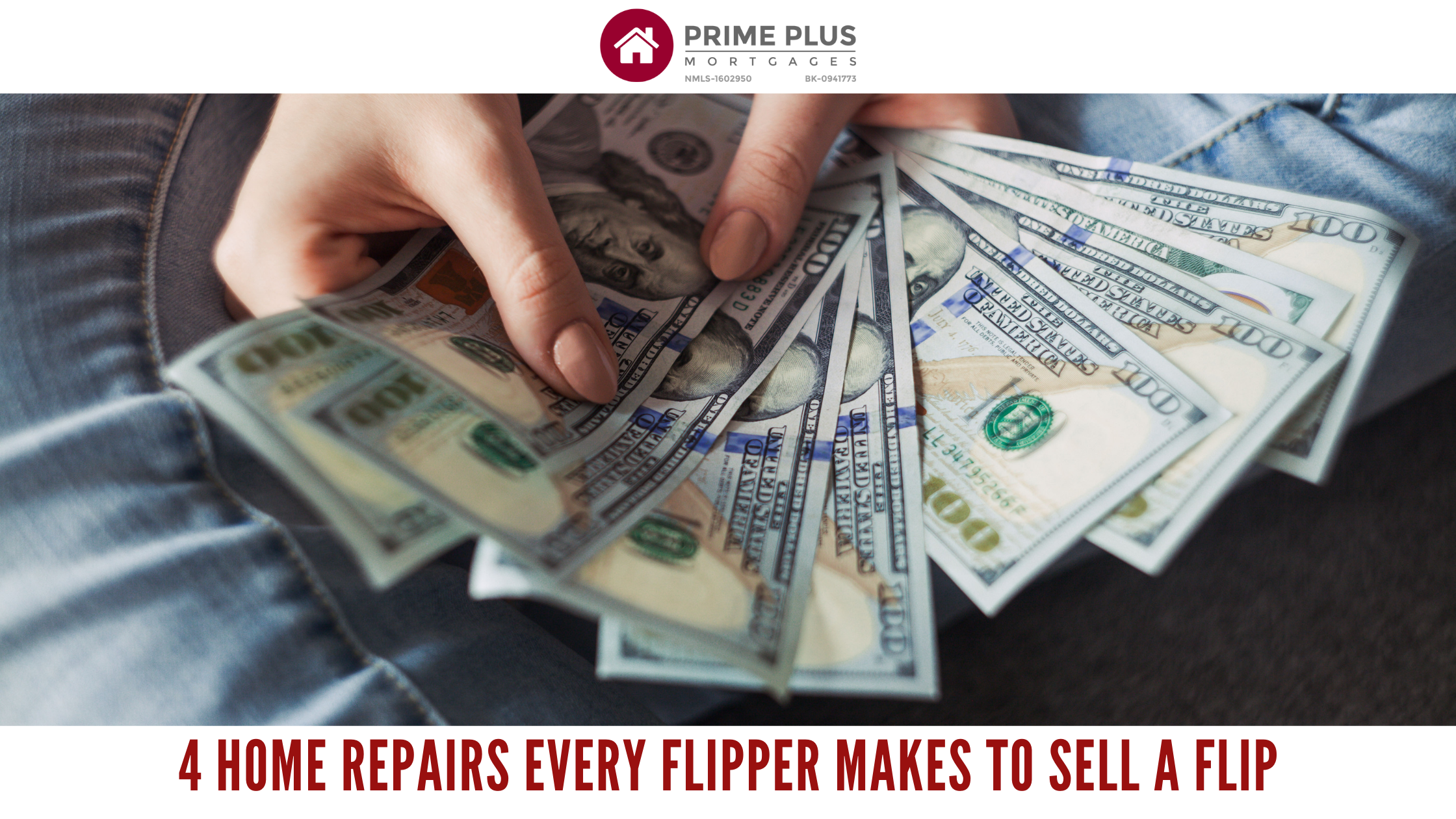 When you are ready to sell you want to get the most for your home that you can. No one has quite mastered how to make the most out of a home quite like house flippers. With a few repairs they now know to make a home that appeals to nearly any buyer.
While it may seem counterintuitive to repair a home before you sell, it's a tried and true method of nearly any house flipper. By repairing big-ticket items for removing any problem areas you can ensure your home is move-in ready. Buyers are willing to pay more for homes that have these repairs done before they purchase.
These home repairs are used by nearly every house flipper! As Buyers show that these repairs are worth the price. Here are the 4 Home Repairs Every Flipper Makes To Sell A Flip.
Kitchen Remodel
Kitchens are one of the top-selling factors for any home. Obviously, it is one of the first areas that house flippers looking to improve before they sell. A newly upgraded kitchen can increase your home value up to 10%! While gutting your kitchen may not be in the budget, even minor updates to your kitchen can make your home sell faster.
Small kitchen improvements can add to the appeal of your home as well. 81% of buyers want a double sink, so this small upgrade can really impact your home.
Even a minor kitchen upgrade that improves cabinets, hardware, and other small repairs can cause some serious say with homebuyers. Depending on your home, a minor kitchen remodel may be all it takes to freshen up your kitchen to get it ready to sell!
A Minor kitchen remodel can include:
New Paint
Updating or Replacing Cabinets
New Sink
New Countertops
New Hardware (doorknobs)
These small updates are inexpensive but will make any kitchen seem new. When updating a home it is important to ensure it is a neutral design or color that will not scare off any new buyers. A kitchen remodel is always top of a house flippers list as 'kitchens are the heart of the home'!
Roof Repairs
While a roof may not wow home buyers the way that a kitchen will, it is one of the most important repairs any house flipper will make. Roofs are one of the most important parts of any home, and having a roof in good condition can make or break nearly any sale.
Roofs play a large role in any homebuyer's first impression of a home. Roofs with missing shingles may cause a buyer to second guess or not put in an offer. Additionally, roofs protect a home from the elements so buyers want security that the roof will not fall in (pun intended).
New roofs don't just provide security but can lead to profits when selling your home. The National Association of the Remodeling Industry (NARI) released a remodeling impact report that found new roofs provide a 109%t return, which means you could make a profit on your new roof.
Depending on your type of roofing, a brand new roof can cost anywhere from $4,000 to $17,000, according to Fixr.com. Even small repairs like replacing damaged weather stripping and shingles, which Fixr.com says will cost you an average of $600 for a qualified roofer and materials to make these repairs.
Bathroom Remodel
Bathrooms are one of the most important features of a home. Unlike kitchens, bathrooms are most likely to be used every day, and the number of bathrooms and size can play a large role when selling your home.
Whenever possible home flippers are sure to update bathrooms into full bathrooms and make them as pristine as possible.
Bathrooms, and more importantly bathtubs are some of the best ways to sell a home. A 2013 study by the National Association of Home Builders (NAHB) found that 51% of homebuyers prefer a master bath with a bathtub and a shower as opposed to just a shower stall.
A full bath isn't just appealing to buyers, but to flippers' profit as well. According to Opendoor's data, adding a full bathroom can increase the median home value by 5.7% on average, which is a dollar increase of about $17,638.
Kitchens will always be the heart of the home, full bathrooms, and bathtubs will get your home offers!
New Lighting and Windows
While most of the repairs on this list have been big-ticket items, this easy repair is a simple way to get the most when selling your home. House flippers are sure to always replace windows and improve the lighting for every home they flip. They know that not only will this improve the look of the home, but make it easy to sell as well.
Bright natural lighting and crisp daylight bulbs can improve the look of any room, and is a feature that many buyers look for. Replacing outdated light fixtures for daylight bulbs is a simple improvement that makes any room glow when photographed.
Windows play a key role in home value, and curb appeal by letting in beautiful daylight, and making a home more energy-efficient. 81%-83% of buyers want Energy Efficient Windows. Energy-efficient windows can trim heating and cooling costs by 12%, which saves buyers money over time.
Not only are these repairs low cost, but they also make any home more energy-efficient and beautiful. By improving the lighting in your home you can wow potential buyers with minimal cost or repairs to your home.
Summary
Every homeowner wants the biggest offer when they sell. House flippers have mastered the art of home repairs to sell. These repairs are a great way to take advantage of your home value and get the largest offer possible before you sell.
The 4 Home Repairs Every Flipper Makes To Sell A Flip Are:
1. Kitchen Remodel
2. Roof Repairs
3. Bathroom Remodel
4. New Lighting and Windows
Will you try any of these repairs before you sell?
Our Hard money loans make it easy to make fast offers and get same-day approvals for your next investment. Whether it's a rental, flip, or rehab, we have a hard money loan option to fit your needs.  Apply now to get approved for your hard money loan today!
P.S. Apply today and get our Free Home Rehab Valuator to help you calculate your next flip!