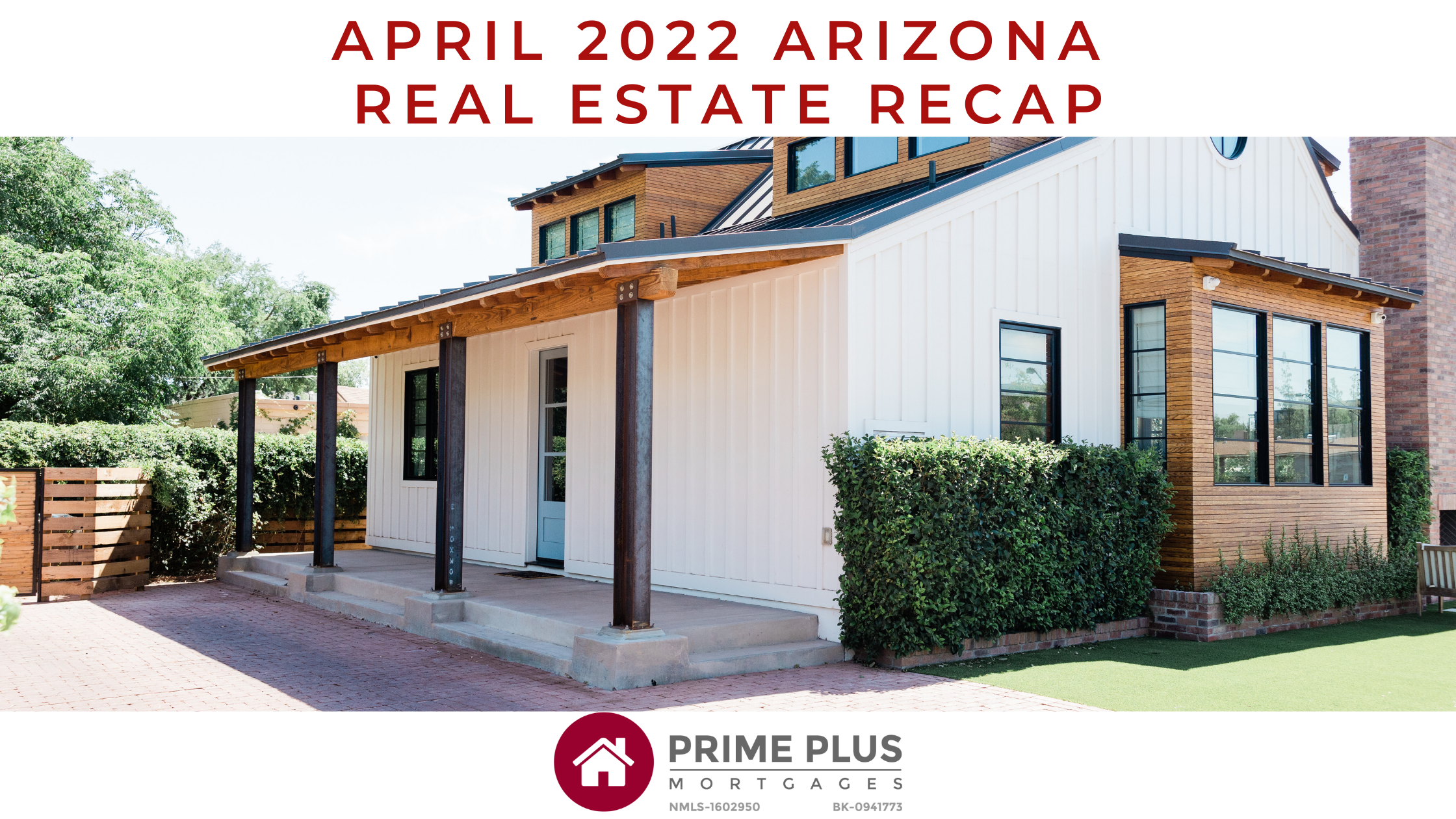 Spring is in full swing in Arizona. Spring is the season of change, and with it come many changes to the Phoenix real estate market.
The real estate market changes fast, so we give you the news you need in our April 2022 Arizona Real Estate Recap. In a market that keeps warming up the spring season brings a hotter market for sale prices, rentals, and even affordability.  In this month's wrap up we focus on the rising costs of rentals, median list prices, and a new affordable city.
Here is the April 2022 Arizona Real Estate Recap You Need To Know!
Record-Breaking Median Listing Price In Metro Phoenix
In the latest Realtor.com Monthly Housing Trends Report, The median listing price for a home in Metro Phoenix topped $500,000 for the first time.  Nearly $100,000 more than the national average. which hit $405,000 for the first time ever in March. The median U.S. listing price grew to a new all-time high in March as prices rose 13.5% year-over-year, faster than is typical for this time of year, and about the same annual growth rate as last month.
Paired with the affidavit count, the median sales price for new homes and resales has increased significantly from last year. The affidavit of value data from Maricopa County has been compiled for March (though not fully validated) and shows us this:
The median sales price was $470,000, up 29% from $365,000 in March 2021
The new home median sales price was $497,027, up 27% from $391,640 in March 2021
The re-sale median home price was $465,000, up 29% from $360,000 in March 2021
The homes sold through ARMLS in March had an average price of $517,774. The equivalent figure for February was $507,518 while that for March 2021 was $413,957 and for March 2020 was $353,017.
Rental Prices On The Rise
While the housing market continues to heat up, rentals have been closely following behind with more demand, and increasing rent prices. Throughout the nation rents for houses, single bedroom and two-bedroom apartments continue to rise.
In the latest report from Rent.com, Rental prices for single-family homes are at an all-time high, increasing an average of 7.8% in 2021, with the tracked markets 97.7% recorded price increases for one-bedrooms and all markets saw increases for two-bedrooms.
In Arizona, the year-over-year change in Rent prices was 49%, with the 2021 average rental price at $1,040 and the 2022 average rental costing $1,553.
The following 5 cities experienced the biggest increases in one-bedroom rent prices year-over-year:
Apartments aren't the only property type experiencing inflated rent prices. According to new data released by CoreLogic Inc, single-family rental prices grew an average of 7.8%  in 2021, an all-time high. Additionally, Redfin shared that Renting a home may prove just as hard as some rentals are receiving as many as 20 applications in a single day on the market.
New Rentals Supply Up 39%
A large amount of new rental supply is coming on board this year, judging by the number of multi-family permits issued in the last 2 years. The ARMLS rentals database shows a rise in available rentals for February. The vast majority of rentals do not hit the MLS, so the data below is not a complete picture.
Available supply is up from 1,543 to 2,138 units, a rise of 39%, meaning tenants are getting more choice
New rental listings are up 20% year to date compared with 2021, so supply is arriving faster
New rental listings are up 26% over the past 4 weeks, compared with 2021, telling us that the increased supply trend is strengthening
The average lease list price per sq. ft. is $1.80, down from $1.93 this time last year
Combined with the rising rental prices and median listing prices potential home buyers don't have a lot of options in today's real estate market.
Mesa #1 For Affordable Homes
Mesa broke national headlines earlier this week. While home prices continue to rise, and with low inventory finding an affordable home can be akin to striking gold. In a recent study by Point 2, in 46 of the 50 largest cities, homes under $150,000 represent less than 5% of all homes currently on the market.
Mesa ranked as the city with the most affordable homes, with a share of 14.82% of i's homes for sale listed under $150,000. Even in Arizona, not all cities are created equal. One example is in Mesa, AZ, $110,000 buys you a two-bedroom, two-bathroom, 1,560-square-foot home, whereas less than 10 miles away in Gilbert, AZ, you'd need almost $285,000 to buy the cheapest two-bedroom, two-bathroom home currently on the market.
Affordability seems to be a challenge throughout the nation. With most cities have shares of affordable homes slightly lower than 5%, and some cities have an affordable inventory so low that it barely registers. With the shortage of homes, with the fast-rising prices, it's a relief for some buyers to see some homes still more affordable.
Summary:
Spring in 2022 will be one of the hottest real estate markets for renters or homebuyers. With new records being set for rising prices finding a rental or a home can be harder than ever before. Some buyers can still find affordable homes but need to ask fast while the market still has them!
Here is the April 2022 Arizona Real Estate Recap You Need To Know
Record-Breaking Median Listing Price In Metro Phoenix
Rental Prices On The Rise
New Rentals Supply Up 39%
Mesa #1 For Affordable Homes
Whether you are renting or flipping, a fast close can make a more profitable flip. Close your investments faster and easier than ever with our Hard money loans! Apply now to get approved for your hard money loan today!
Apply today and get our Free Home Rehab Valuator to help you calculate your next flip!
Looking for things to do in Tucson? This guide makes it easy to find something to do!