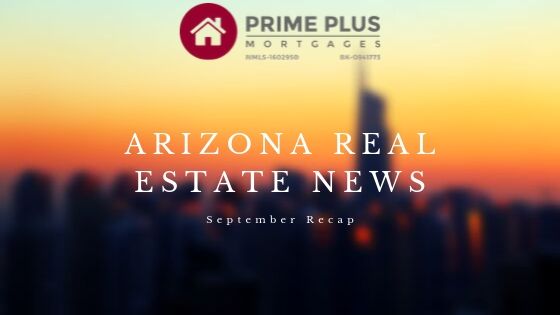 September was a crazy month for Arizona real estate news. From low inventory, to ibuyer speculation and a surprise spike in new builds. The top Arizona real estate news for the month as Phoenix rise to the top of the nation, with a strong market.
Phoenix is determined to be a beacon for real estate markets, despite some concerns at the beginning of the year.
We found the top Arizona real estate news for September and broke down what you needed to know!
The Fastest Growing State
The most important Arizona real estate news in September? Arizona has listed as the fastest-growing state in the country! The census bureau released it's American Community Survey 2018 'One-Year Estimates' today, showing Arizona is the fastest-growing state in the nation. Arizona's growth has been steady and strong, leaping from its meager 10th place ranking last year.
The Top 5 Fastest-Growing States Were:
Arizona
Idaho
Utah
Washington
Colorado
To no surprise, the population continues to thrive and expand, Maricopa county is the fastest-growing of all of the nation's counties with a population over one million.
ABC reported that the surge in the population may even add more congressional seats in the next decennial census.
Forbes also reported that the driving factors for Phoenix's growth were: Affordable housing, new business formations, and job creations. With advanced industries being added, such as manufacturing, business, and financial services, technology, bioscience and healthcare which pay higher salaries, and are least likely to be affected by the economy.
Forbes cites Phoenix as one of the few major metro areas where an average single wage, as opposed to total household income, buys an average home.
Listings Struggle
The big talking point in Arizona Real estate news: Inventory remains as low as ever.
The Cromford report cited that after 2 weeks of September we saw that the closed listing count was 3,008 for Greater Phoenix. This is higher than 2,930 that was measured in 2018 but only by 2.7%. During the first week, the difference was 6.7% so it appears that the 2019 advantage is dropping a little.
New listings can't keep up with the buyer activity. Total New listings totaled 4,108 which is 4% below the 2019 count of 4,275. Supply is still below last year but at this time of year. We see lower rates of listings going under contract, so supply tends to increase anyway.
The cities most hurt by the listing activities were the following:
Peoria, listings down -5%
Avondale, listings down -4%
Tempe, listings down -5%
Despite low listing, this is a healthy indicator of a strong market.  We are far away from a sudden increase in new listings. This is what signals a turn in the market – just as it did in the second quarter of 2005.
New Builds Spike
With Low Inventory plaguing the country new builds spiked higher than ever.
Housing Wire reported stated that new builds spiked 12.3% in August to a seasonally adjusted annual rate of 1.364 million and the pace for July was revised downward, according to the Department of Housing and Urban Development and the Department of Commerce.
August's housing new builds are now 6.6% above last year's rate of 1.279 million.
The lack of inventory, low mortgage rates, and the strong job market convinced homebuilders to ramp up production in August. Housing starts surged to the fastest pace since 2007, as both single-family and multifamily segments saw sizable gains. Single-family new builds rose 4.4% while multifamily starts surged 30.9% according to the report.
Overall, permits rose 7.7% to a seasonally adjusted annual rate of 1.419 million. Single-family permits increased 4.5% to 866,000 and multifamily permits grew 14.9% to 509,000.
It was no surprise in Arizona real estate news, that demand remains high as always as inventory refuses to gain steam and buyers are becoming impatient. This is great news for investors who are looking to get their properties on the market buyers are desperate for move-in ready properties.
I-Buyers Fighting It Out
The biggest Arizona real estate news was the I-buyer activity this past month.  Redfin, Zillow, and Opendoor are fighting over the I-buyer market share and Opendoor is making a power move to get a larger piece of the pie.
CNBC reported last Thursday that Opendoor announced it was acquiring a national title and escrow company, OS National. The purchase will allow Opendoor to integrate title, escrow, and closings into its online buying and selling experience.
The top complaint with those using the I-Buyer was the amount of paperwork required in order to sell and purchase homes. For their consumers, demand for a more seamless, and more convenient process, will be attractive features for consumers looking to make more from the I-buyer.
While some are doubtful on the buying market, and it's business model, no one is quite sure how Ibuyers activity will disrupt the national real estate market.
I-buyers are trying to take over the market, but the lack of listings is making it hard for them too.
Opendoor had the best month of the group with a 28% annual growth rate on both sales and purchases. They are hoping to attract more buyers and sellers with a smooth escrow process to roll out next year. In August they purchased 370 homes and sold 373.
Zillow currently has its lowest inventory since December 2018, and it can't seem to purchase homes to keep its inventory. With 171 homes sold, and only 72 purchased Zillow activity has dropped quite significantly.
OfferPad is the only ibuyer with more than 2 months of inventory, with 4 months available. They are the only ibuyer that showed negative annual growth, -4%. They are struggling to keep up with Zillow and Opendoor.
Many realtors are keeping their eye on the Ibuyers, unsure of the next move.
Arizona Real Estate News Summary:
The Top Arizona Real Estate news in September had us on the edge of our seats. The market continues to buck any expectations and continues to be a hub for investing opportunities.
The top Arizona Real estate news in September was:
Arizona Listed the Fasted Growing State
Low Inventory Crisis
New Build Activity Spike
I-Buyers Fighting It Out
For Real estate investors, Arizona, and Phoenix have never been this hot before! The market is clawing and begging for more listings, so those with move-in ready properties or rentals are sitting happy.
If you want to get top dollar for your investment, upgrading is a necessity. With a fast and easy hard money loan, you can rehab and list faster than ever!
Hard Money loans make it easy for investors to rehab properties quickly, and get them on the market while the demand is still strong.
For any real estate investment hard money loans make it fast, and easy to get the money you need for your property. Learn more about our seamless application, or how to use hard money loans here!