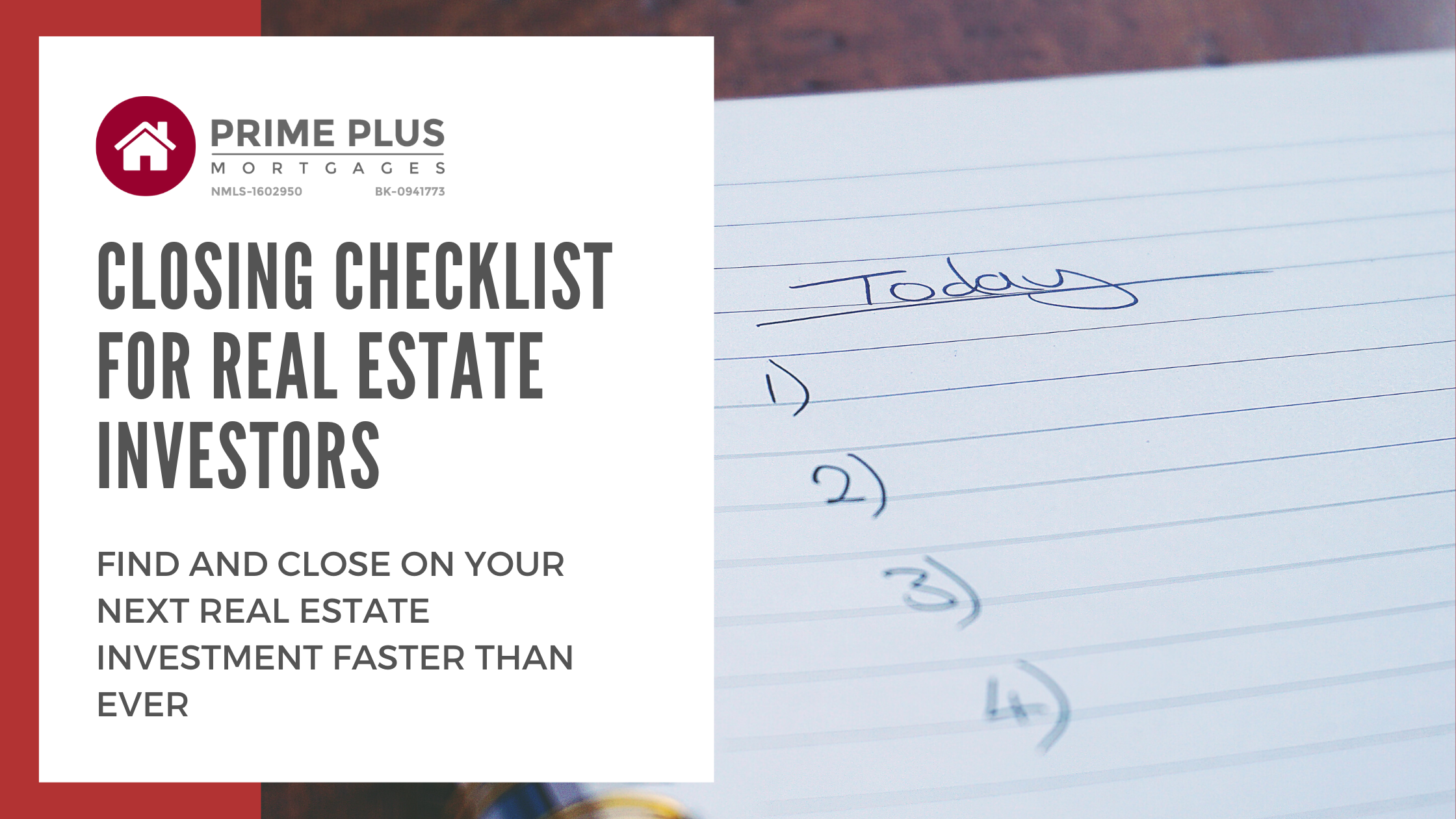 Real estate investors are always on the hunt for the next big investment. No matter how they come across their next opportunity, having a fast and speedy way to close is a must. With properties moving on and off the market faster than ever, closing has never been so important!
Real estate investors know how important speed is in flipping a home, which is why time of the sentence to close on your property. We are making it easier for our investors to close on properties.
Here's the Closing Checklist For Real Estate Investors:
Find Your Investment
You can't use the closing checklist if you don't have an investment or property in mind. That means you need to find your investment. In hot markets finding real estate investments is harder than ever! While driving around may be a great way to research neighborhoods, this method is time-consuming and often not very productive. Here are the top places to look to find an investment property:
Top Ways To Find An Investment Property: 
Wholesalers
Auctions
For Sale By Owner Properties
Realtors
Listing Sites
Real estate wholesalers generally find and contract distressed properties. They also have an inventory of investment properties that are ready to be picked up by investors. These homes are less likely to be picked up by potential home buyers, so offer less competition than other listing methods.
Auctions are another great opportunity for investors to find properties. Home auctions, generally are the sale of foreclosed properties. Auctions offer great discounts on properties but have fierce competition. Making it difficult to 'win' properties.
For Sale By Owner Properties are another great opportunity to find motivated sellers and discounted properties. Generally, homes for sale by the owner are the owners selling a home with a realtor or broker's assistance. For investors that can mean less money in closing fees, and a faster close, but can also include a difficult closing process.
Lastly, an investor can use Realtors and CRM tools can help you score to follow up with potential properties.  Sometimes realtors may have access to foreclosed or distressed properties that homeowners may not want to sell. This is not guaranteed however, any investors may have to compete for homes.
Each of these methods makes finding an investment property easier. Once you identify your investment, you can begin your research.
Investment Property Research
Before you make an offer on any property, you should research that property. Proper research will simplify the offer process, as you will know your numbers for your investment. This can save you thousands on your investment if done correctly.
Research The Following For Your Investment: 
Property Price
Property Size
Any Repairs Needed
Comparable Properties
Local Market Rates And Prices
ROI: Return on Investment
ARV: After Repair Value
Before making an offer on any investment property, you need to know your numbers. From the specs of a property to your potential returns. This can be broken into two sections, the property numbers, and the potential of a property.
Firstly when you look at a property you should be able to easily find the size and price. You should take into account the state of the property. Using this data you can determine how it currently stacks up against comparable properties in the market, and its true market value.
Additionally, you can use these numbers to determine your own return on investment and after repair value of a property. Return is not the same as profit for a property but can be useful to determine if a property would be a good investment.  The Formula for Return on investment is ROI= (Equity)/Cost.
After repair value or (ARV) for short, simple states the value of a property once repairs have been made. This is calculated using comparable property sale prices, the local market, and the value of the repairs made. The Formula For After Repair Value is: ARV = Property's Current Value + Value of Renovations 
Using this research you easily determine if a property is worth investing in. This means it will be time to determine how to fund your investment.
Funding Your Investment
There are many different ways to find an investment. Each comes with its own pros and cons. Depending on how you choose to fund your investment that can speed up or delay your investment.  Below we list the most popular ways you can fund your investment.
The Most Common Ways To Fund Real Estate Investments: 
Traditional Loans: Traditional loans or a standard mortgage may be a great option to fund your rental or flips.  Depending on your credit score you may get lower interest rates and have lower fees for your investment. Traditional mortgage rates depend on your income, credit score, and employment history. These loans take the longest to fund and are not created for investing in properties. You or the property may not qualify for a mortgage in some situations.
Hard Money Loans: These Asset-based loans were created for funding real estate investments. From flips to rentals, offer asset-based loans and can fund in a manner of days. These use your property value, and after repair value to determine the size of your loan. They come with higher interest rates and loan terms but can be used for any real estate investment.
Cash: Some real estate investors may purchase a home in cash. While this means you will have to have funds on hand to purchase and repair your investment. While this removes the need for some monthly payments, it is an option for some investors to fund their investment. Additionally, you can purchase an investment in cash, and take a second repair loan out for a property.
Each funding option will have its pros and cons. No matter how you choose to invest, make sure you have funds before you make an offer on a property!
Closing On Your Flip
Once your offer is accepted, funding is lined up, and you can prepare your closing documentation. Purchasing a property is a complicated process, so having your paperwork ready will speed up the process. It's important to review these for accuracy and completeness.
Nolo covers some of the important documents to expect at your close:
The deed of trust or mortgage / or the note
Loan Application (If needed)
Loan Estimate and Closing Disclosure
Proof of homeowners' insurance
You can expect some of the following closing fees: Agent commissions, Title Fees, Escrow/Attorney Fees Property taxes, utility bills, HOA dues, homeowner's insurance, and other bills related to your home
On the closing day you will ensure that all documentations are accurate, and of course, purchase your property. You will end the day by signing for your property, and get a fresh of new keys. You can finally start investing in your newly acquired property!
Summary:
We hope that the closing checklist will make it easier to find and close in investments. Using our closing checklist can help you make sure you close faster.
Closing Checklist For Real Estate Investors:
Find Your Investment
Investment Property Research
Funding Your Investment
Close on Your Flip
With a quick-moving real estate market, you need funds to match! Get your hard money loans at record-breaking speeds with Prime Plus Mortgages! Apply now to get approved for your hard money loan today!