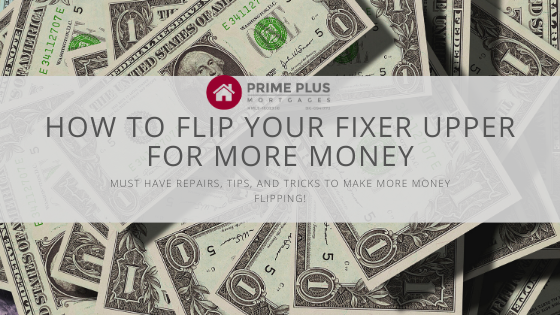 Would you like to make more for your fixer upper for sale?  With costly repairs and razor-thin budgets, house flippers work with tight budgets to make sure their flips don't flop. That is why every real estate investor wants to make more money for their flips.
House Flipping has never been more popular, and with increased competition from other house flippers, making the most for every flip is critical to stay in the black. For those looking to start making real money with their flip, every tip and trick to earn more is a necessity.
Finding, fixing, and listing your fixer upper for sale is a risky process. Every element has the potential to hurt the bottom line of your investment. Thankfully, by combining the right repairs, and some real estate knowledge, you can make more money.
We went ahead and listed everything you need to know to list your fixer upper for sale and earn more money!
Finding the Right Fixer Upper For Sale
Finding the best fixer upper for sale isn't as easy as the shows make it look. They often gloss over the other bidders, paperwork, and nuances involved in finding the perfect flip.
Almost any house flipper has its own surefire method of finding the right flip. When you are looking to buy a fixer upper for sale it's important to see how re-sellable it is.
Follow this checklist to make sure you found your next flip!
Finding Your Fixer Upper Checklist
Location: Is this flip in a desirable neighborhood? Are more people moving in this area, what is the demographic and is this an easy location to sell? Look at the school ratings, demographics, and population of a neighborhood to determine if it is in a great location.
Attractions: A great flip will have easy access to restaurants, gyms, libraries, business parks, and grocery stores. Flips with longer commutes are harder to sell and maybe a breaking point for your market.
Size: When you look at a fixer upper for sale, the size of the home will play an impact on your listing availability. Larger homes sell for more than smaller homes, and pricing your flip accordingly to its size is crucial to making the most of your flip. With smaller homes, it's important to only make the necessary improvements and repairs, and not to go over budget, as this can hurt your profits!
Yard: as with the size of a flip, yard space will impact your ability to sell a home for more or less. Homes in cramped subdivisions may price for less if they don't have yards, or may even require yard maintenance to help sell the flip. These can eat your profits if not budgeted accordingly.
Bedrooms: Does this property have the number of bedrooms and bathrooms that buyers are looking for? Compared with comps across the market you should know if you will have to add a bathroom or additional bedroom to a flip, both are major expenses that may make your flip hard to sell!
Repairs: Costly repairs can ruin any flip budget and make it harder to sell than ever! Make sure you avoid costly repairs that can ruin flips by getting inspections!
You can easily find the right fixer upper for sale by following this checklist. Making the right repairs will help you sell your flip for more, and make it easier to sell.
Upgrades That Sell Your Fixer Upper For More
Making more on your fixer upper for sale comes down to making the right repairs that buyers want. Home trends change quickly, and the wrong repairs can make your home harder to sell.
For those looking to timeless appeal for their flip, they need to upgrade the flip in the right way.
These Upgrades Can Help You Sell Your Home For More:
Open Floor Plans
Kitchen islands
Improved Light
Hard Flooring
Gray Paint
Open floor plans are a favorite for real estate investors, and any fixer upper for sale. With shared and multi-functional spaces, open floor plans are a great fit for smaller homes and families.  Upgrading a home to have an open floor plan can make your flip more money as well! In fact, homes with open floor plans appreciate 7.4% a year and are a great selling point for home-buyers. While removing a wall in a home can cost upwards of $500 dollars or more, this home trend is here to stay.
Kitchens are the biggest selling point for any home. Kitchens are always the first project for any flip, and with an ROI of 83%, it's no wonder according to the latest Cost vs. Value Report from Remodeling magazine. So it's no wonder that homes with kitchen islands sell for more! This study found that nearly half of buyers will pay extra for a kitchen island, a great way for a real estate investor to boost their profit on a flip.
Another easy way an investor can upgrade their fixer upper for sale is to increase their light. Adding windows to a home boasts an ROI of 85% ISoldMyHouse.com. If adding new windows to dark rooms isn't an option, upgrading light features are a must. Bathroom light fixtures tend to be overlooked, but investing in lamps or bulbs with a more natural appearance can provide a significant ROI for under $100.
If you have noticed a spike in wood and tile, that's because it is a hot selling item for homeowners. With more than 54% of buyers willing to spend more for wood flooring, adding hard floors will make your flip more appealing to others. This sin;t just for wood floors either, tile, vinyl are also great choices.
Gray is the new black for house flippers. This neutral tone pairs well in any home and is versatile. Zillow.com stated in a study that homes with exteriors painted in shades of blue or light grey sold for $3,496 more than similar homes painted brown or taupe. Whether interior or exterior, homes with gray paint sell for more. Combined with natural light, hard floors, and open floor plans, this unifying color is a favorite for house flippers everywhere.
Costly Mistakes When House Flipping To Avoid
To make the most money for your fixer upper for sale, it is imperative to avoid costly mistakes. Real estate investors who use hard money loans should avoid these mistakes at all costs.
Costly Mistakes To Avoid Are:
Not Knowing Your Market
Not Having Essential Paperwork
Missing Big Repairs
Not Having Funding
The biggest mistake that real estate investors make is not knowing their market well enough. If they aren't up to date on what buyers want, and make upgrades that don't match the area or aren't needed. Not only will this make the real estate investor go over budget, but they might also take a loss on the home if it doesn't sell for the right price. Before purchasing a fixer upper with a hard money loan, you should make sure to run comparable properties to make sure that the repair, budget, and list price will work for that home.
While no one loves paperwork, for house flippers, skipping the paperwork can be costly. For house flippers, fines and liens can be placed on flips if they don't file the paperwork correctly for their flips. This varies from state, and cities, to the legal requirements but the risk of not following paperwork requirements, can be detrimental to their flipping companies. Private money lenders suggest also getting paperwork and contracts for any contracted work, as this can be a budget saver down the line.
Missing costly repairs is another way that real estate investors can go over budget. Every flip should undergo a home inspection to uncover any potential problems. While roof repairs are standard repair to make in a flip, they can cause major home issues if not maintained and budgeted for. You can learn more about the best roofs to add to home here.   A bad foundation can destroy a house budget, and The cost of repairing a damaged foundation can start at $10,000 and go as high as $40,000.
Having the right funding for your flip is essential to make sure your project is completed on time. For real estate investors, hard money loans are the best solution for buying, and flipping houses! By offering asset-based loans on properties after the repair value, they can make sure projects are completed on schedule, saving time and money for the real estate investor. Hard money loans also fund quickly and don't require credit checks or long applications. Private money lenders can save flips, and make it easier for investors to flip!
These mistakes can destroy a budget, and turn a flip to a flop! If you want to make more money when you list your fixer upper for sale, avoid these mistakes!
Staging and Listing Your Fixer Upper For Sale
An unexpected way investors can make more money for their fixer upper for sale?  Staging and listing it properly. With a properly staged flip, great photographs, and listing it correctly, it can earn you more money.
Staging a flip is a great way to highlight the flip and space to potential buyers. According to  Forbes.com, a staged home will sell for 17% more on average than a non-staged home, and 95% of staged homes sell in 11 days or less. That is statistically 87% faster than non-staged homes. Not only will staging your flip sell it for more, but it will also sell it faster!
Staging Tips For Your Flip:
Deep Clean Your Flip: Make sure your flip is spotless and deep cleaned to make the most of your beautiful space.
Bathrooms: Use light to make the most of the space, and make sure to add a showstopping vanity.
Kitchens: Smart decorations, such as kitchen towels, rugs, and table cloths that are modern and clean can make or break your kitchen.
Bedrooms: Mix and match textures. Add a headboard, and mirrors to make your space look larger!
After staging your fix and flip, make sure to have it professionally photographed. Not only will this highlight your amazing work, but it will help your home sell for more. In fact, a 2013 Redfin study found that homes professionally photographed with high-performance Digital Single-Lens Reflex (DSLR) sold quicker and for thousands of dollars, more than homes shot with amateur photos. With more homes being listed with pictures, having great photos will only help get more buyers interested in your fixer upper for sale!
When you list your flip, make sure you use the local attractions, as this will help bring more motivated buyers for that area to your flip.  Your realtor should write a one-of-a-kind description so buyers can visualize living in your fixer-upper for sale.
Summary
By following all these tips in this guide you can make more money selling your fixer upper. Smart investors often use hard money loans to fund the purchase and repair of your flip. With hard money loans, you can buy properties, and repair them quickly With no wait to fund or flip properties. Prime Plus Mortgages makes it easy for investors to estimate their repairs and get the funding they need for their properties.
If you want to make more money for your fixer upper for sale:
Find the Right Properties
Add Top Selling Upgrades
Avoid Costly Mistakes
Stage and List Your Home
What Tip Will You Use In Your Next Fixer Upper?