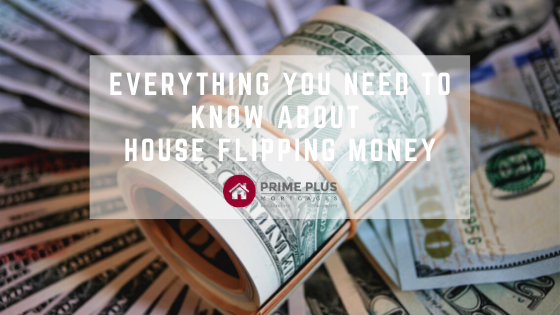 For house flippers finding fast flipping money is necessary to get projects completed on time. House flippers are always moving quickly to find, flip and sell their flips. So they need money that moves as quickly as they do.
Not all loans are made equal, and house flippers looking for the best house flipping money can be hard! Finding the money you need to flip houses and for your real estate investments shouldn't be complicated. We breakdown everything you need to know about house flipping money below!
What Is House Flipping Money
House flipping money is simply loans and funds that house flippers acquire for their investments. Often, house flippers will use a mix of cash, traditional or hard money loans.
For cash investors they will use their past profits from previous investments, to find the repairs or use the cash to make a down payment on a property. Traditional loans are similar to a typical mortgage, with long-term and lower rates, but are entirely dependent on the borrower's credit score and employment.
Most house flippers will find themselves using hard money loans for their investments. These are asset-based loans that make it easy to flip houses. These asset-based loans are perfect for funding the purchase and repair of a property. Hard money loans are used by real estate investors for many different types of investments.
How House Flipping Money Works
House flipping money is a type of hard money loan. These loans are based on the asset value of the property. Many hard money loans use the after repair value of a property for valuing the loan. The after repair value is simply the future estimated value of a home after repairs have been made.
This is a basic formula for ARV:
ARV = Property Purchase Price + Renovation Value. 
By using this formula hard money lenders can offer house flipping money that works! By offering loans based on the after repair value, house flippers can have all the money they need for purchasing and flipping investment.
Traditional loans and mortgages use the borrowers' credit and employment history. These require lengthy credit checks, and turnaround times are slow-moving. While traditional loans offer long-terms and lower rates, they are not nearly as flexible as hard money loans. For real estate investors looking to start flipping, hard money loans are more flexible and faster.
These hard money loans are quick to approve and fund since they aren't based on the borrower's credit. In fact, these loans can be approved in less than 12 hours, and funded within 2 days!
Hard money can be used for more than just flips!
How To Use House Flipping Money
House flippers and real estate investors can take advantage of house flipping money. Hard money loans are made specifically for real estate investing. These hard money loans can be used for so much more than house flipping!
The three most common types of hard money loans are:
Home Rehab Loans
Bridge Loans
Fix And FlipLoans
Home Rehab Loans are perfect for investors looking for funds for their rehab projects! This special type of loan funds one-time repairs. House flippers use this hard money loan to fund repairs or to upgrade their rentals. By using this type of loan they can easily get their properties ready to flip or rent!
Bridge Loans are used to cover funding gaps that house flippers may face in their projects. This special type of house flipping money is used to prevent foreclosure, fund repairs, and be easily refinanced. House flippers looking to get their projects completed find this loan especially useful with their quick funding speeds.
Fix And Flip Loans are used to purchase, repair and sell real estate investments. This hard money loan is often used by house flippers, as it funds quickly, and is more flexible than traditional lenders. This loan can be used for various types of properties and is a perfect option for any investor looking for house flipping money.
Hard money loans are made for real estate investing. That means that any investor looking for hard money can find it easily and quickly with the right hard money lender.
Where To Find Hard Money Lenders
Not all hard money lenders are created equal. Finding the best hard money lender can vary on the type of investing you are doing.
To find the best Arizona hard money lender you should have the following prepared:
A Property You Want To Flip
Property Purchase Price
Repair Estimates
After Repair Value
Project Timeline
Hard money loans are dependent on the property and repairs to determine their value, so having these prepared before you speak to any lender will help you quickly determine the type of loan you need.
When looking for house flipping money, it's important to thoroughly research your lenders. Here is what you should look for in a hard money lender:
Fast Turnarounds: Most hard money lenders should be able to approve or decline your loan within 12 hours.
Fast Funding Times: After your loan is approved your hard money lender should get you your house flipping money within 1-2 days!
Reviews: The Best Hard Money Lenders will have lots of reviews showcasing their service. Any hard money lender you work with should feature glowing reviews that are easy to find!
Once you locate your ideal lender you can get your house flipping money application underway!
Summary
Finding fast flip loans is easy when you work with the right lender! House flipping money makes investing in your flips quick and easy. They offer flexible loan terms and asset-based loans are perfect for any house flipper.
What Is Flipping Money: There are many different ways that house flippers fund their properties. From cash, traditional loans but most often hard money loans.
How Flipping Money Works: Hard money loans are asset-based loans that are tailored to real estate investing. These loans are flexible and fast but come with larger interest rates and short terms. 
How To Use Flipping Money: House flippers invest in a variety of real estate. Hard money lenders offer loans that are perfect for home rehabs, rentals, flips, and even bridge loans.
Where to Find Flipping Money: Every hard money lender will offer different rates, terms, and services. Make sure you do your research and find the lender that works best for you!
Prime Plus Mortgages offers the fastest hard money loans in Arizona. These quick hard money loans make it easy to fund, flip, and make it easy to invest in real estate. Their application is 100% virtual, perfect for the house flipper in need of house flipping money!