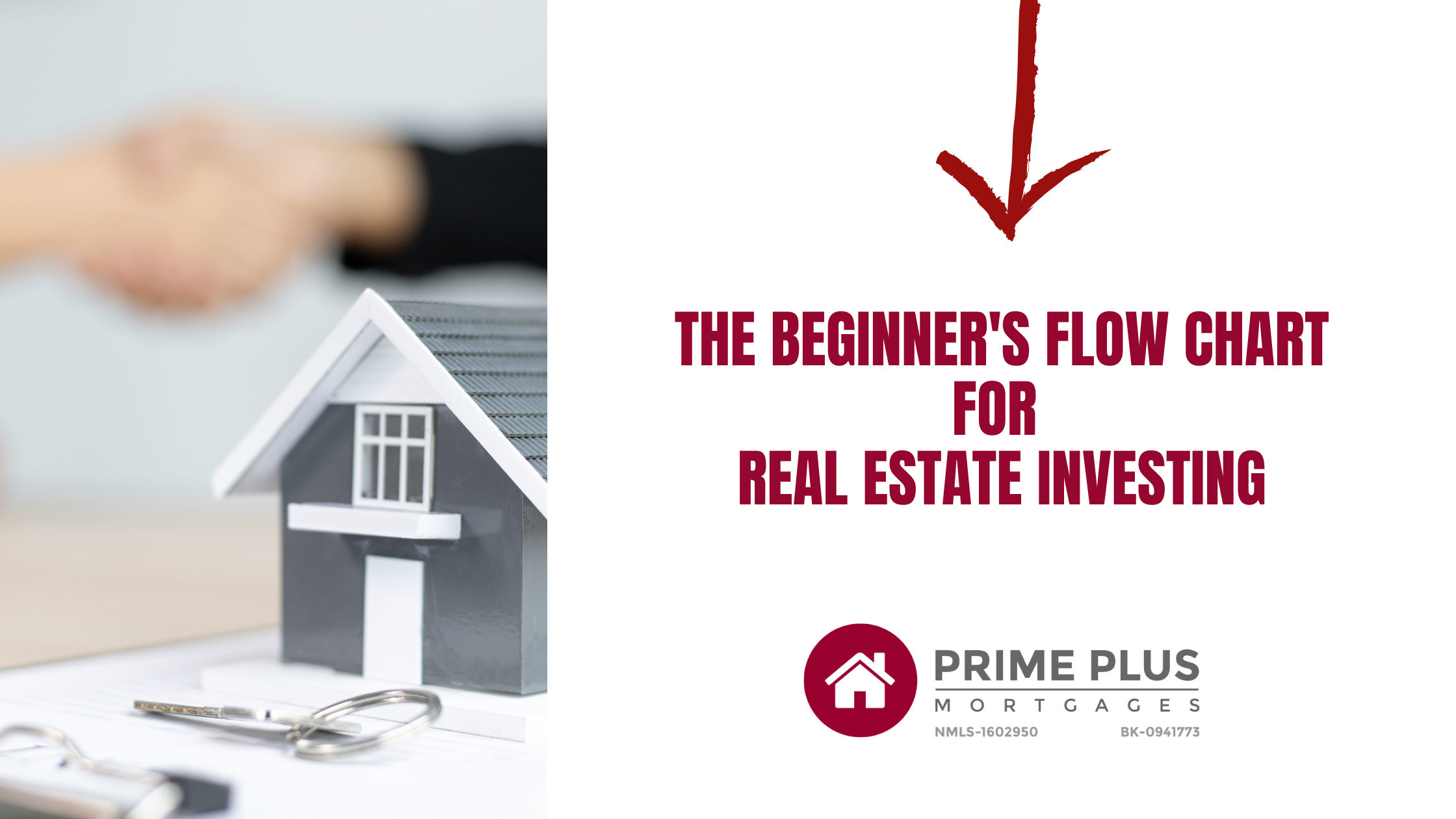 New to real estate investing or not sure where to start? We can help! As real estate investors ourselves, we know the ins and outs of navigating your first investment like a pro! That is why we designed this flow chart to help you have a profitable first investment! From identifying investment opportunities to selling your first flip, use this flow chart as your ultimate guide to investing in real estate.
Step 1: Finding a Property to Invest In
The first step in real estate investing is finding a property to invest in. There are many kinds of real estate investments, from rentals to flips, land, and even commercial property investments. Most real estate investors in Arizona, choose between either a flip or a rental for their first investment.
When looking for a good flip property, it is important to look at the total cost of the home as well as potential returns on investment. A good flip property can be bought at a low price and sold for a profit. Flip properties should be in good locations, need repairs to boost their home value, and pass the 70% rule.
The 70% rule can help flippers when they're scouring real estate listings for potential investment opportunities. The rule says real estate investors should pay no more than 70% of a property's after-repair value (ARV) minus the cost of the repairs necessary to renovate the home.
On the other hand, when looking for a rental property, you want to focus on the return on investment as well as the potential monthly income. A good rental property will have low costs with high monthly returns. Sings of a good potential rental are a good neighborhood, access to amenities, popular areas, and low vacancy rates.
No matter which investment type you are looking to jump into, it is important to do your due diligence and look into the area, market trends, zoning regulations, property's value, potential renovation costs, and estimating the potential income, before investing in any property.
Step 2: Funding Your Real Estate Investment
Once you've identified the property you want to invest in, it's time to secure funding. There are many options for funding your property. A top choice of many real estate investors are hard money loans.
Hard money loans are usually short-term,asset-secured loans that provide borrowers with quick access to capital for funding property purchases. Hard money loans are typically more expensive than traditional bank financing but offer faster closing times and greater flexibility in terms. To be approved for a hard money loan, borrowers must have adequate documentation such as the home renovations, after-repair value, and the ability to repay the loan within the agreed-upon timeframe.
Unlike traditional lenders, hard money lenders don't require a lengthy application process, and they're often more flexible when it comes to credit scores and down payments. When applying for a hard money loan, you'll need to provide the lender with information about the property you're looking to purchase, as well as your business plan for the investment.
Step 3: Closing Your Real Estate Investment
After your loan application is approved, your lender will provide you with a loan agreement that outlines the terms of the loan. If you used a hard money lender, you may be able to close on a property in 2 days! These terms will often include the loan amount, interest rate, and repayment period.
When investing in real estate, it is important to have all the necessary documents and paperwork in order. This includes closing documentation, which is used when purchasing a property. Closing documents are legal papers that outline the terms of your purchase agreement and transfer ownership of the property from seller to buyer.
These documents include deeds, mortgages, loan agreements, title transfers, proof of insurance, and other related forms. It is also important to provide additional documentation such as employment history when applying for a traditional mortgage or loan. Having accurate and complete paperwork will ensure that your closing goes smoothly and without any problems down the road.
Step 4: Renovating Your Property
Now that you've secured the funds, it's time to start on the actual renovation or repair work. This may involve hiring contractors, purchasing materials, and overseeing the entire renovation process. Renovating your property is important to get the most out of your real estate investment.
Rehabbing a rental property can make it more attractive to potential tenants and help you maximize your returns on investment. By making small improvements such as replacing old appliances, painting walls, installing new flooring or fixtures, and updating bathrooms and kitchens, you can increase the value of your rental property while also improving its appeal to prospective tenants.
Additionally, rehabbing a property can help reduce maintenance costs over time by preventing larger repair issues from arising down the line. Furthermore, taking care of any necessary upgrades right away ensures that all safety standards are met so that your tenants have a safe environment to live in.
Rehabbing a flip property can be an important part of maximizing profits and making the home more attractive to potential buyers. By investing in small improvements such as replacing old appliances, painting walls, installing new flooring or fixtures, and updating bathrooms and kitchens, you can increase the value of your property while also improving its appeal. This will help ensure that you get top dollar for your investment when it comes time to sell the home.
When deciding which renovations to do, it's important to consider the 70% rule. This means that all repairs and upgrades should be done in order to increase the value of the property by at least 70%. Also, don't forget about permits! If you plan on making structural changes to a property, you will need to obtain any necessary permits beforehand.
Step 5: Flipping or Renting Out the Property
Once the renovation work is complete, it's time to either sell the property for a profit or rent it out for long-term income. If you're planning to sell the property, you'll want to work with a real estate agent to market the property and find potential buyers. If you're planning to rent out the property, you'll need to find tenants and manage the property over time.
Flipping a property is an excellent way to make money in real estate. With the right strategy and preparation, you can maximize your profits by selling your property or renting it out for long-term income. Working with a realtor can help you get top dollar for your investment when selling your flip. A realtor has experience in evaluating properties and understanding current market trends, so they can advise you on which renovations will add value and help you price your property competitively. They also have access to marketing tools that can reach potential buyers quickly and efficiently, helping ensure that you get maximum return on investment for your flip.
Finding tenants and managing a rental property can be time-consuming and stressful. It's hard to know where to start when it comes to finding the right tenant, setting up leases, collecting rent payments, handling maintenance requests, and more. That's where a property management team comes in! By using one you can take the stress out of renting your property! With access to marketing tools that will quickly reach potential tenants, lease agreements, and handling all aspects of tenant relations, Investing in a professional property management team is an invaluable asset for any real estate investor looking for a smooth rental experience!
Summary
Investing in real estate is a great way to earn passive income and increase your wealth. By following the steps outlined in our flow chart for real estate investing – from researching potential properties to securing financing and renovating them for sale or rental use – you can maximize your profits on each investment.
Additionally, working with professionals such as hard money lenders and property management teams can help ensure that everything goes smoothly throughout the entire process. By using our flow chart for real estate investing, and proper planning and preparation, you'll be on your way to a successful real estate investment!
The Ultimate Beginner's Flow Chart for Real Estate Investing
Step 1: Finding a Property to Invest In
Step 2: Funding Your Real Estate Investment
Step 3: Closing Your Real Estate Investment
Step 4: Renovating Your Property
Step 5: Flipping or Renting Out the Property
Get more for your flip and less time waiting with Prime Plus Mortgages! Prime Plus Mortgages is making hard money loans easy with same-day approvals and funding in as little as two days – spend less time and money on funding, and more on your investments! APPLY NOW