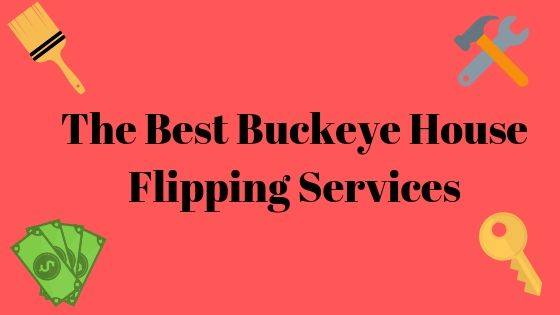 Did You Hear the news? House flipping is at record-breaking levels. Arizona has one of the best real estate markets in the county, and the real estate markets are breaking monthly records this year. Buckeye is the market on the rise, not only for hard cash loans, but the fastest growing city in the U.S.!
Buckeye is the Fastest growing city in the COUNTRY. In May 2019, the U.S. Census Bureau placed Buckeye is the fastest growing cities in the United States! They Reported that Buckeye was growing by 8.5%.  Due to the fast growth in Buckeye, more investors are looking for properties to fix, flip, rent and invest in as soon as possible!
Many real estate investors are looking for the best hard cash loans, realtors, contractors, and other house flipping service in this hot market!
We went ahead and pulled the best of the best in Buckeye for house flipping and more services. Let us know our favorite Buckeye House Flipping service, hard cash loans, or any other service that we missed in the comments below!
Contractors
Every investor knows that a great contractor is a must to a successful flip. House flippers and anyone that uses hard cash loans know that great contractors are hard to find. These Buckeye contractors are guaranteed to deliver the best service for your next Buckeye Investment.
Proctor Custom Builder offers over 40 years of working in the construction industry, so you can trust Proctor to build the flip, home rehab, or remodel of your dreams.  They are determined to have the best quality craftsmanship and exceptional customer service.
From the consultation to the finished job, they promise complete satisfaction with your investment.  Proctor Custom Builder offers custom building, home improvement, remodel, additions and more!
Afraid of repair a roof, or a house flip can be scary, but With Gary and Son Roofing, INC, your fears can be eased knowing that all the repairs were done correctly at a fair price.
Gary and Son Roofing, Inc has the most responsive, dependable, and true craftsman through and through. Their prices are fair, and projects are done under budget and on time!
Gary and Son Roofing, Inc are the contractors to call if you are looking for a great crew that jobs are done right on your budget and timeline.

Realtors
Amazing Realtors are real estate investors best friend! Realtors make it easy for investors using Hard cash loans to find the best properties to flip, and help them sell those properties as fast as possible.
These buckeye Realtors are prompt, responsive, professional and know how to find the best flips in Buckeye.
Keene Properties is a great Buckeye Real Estate Service that knows how to buy and sell flips and rental, and any real estate investments using hard cash loans.
Harvey Keene is prompt and courteous and is easy to work with for investors or clients moving in and out of the area. He has sold homes in less than a month and knows how to make buying and selling properties smooth and stress-free.
For a Diligent Realtor to make finding and selling your flip easy, contact Keene Properties.
For fast real estate investments and deals, look no further than the Kortright Group.
The Kortright group use out-of-the-box marketing plans to sell properties faster than ever. They employ the best services to house photos and title appointments move quickly, especially for investors using hard cash loans. The Kortright can even help investors find the best rental properties managers as well!
For a fast and professional Realtor, look no further than the Kortright Group.

Lenders
Real estate investors best friend is fast and flexible hard cash loans. Real estate investors are always looking for the best hard money loans, and especially for their markets, they are investing in.
If You are looking for a real estate service that has the best hard cash loans in Buckeye, look below!
Prime plus mortgages offer one of a kind loans just for Buckeye investors. Their hard money loans that are flexible, fast, and hassle-free. As real estate investors, we understand the importance of getting funding when you need it, now.
The hardest part of real estate investing shouldn't be funding, so we simplified our application and approval process to take as little as 2 minutes.
Prime Plus Mortgages has the fastest turnarounds and can help you get funded within 2 days or less. Learn more about our Buckeye hard money loans.

Cleaners
After finding, funding, and completing the repairs for you Buckeye Investment, having the best cleaner before you list is vital to the best photos.
For investors using hard cash loans in Buckeye, These cleaners will leave you a spotless investment picture perfect for your investment.
Need a budget-friendly cleaning service?
Honest Maids offers fast service at prices that can't be beaten.
House flipping can leave behind a big mess, so these spotless cleaners are a godsend. Make sure you great the shining kitchen you need to sell your investment in Buckeye.  Honest Maids make cleaning your flip fast and easy and are always punctual.
What are you looking for in the cleaners? Obviously efficient and polite service! For one of the best cleaning services in Buckeye, Look no further than Above and Beyond.
If you need a clean and spotless flip, Above and beyond offers some of the best cleaners and prices there are. If you need professional cleaners who are methodical, and pay close attention to detail Above and beyond is perfect for your flip!
Above and beyond offers efficient and reasonably priced services for the top-notch cleaning services that will leave a smile on any Buckeye House Flipper using hard cash loans.

Interior Designers
Interior designers and stages can be the icing on the cake for real estate investors. For real estate investors using hard cash loans getting the biggest bang for your buck is a necessity. Using an interior designer can help your flip sell for more and get sold faster!
Check the best Buckeye Interior Designers Below.
If you are looking to completely transform your real estate investment to get top dollar, look no further than Design Out The lines.
For themed rooms, to timeless classics, they can transform any rooms with the smallest of touches. For a farmhouse feel, to sleek modern looks, or anything in between this team knows how to bring a vision to life.
Transform your flip with Design out the Lines!
If your flip has clashing themes and you don't know how to bring it all together, call Redesigning Places 'n Spaces.
For a true professional, with no fluff and who knows her stuff. Any real estate investors will appreciate their direct approach to get you the results you need for your space. They are quick to respond and make designing a space fast and easy!
Summary
Buckeye investors using Hard cash loans are moving fast to cash in on the growing population in Buckeye and finding the best services to work for your flip can be hard. Our List of Contractors, Realtors, Arizona Hard Money Lenders, Cleaners, and Designers will make finding, funding, flipping and selling fast and easy.
Here is the list again!
Contractors
Realtors
Lenders
Cleaners
Interior Designers
Are you looking to invest in Buckeye?