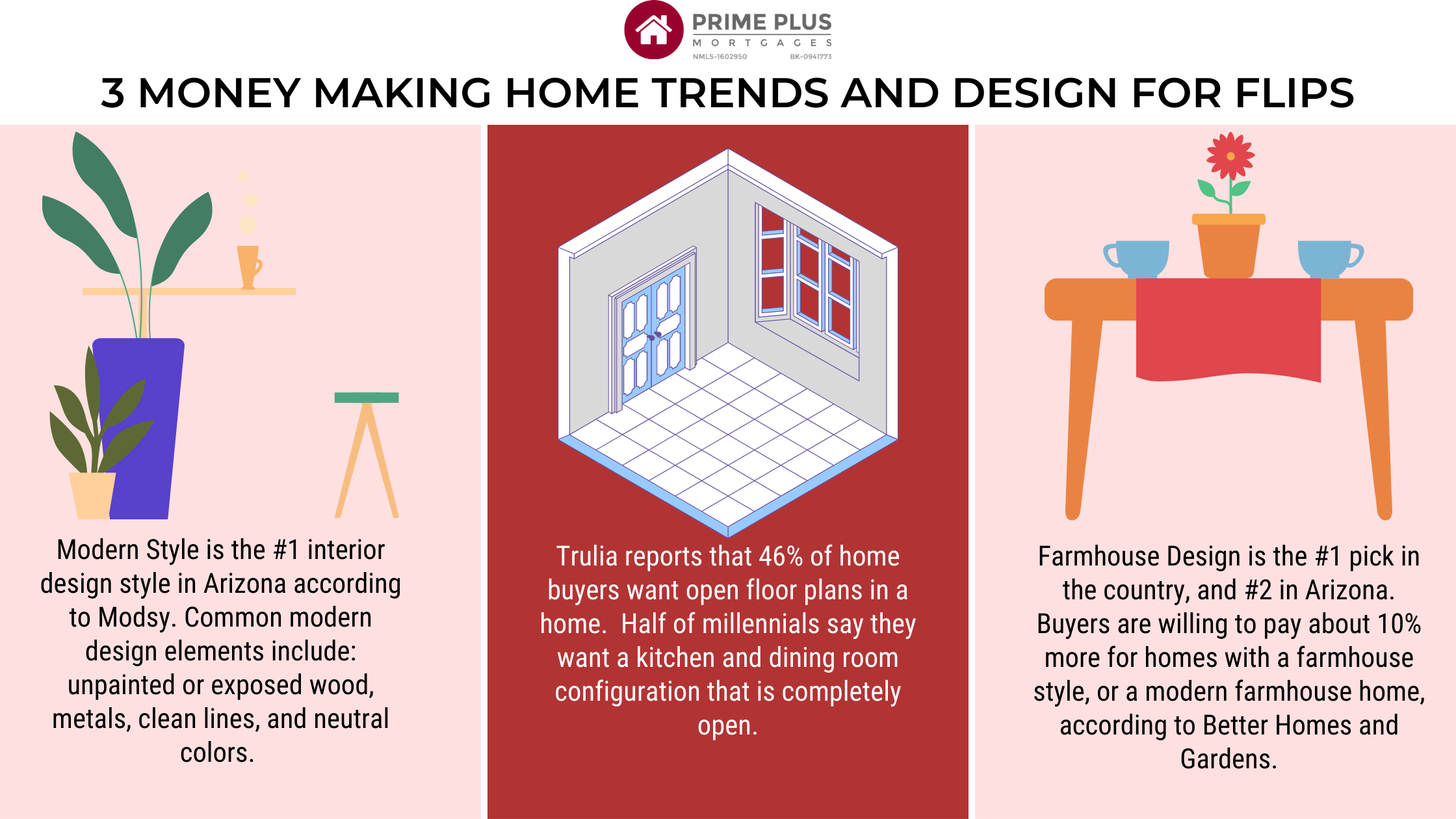 All real estate investors want to have profitable flips. Beautiful flips that integrate the newest home trends and design styles can attract homebuyers. Real estate investors are sometimes wary of the newest trends as they can fade quickly and turn off potential buyers.
Using the top home trends and designs to their advantage to make more money.  To get the highest profits for your investments, you need to think of your buyers. Many homebuyers view house shopping with rose-colored glasses.
Thanks to the glitz and glamour of dozens of home buying shows, many homebuyers have high expectations of the homes they view. T.V. shows often have perfectly staged homes, inexplicably styled and flooded with natural light. While trends come and go, these home styles and home designs are here to stay.
We list the top trends and designs home buyers want in Arizona. Use these home trends and designs to make more money on your flips!
The #1 Interior Design Trend In Arizona
Trends can fade quickly, but this style is here to stay. With new Arizonians are searching for this style every day, you can appeal to a new generation of tenants or homebuyers!
According to Modsy, Modern Style is the #1 interior design style in Arizona. Modern homes or flips can actually make investors more money in Arizona. You can appeal to a larger audience with a modern home. A well-designed modern home can earn you more money!
Modern style includes minimalistic features, and classic elements, making it appealing to many generations. Common modern design elements include unpainted or exposed wood, metals, clean lines, and neutral colors. Raw materials, like stainless steel finishes, or geometric light fixtures.
Neutral colors will always sell for more! In fact, Neutrals can add $2,000 to the home's sale. Gray paint, white subway tiles, and open spaces are a must to achieve this look. Contrasted with natural elements like exposed beams, or stainless light fixtures creates a beautiful, move-in ready home.
Modern styles can make any size of home feel spacious and elegant. Making it perfect for real estate investors looking to maximize their investment and ROI. This effortless style is easy to achieve and can be seen.
The Most Popular Home Style In The Nation
Fans of HGTV seem to love this particular style. Farmhouse Design is the #1 pick in the country. Buyers are willing to pay about 10% more for homes with a farmhouse style, or a modern farmhouse home, according to Better Homes and Gardens.
Farmhouse style is often cozy, relaxing, and inviting. This design trend combines the cold neutral palette of modern design with charm and character. That means homes can be easily designed to emulate this style with minimal effort. This carefree design is practical and a favorite for most of the country.
To design a flip for farmhouse style, start with the basics. Neutral colors, with pops of color and textures, are a must for those looking to achieve this look. Exposed, or unpainted wood is a necessity. Additionally look for some older features, like built-in, or decorative trim to add character. Unlike modern style which focuses on neutral colors, use pops of bright color intentionally to make a room stand out.
House flippers can use this design trend to their advantage. Instead of complete tear-downs real estate investors can keep or reuse elements of the existing flip. This can be quite cost-effective in the long haul. Instead of installing new cabinets, they can be refurbished or sanded. While new kitchen cabinets cost anywhere from $2,500, therefore saving thousands on an investment.
No matter your flip layout you can easily design investment to emulate this style. While the farmhouse style is listed as the top design in the nation, it was also the second choice in Arizona.  Whether you choose to go modern or farmhouse style may depend on your budget or your flip. When you design your flip there is one thing you can do to make it more appealing to most homebuyers.
Top Home Design In The Nation: Open Floor PLans
Open floor plans are one of the most popular home designs and trends in the nation. While styles of homes may change quickly over the years, more home buyers are demanding open floor plans. Trulia reports that 46% of homebuyers want an open floor plan.
Millennials and older generations have fallen in love with open floor plans and it is easy to see why. Some benefits to homes with open floor plans are better traffic flow, multi-functional spaces, and increased use of natural light and space.
Open floor plans are great for utilizing spaces and offering more flexibility to homeowners. Many homeowners find it easy to upkeep, decorate, and live in homes with open floor plans. Investors can still see ROI from only half-open floor plans as well.  Half of millennials say they want a kitchen and dining room configuration that is completely open.
Open floor plans are great for real estate investors. You can open spaces, and knockdown walls to make small investments more appealing to more buyers. Open floor plans make it easy to create investments that are appealing to home buyers, and simple to repair and maintain.
Tearing down walls, replacing windows, and adding a unifying color to space you can see high ROI for your investment. The ROI for removing a wall, according to Remodeling Image, is 54% to 60%.
More homebuyers are demanding open floor plans. By utilizing these home trends and design, you can quickly and easily create a flip that buyers will love.
Summary
All real estate investors want a profitable investment. By using the top home trends and designs you can make more money for your investments. Real estate investors looking to make more from their investments know that repairs are necessary to attract homebuyers. Use these home trends and design to make more money from your investment!
The Money Making Home Trends and Design For Flips Are: 
Modern Style: The Most Popular Home Style In Arizona
Farmhouse Style: The Most Popular Home Style In The Nation
Open Floor Plans: Top Home Design In The Nation
For many investors, they need fast loans so they can flip quickly. Hard money loans make it fast and easy for real estate investors to do what they do best, invest! With hassle-free applications that only take clicks to complete, they can focus on making a beautiful flip.
No matter if you need funds to repair an investment, or for the entire flip, Prime Plus Mortgages has the fastest hard money loans in Arizona. Click here to apply for a hard money loan today.