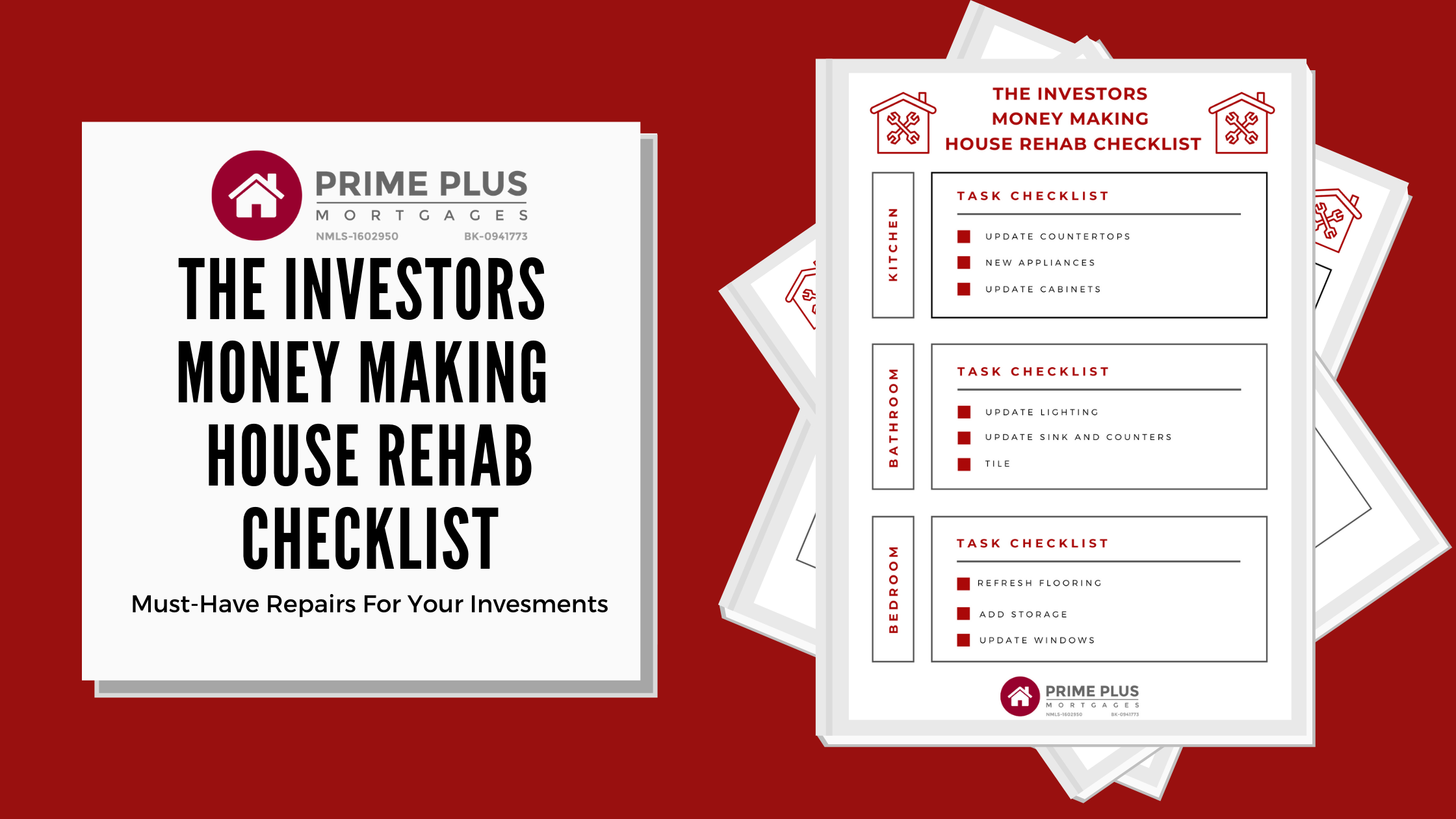 Real estate investing is the modern-day gold rush. There are never-ending real estate opportunities ready for the right investors. How can real estate investors make more profitable flips? With a house rehab checklist.
No matter if you plan to flip or rent, a rehab checklist is a must for any real estate investor. Upgraded properties make easy flips with buyers fighting tooth and nail for beautiful homes. Upgraded rentals will have tenants waitlisting to see your properties and pay your prices for your updated listing! Simply put, investments that use a home rehab checklist can make more money!
As real estate investors ourselves we went ahead and put together this simple house rehab checklist to help you have more profitable investments! While no repair is guaranteed to earn you a high ROI, upgrading your investment will make it more attractive to potential buyers! See our home rehab checklist below and see if this is a good fit for your investment!
Kitchen Remodel Checklist
Ask any realtor, and they will tell you kitchens sell homes. That's why the most important part of your house rehab checklist is the kitchen remodel!  With homebuyers demanding updated kitchens, and renters tired of grungy appliances, a kitchen remodel is a surefire way to make the most of your investment. Minor remodels typically recoup about 87% or more of the cost.
Small updates can pay off big! Small kitchen projects earn a return on investment of more than 83%, according to the Cost vs. Value Report from Remodeling magazine.
How much, or how little you need to repair depends on your investment. Therefore we listed the top 3 things every investor should do!
Kitchen Remodel Checklist Must-haves
Update Countertops
New Appliances
Update Cabinets
The great news for real estate investors, as most buyers are looking for kitchens that look good. Meaning small repairs and updates can lead to big paychecks! Following the kitchen remodel checklist, simply add new appliances, updated countertops, and refinished cabinets for a fresh and modern kitchen.
One of the easiest ways to make money with an investment, and improve the look of your kitchen is with a new countertop! Simply replacing the countertops can drastically improve the look of a kitchen.  The hardest part of replacing a countertop? Deciding the material! Granite and laminate options can turn high ROI for your investments! Another small way you can make your kitchen pop is by refreshing your cabinets. This can be as easy as a new coat of paint, and updated hardware. If the storage needs improvements adding wire shelves or even new cabinets will make your kitchen far more appealing.
New appliances are a must-have for rentals and can be a great selling perk for your flips. Stainless steel appliances can blend in with any property and come in many lower-cost models, allowing for inexpensive upgrades that appear sleek and sophisticated. A small kitchen rehab can see a return of 80%, making it worth the investment.
Kitchen remodels are one of the most important aspects of flipping or renting a property. Kitchen remodels are also the easiest to spend too much or too little money on. So how do you know what repairs to make? Your market will have the answers. Look are comps for your investment or other rentals to get a better understanding of how kitchens look and the repairs needed!
Top Bathroom Repair Checklist
Bathrooms should never be overlooked in your investment. According to U.S. News, for example, investing in a bathroom remodel yields a 62 percent return on average. That is why our house rehab checklist covers the basics you need to have a bathroom that sells. For bathrooms, it is about creating space and a sense of luxury. Depending on your investment, you might only need to make superficial upgrades.
Bathroom Repairs You Need To Make: 
Update lighting
Update sink and Counters
Tile
For most buyers and renters, bathrooms can feel cramped and dark. You can elevate any bathroom from good to great with a few minor upgrades. Wow potential buyers or tenants with your spacious and airy bathroom.
Light plays in a bathroom, making it easy to update your bathroom. Light will make your bathroom feel larger and more luxurious. You can easily add more light with new windows or light fixtures! Daylight will always make a bathroom feel more spa-like, but switching to daylight bulbs can make a large impact too. Bright light makes a bathroom feel clean and sophisticated.
A highly effective upgrade is replacing the sink and counters. Messy or outdated counters and sinks can make for a hard sell. A simple way to transform your bathroom is a simple swap of the current sink and counters. Ceramic sinks are easy to clean, and when paired with a stone countertop provide a sleek modern look. You can upgrade your storage to make your listing more appealing.
Tile transforms bathrooms from dull to modern. Additionally, they make bathrooms luxurious! Tile can be used in many ways, from walls, floors, or showers. Tile makes for easy cleaning and is easy to install, the perfect repair on the house rehab checklist!
Top Bedroom Repair Checklist
Bedrooms are one of the most important rooms of a home. While it may not be the top reason someone buys a home, it is the room that people spend the most amount of time in. For bedrooms, refresh and small upgrades are key to make for an easy selling property!
The Top Bedroom Repairs: 
Refresh flooring
Add Storage
Update windows
Never overlook the power of floors in your home. Adding hardwood floors can add 2.5% to your home's selling price and see a 70% to 80% ROI when you sell. Carpets should be new or replaced with hardwood whenever possible.
Storage options are a must for a bedroom. Buyers love spacious closets! Make sure to add lots of shelves. Expanding a closet if necessary may be a great option depending on your investment. Buyers will love the extra space for their clothes and a well-organized closet can be a major selling point for a buyer.
Windows and window treatments are a requirement for any bedroom. Bright daylight will make your bedrooms inviting to buyers or tenants, but a lack of privacy might turn away more. Therefore the top repair you should do for your bedroom is to make sure your windows are updated. New windows are energy efficient and can offer better light in your home. New windows are more secure, and safer. Expect a return on your investment of at least 70 percent.
Using Your House Rehab Checklist For Your Investment
No matter your investment, rehabs are a great way to see high returns. Tenants and homebuyers are willing to pay for more upgrades. Use the house rehab checklist to ensure your investments have these money-making repairs!
Real estate investors can easily make these money-making repairs with hard money loans. Hard money loans are asset-based loans that are perfect for nearly any real estate investment. You can quickly get approved with no credit checks, and loans based on your investment! Learn more about our hard money loans here!
Use Your House Rehab Checklist: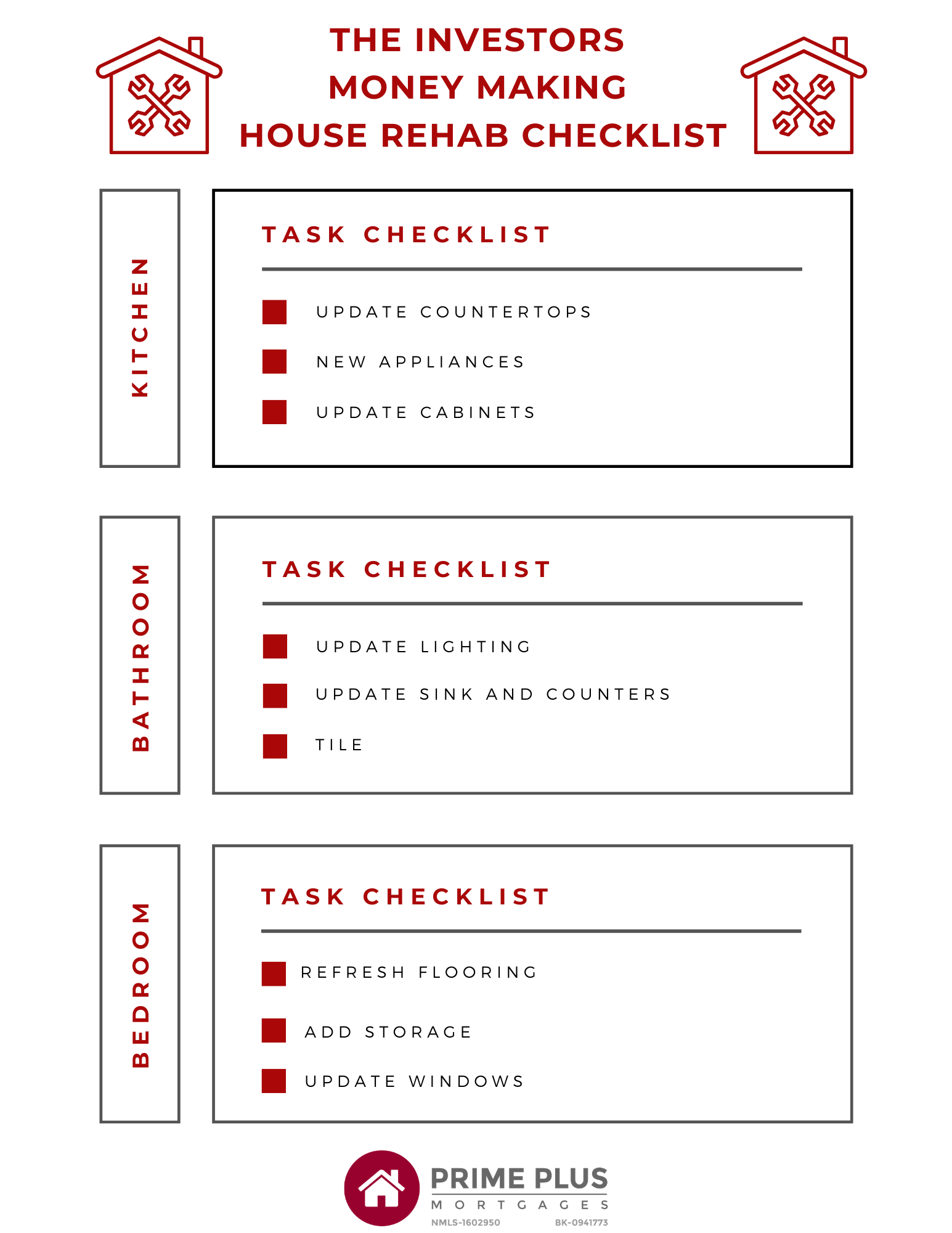 P.S. Use your house rehab checklist with our free home rehab valuator to estimate the cost of your flip! Get it for free here!
Looking to start real estate note investing? Apply today!