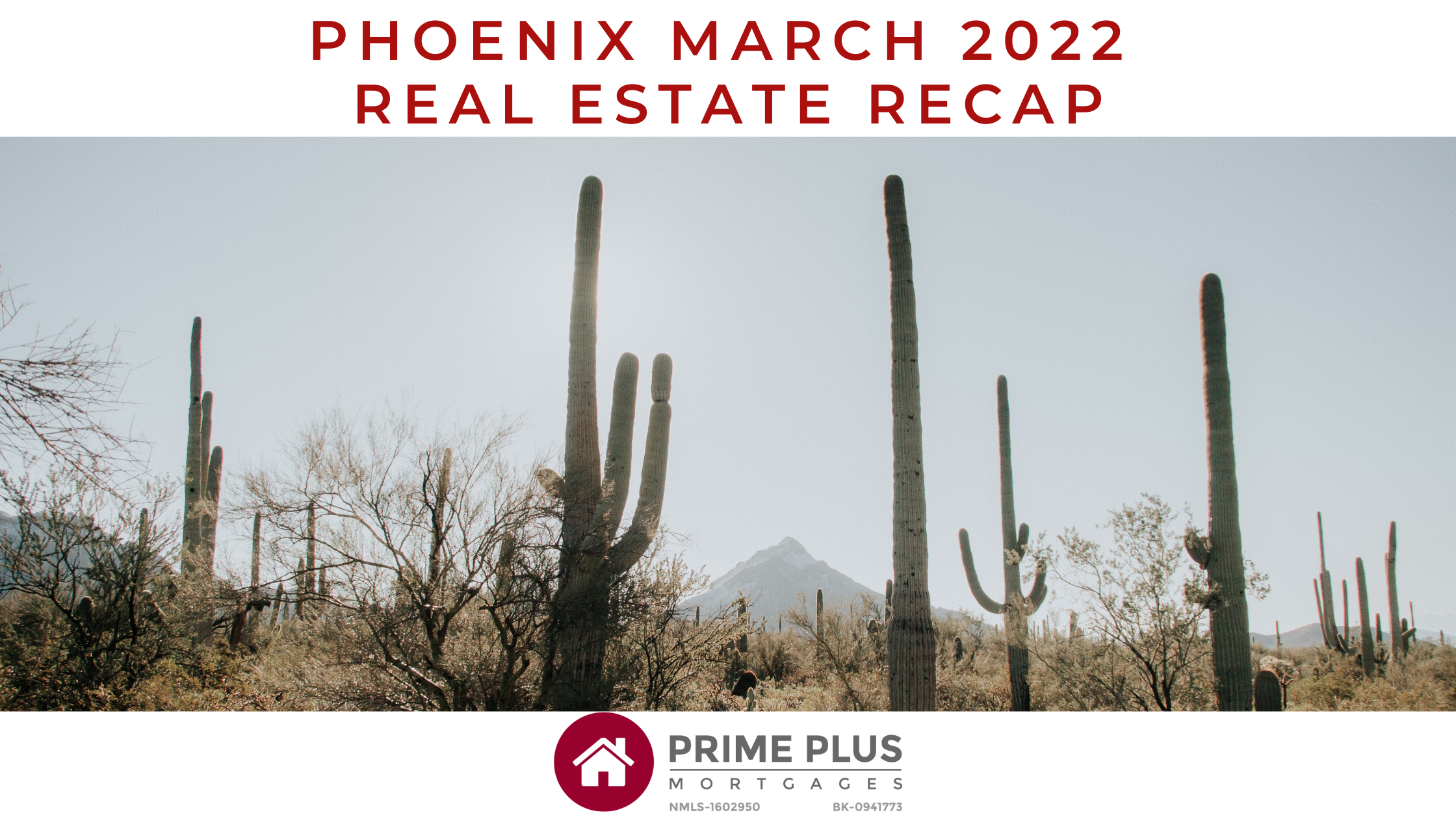 2022 has been off to a strong start for Phoenix real estate, with rising median sales prices, flipping, and new builds. Battling low inventory new builds are on the rise as well as the median sales prices and house flipping.  In our Phoenix March 2022 Real Estate Recap we showcase how Year-over-year numbers show that Phoenix is still one of the top real estate markets in the nation, and shows no signs of slowing down anytime soon.
In our Phoenix March 2022 Real Estate Recap, we see that Phoenix is a hotbed for real estate activity.
Phoenix #1 In Nation For Median Sales Price
According to RE/MAX, Metro Phoenix led the nation with the biggest increase in median sales price for homes. In January 2022, the median of all 51 metro Median Sales Prices was $335,000, with no rise from December 2021, but up by 15.9% from January 2021. Thirty-five metro areas increased year-over-year by double-digit percentages.
The highest increases in median sales price were: Phoenix, AZ with a year-over-year rise in the median sales price of 28.5%, followed by Raleigh-Durham, NC at +28.4%, and Salt Lake City, UT at +26.7%.
Across the 51 metro areas in the report, the median sales price remained steady as January was the second month in a row of the little-to-no month-over-month price increase. However, year-over-year price increases remain steep as January's price was 15.9% higher than a year ago.
Despite the low inventory that continues to plague the nation, house prices continue to rise.
Phoenix #2 In Nation For House Flipping
In the most recent report released from ATTOM, Phoenix had the second-highest house flipping rate in the country, for the 3rd quarter of 2021. The third-quarter 2021 U.S. Home Flipping Report showed that 94,766 single-family houses and condominiums in the United States were flipped in the third quarter.
These transactions represented 5.7% of all home sales in the third quarter of 2021, or one in 18 transactions, a figure that was up for the second quarter in a row. This marked an increase from 5.1%, or one in every 20 home sales in the nation, during the second quarter of 2021, and from 5.2%, or, or one in 19 sales, in the third quarter of last year.
The Q3 2021 home flipping report shows that home flips as a portion of all home sales increased from Q2 2021 to Q3 2021 in 73% of the metro areas analyzed.
Among those metros with a population of 200,000 or more and at least 50 home flips in Q3 2021, the largest home flipping rates were in:
Ogden, UT (flips comprised 9.5% of all home sales);
Phoenix, AZ (9.5%);
Salisbury, MD (9.3%);
Salt Lake City, UT (9.3%)
 Laredo, TX (9.2%.
ATTOM's Q3 2021 home flipping report also states that home flippers who sold properties in Q3 2021 took an average of 147 days to complete the transactions, the smallest turnaround time since Q3 2010, and down from an average of 148 in Q2 2021 and 189 in Q3 2020.
Q3 for 2021 was a strong quarter for house flippers, with promising growth for house flippers in Phoenix.
Phoenix #4 New Construction Real Estate Markets
Phoenix is one of the top markets for active-real estate according to a new report from StorageCafe, and even outperforming larger cities. The report delves into the development of the country's top 50 biggest metros over the past 10 years in both residential and commercial sectors.
Phoenix ranks fourth for new construction, following the Dallas, Houston, and New York metros. Thanks to a growing population and job creation, residential and commercial building has continued to increase.
The Top 5 New Construction Real Estate Markets Were:
Dallas
Houston
New York
Phoenix
Atlanta
Phoenix saw over 207,000 building permits for single-family homes and another 95,000 for multifamily units issued in the metro area from 2012 to 2021. The best years for single-family construction in Phoenix were 2020 and 2021, with 31,000 and 35,000 new homes being permitted, respectively.  Multifamily construction also saw a massive surge in 2020 and 2021 – almost 17,000 multifamily units were permitted in 2021, compared with only 4,000 units in 2012.
Summary:
Phoenix is currently one of the hottest real estate markets in the nation. Whether you are flipping, building, or anything in between, it remains to be one of the leaders of the nation for real estate activity. The City Guide to Living in Phoenix and Its Neighborhoods can also be helpful to investors looking to entice buyers with their investments.
Phoenix #1 In Nation For Median Sales Price
Phoenix #2 In Nation For House Flipping
Phoenix #4 New Construction Real Estate Markets
Whether you are renting or flipping, a fast close can make a more profitable flip. Close your investments faster and easier than ever with our Hard money loans! Apply now to get approved for your hard money loan today!
Apply today and get our Free Home Rehab Valuator to help you calculate your next flip!