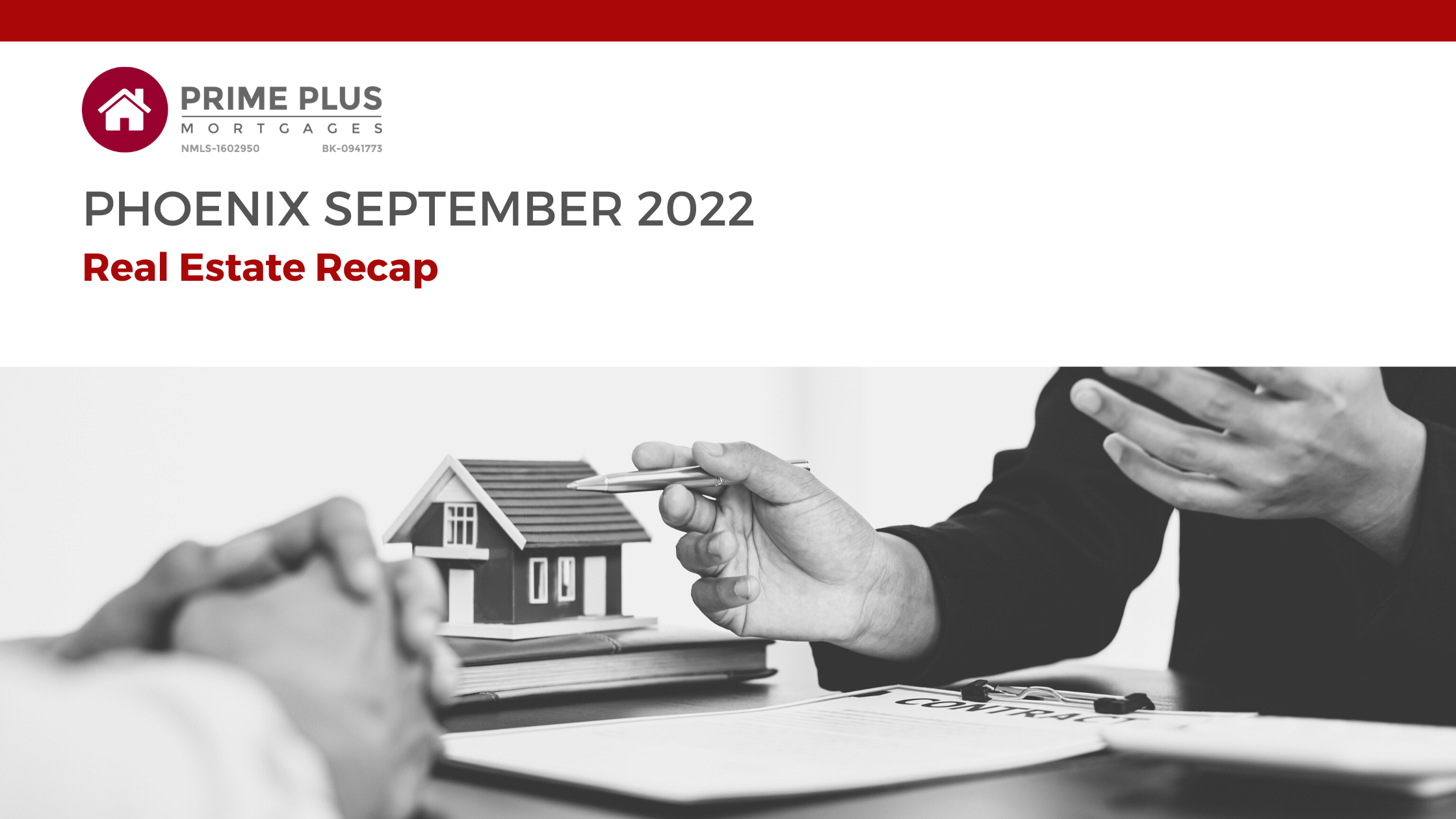 There were many fast market changes in September. Across the nation, we saw increased mortgage rates, market cooling, and the buying frenzy slowing down in the cool months.
Despite the changing market attitudes, buyer and rental demands are still present. Phoenix investors facing a market shift with a more balanced market, while the demand for rentals skyrockets. For our real estate investors, we collected the top real estate market news in our Phoenix September 2022 Real Estate Recap.
Mortgage Rate Increases
After two years of low mortgage rates, 2022 we saw rates rise to pre-pandemic levels. Many new buyers and real estate experts were surprised to see an increase in mortgage rates and many were unsure of how it will play into buyer sentiments moving forward.
The average mortgage rates are as follows:
Mortgage rates weren't the only rates that increased in September. According to data compiled by Bankrate, rates for 30-year fixed, 15-year fixed, 5/1 ARMs and jumbo loans edged higher.
The refinance averages for 30-year, 15-year, and 10-year loans are:
The rate increases haven't gone unnoticed and will continue to play a role in buyer activity moving forward. Rates are accurate as of September 27, 2022.
Balanced Market Comes To Phoenix
The Cromford Market Index shows the Phoenix housing market is starting to balance after a two-year seller's market run. Zillow reports that Phoenix home values dropped by 2.8% between June and July of this year. Despite the decline in value this summer, Phoenix home values have still increased by a staggering  69.5% since July 2019.
Seller Market Cities: 
Paradise Valley CMI: 171.4
Fountain Hills CMI: 161.5
Scottsdale CMI:  135.4
Cave Creek CMI:  119.4
The number of cities with an improved CMI over the past month has fallen to 5. Mesa has turned around, but Scottsdale, Gilbert, Chandler, Tempe and Glendale are still managing to show an improvement for sellers compared with a month ago. Most cities are showing a balanced Market index, and even more leaning towards a buyers market.
While inventory still remains in short supply, buyer demand has weakened compared to previous months, with some citing mortgage rate increases as the cause.
Rentals Increase 60% From Last Year
Rental listings have taken the market by storm. The Cromford Report recorded the largest ever year-over-year percentage increase in the rate of new rental listings. The report only includes long-term residential leases.
The Cromford Report has recorded 2,916 new rental listings in the last 28 days which is up 60% from 1,826 this time last year.
Previous years were:
2022 – 2,916
2021-1,826
2020 – 1,963
2019 – 2,498
2018 – 2,343
2017 – 2,668
2016 – 2,733
2015 – 3,127
The average listed rent in Greater Phoenix is $1.56 per sq. ft. per month. It was $1.61 last month and $1.90 this time last year. Single-family detached homes are much cheaper to rent than attached homes, for an average of $1.49 per sq. ft., while Apartments average $1.93 per sq. ft. per month, and townhomes are at $1.87 per sq. ft. per month.
Closed Transactions Fewer Compared to Last Year
The Cromford report compiled the affidavits for September 2022 in Maricopa County which showed 36% fewer closed transactions compared to last year. This cooling of the market was seen nationwide as well. The S&P / Case-Shiller® Home Price Index® numbers cover the home sales during the period May to July 2022. This report shows the slowing market felt in the past months.
Compared with the previous month's series there was the following changes:
Miami +1.29%
Cleveland +0.96%
Chicago +0.66%
Atlanta +0.64%
Charlotte +0.62%
Tampa +0.56%
New York +0.16%
Las Vegas +0.05%
Phoenix -0.12%
Detroit -0.13%
Phoenix stayed in 9th place but remains above the national average, which was -0.33%.
Comparing year over year, there were the following changes:
Tampa +31.8%
Miami +31.7%
Dallas +24.7%
Charlotte +23.6%
Atlanta +22.8%
Phoenix +22.4%
Las Vegas +21.8%
San Diego +16.6%
Los Angeles +15.7%
Denver 15.6%
The national average increase was 15.8% compared to last year, meaning a rise in prices throughout the country. While year over year there were improvements it is easy to see that the market is starting to shift with increased mortgage rates and home prices are causing buyers to hesitate.
Summary
Aside from cooling off from the summer heat, we saw a cooling overall in market activity. With the mortgage rates increased, an explosion of rental activity, September caught real estate investors off guard. The Phoenix market still remained strong, but the frenzy slowed in certain cities.
Phoenix September 2022 Real Estate Recap
Mortgage Rate Increases
Balanced Market Comes To Phoenix
Rentals Increase
Listing and Sales
Spend less time looking for hard money, and more time flipping with Prime Plus Mortgages same-day no-hassle approvals! Apply today and get our Free Home Rehab Valuator to help you calculate your flip! Apply now to get approved for your hard money loan today!