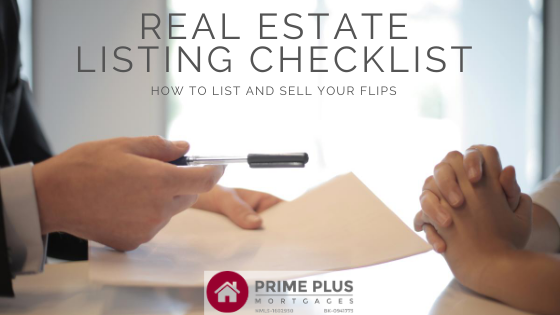 Real estate investors are all about the flip! The magic moment where the time, effort, and planning pays off! Realtors and investors know that having the perfect real estate listing can make or break a sale. That's why we made the real estate listing checklist for your investments.
This listing checklist makes it easy to make sure that you have a smooth listing process. With any real estate investment, there are many moving parts. From finding the realtor, listing, and marketing your flip, it all comes down to preparation.  This simple checklist can help make sure that realtors and investors are on the same page.
This free listing checklist can help you list and sell your properties faster! Are you a realtor working with investors, or investors wanting to track their listing? Our real estate listing checklist leads to easier flips. Here it is!

Listing Preparation With The Listing Checklist
Listing preparation is essential for any house flipper. While countless hours and dollars poured into a flip, rushing to list can actually hurt the chances of selling a property. Spending the time to find the right real estate agent, and preparing your flip to list is critical to your profits! That's why you need to have the following prepared before you list!
How to Prepare Your Flip To List:
Broker Listing Agreement
Seller's Disclosure Letter
Stage And Photograph Your Listing
The Listing Agreement is a legally binding agreement that gives the real estate agent or brokers the right to sell the home.  The Seller Disclosure Letter is a legal requirement that discloses any relevant information about the home to a potential buyer.  Before signing any agreement you should make sure you vet your agent for their experience and how they plan to sell your flip!
What To Ask A Realtor Before Signing A Listing Agreement:
Referrals
Listing Average Days On Market
Selling Experience In Your Area
Average Home Price Range
Marketing Plan For Your Listing
Asking these questions helps you understand the agent's experience for your type of property. While the average listing window is 46-55 days, it may vary per market and type of property, but should help you understand how they plan to market your property.
Disclose any and all improvements you have made on the flip and provide documentation so they can properly draft your disclosure,  and sign your agreement after finding the right agent. Stage and photograph your investment to ensure your property sells faster and for more! 
Make sure you complete the real estate listing checklist when you prep your flip!  Without these items, you can risk major legal liabilities so make sure you have them all before you list your flip!
Using The Realtor Checklist For Listing A Home
After finding the right agent and preparing your listing, you can list your investment! While this part of the real estate listing checklist is used mostly by real estate agents, investors can find this useful to track the status of their property.
Before you submit your property, make sure all the photos and specs of your property are accurate. Before your agent lists your flip in MLS they should come prepared to discuss the price and comps of your area for the proper list price.
Once your property is submitted into the MLS it may be hard to track down all the listings on the different sites, so ensure everything is correct. After thoroughly checking your listing you can follow the listing portion of your listing checklist.
Listing Your Investment With The Real Estate Listing Checklist:
Input Listing Into The MLS
Claim The Listing On Popular Listing Sites
Update The Property And Contact On Listing Sites
MLS or multiple listing service is a tool that realtors use to submit and share listings they have with other listing services and brokers. This technology makes it easy to not only submit your property on multiple listing services at one time but also generate leads for your properties. The National Association of Realtors states, "The MLS is a tool to help listing brokers find cooperative brokers working with buyers to help sell their clients' homes."
MLS uses many data fields to ensure the most accurate information. From county records to newly submitted specs of your investment and contact information for viewing your property. Some popular listing sites may require you to claim a listing after submitting, making it an important step in the real estate listing checklist!
Once your listing is submitted, live, and correct you can begin to market your listing!
Marketing Your Property With The Real Estate Listing Presentation Checklist
Marketing a property makes the difference between a good and a great realtor. With more eyes on your listing will only improve your chances of more offers to buy your property!
Marketing Your Property With The Real Estate Listing Checklist:
Share listing on social
Email the Listing to Your Leads
Show And Close Your listing
Social media has transformed the way we do business, and so every listing should be optimized to share on social media. Each listing should have social sharing options so that potential buyers can easily share your property with friends and family and their agents. You should have social posts for your property planned. Make sure to share your listing on all the popular platforms, such as Instagram, Facebook, and use live videos to show the inside of the home! Post your listing in groups, and on your page, so people who follow you can see your new listing!
Make sure to email your listing to potential buyers and other realtors. This will only ensure that your listing is getting as many eyes as possible, leading to more potential showings. Now that your property is listed you can begin the excitement of home showings.
After properly marketing your listing, you can begin to show your property. Make sure your home is properly staged, as these properties can sell for an average of 6.3% over asking price. Create a flyer for your property inside your listing so buyers can easily remember the highlights of your property With a newly flipped home it should be easy to wow any potential buyers!
Consistently market your property to get new showings and work closely with agents and buyers to have a smooth close. Thanks to the real estate listing checklist you can prepare to review offers on your home.
Summary: Using Your Checklist
For first time realtors or investors looking to make sure this listing is perfect, our real estate listing checklist covers the basics for listing any property. While markets and properties will differ, it's a great tool to ensure that the agent and the investor are on the same page of  listing a property. Agents can get more advice on how to build their business with investors here.
As real estate investors, we know how important it is to have every flip go to plan. Prime Plus Mortgages, a hard money lender in Phoenix, makes it quick and easy to get approved for your investments, so you don't have to wait to flip. You can use our free Home Rehab Valuator to estimate the rehab projects for your investment properties! Get It For Free Here!
How To Use Your Real Estate Listing Checklist:
Listing Preparation With The Real Estate Listing Checklist: Properly prepare your investment to list using the real estate listing checklist. This should include Sellers Agreement, Disclosure Statement, and Property Photos and Specs.
Listing Your Property With the Listing Checklist: List your property into the MLS and claim it on popular listing sites making it easier to find by potential buyers and agents.
Marketing Your Property With The Real Estate Listing Presentation Checklist: Promote your property on social media, emails, and show to potential buyers! The more often and consistent you post the quicker you can sell your home.